The set-up: This is a technical trade with a very favorable risk-reward profile. Looking at the chart, there was a very clear resistance level that oil had been fighting for most of the year, consistently making lower highs.
On Thursday, we had a nice breakout on the chart.
The chart: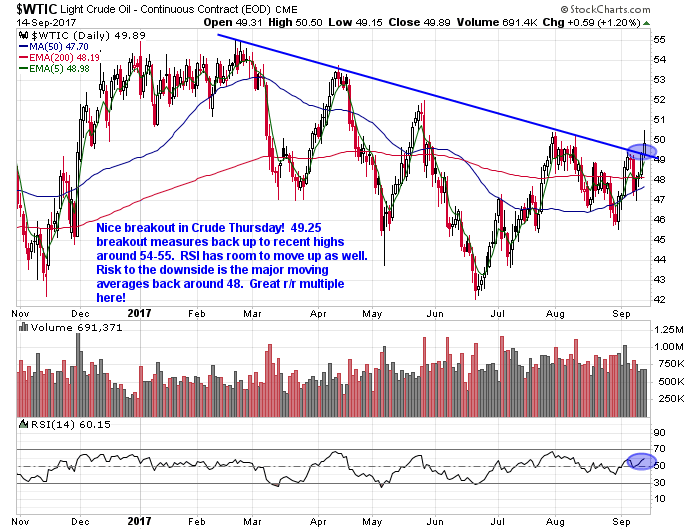 There is the potential here for crude to go back to previous highs, which would be in the $55 range, while the downside risk would be at the level of the $200-day moving average, maybe down to the 50-day moving average if you want to be a bit looser in setting your stops.
That means we have up to $6 in potential gains with about $1 in risk.
How to play it: United States Oil (USO) is a good fund for tracking crude; I'm also fine going with a leveraged play on this — something like the VelocityShares 3X Long Crude Oil ETN (UWT) — but because this is a swing trade and will take several days to play out, anyone using a leveraged fund must remember that tracking error grows the more full days you hold those funds. Also, I should note that oil is a commodity I am comfortable holding over the weekend, as it tends to hedge world events; if something bad happens around the world, oil prices would tend to rise in response, so you can ride this comfortably while watching this technical trade unfold.
#-#-#
Jason Bond runs JasonBondTraining.com and is a swing trader of small-cap stocks.