The set-up: There aren't many big-picture, top-down trading ideas out there right now, because the market lacks volatility and money isn't rotating at all. It feels to me like we are in the ninth inning of the current market move, but this is the time for playoff baseballs, so everyone knows that ninth innings can go on for a long time.
Despite that, the SPDR Gold Shares (GLD) has a chart that makes it worth a look as a short play right now.
The chart: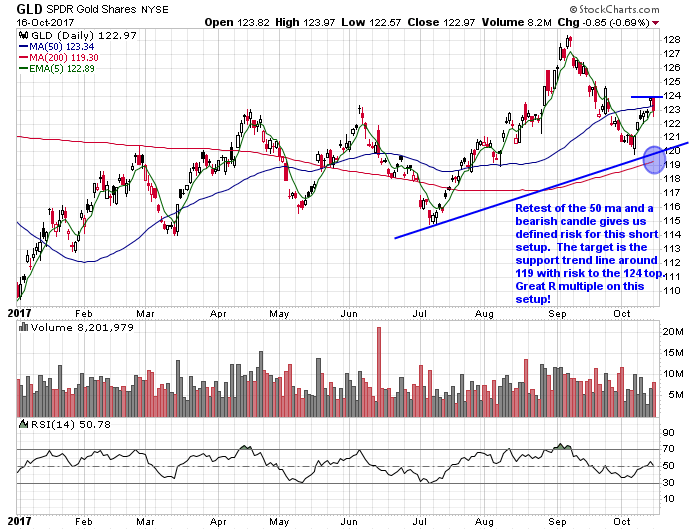 The GLD re-tested its 50-day moving average on Monday; combined with a bearish-engulfing candle, it created clearly defined risk for a short trade.
The target for this trade is $119, which would take it back to support; the risk is back to the $124 top, meaning this trade has a strong risk-reward multiple.
The play: I use indexes and ETFs to inform my day trades, not as something I trade myself, but with a risk-reward as strong as this one, if someone wants to get aggressive and use a leveraged ETF instead of shorting the GLD, this set-up would support that kind of move.
#-#-#
Jason Bond runs JasonBondTraining.com and is a swing trader of small-cap stocks.
Related Articles: