The set-up: The Standard & Poor's 500 gave a bearish hammer candle on Tuesday, which sets up a good risk-reward short-term type of trade for today, especially combined with the Relative Strength Index, which is showing some bearish divergence with the index.  
 The chart: Here's how it all looks with the SPDR S&P 500 ETF (SPY)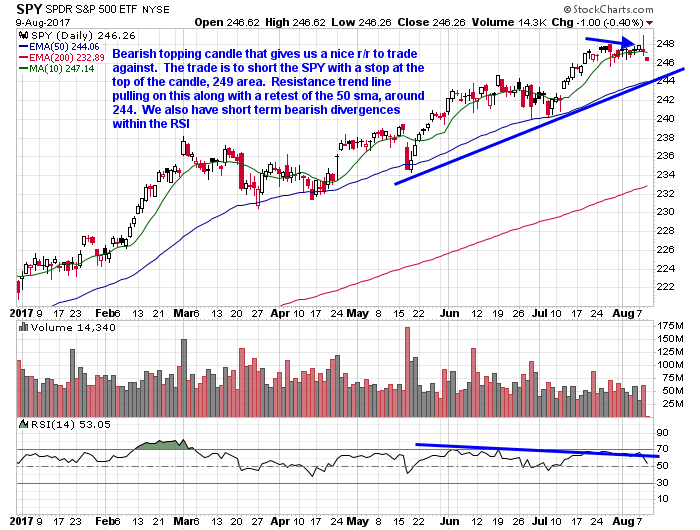 The 50-day moving average hasn't been tested for a while, and I think we get a fresh test on it now. I'm not calling for a huge crash or anything, just a short-term correction to that level.
The trade: You can short the SPY or I'd be comfortable using a leveraged inverse ETF like the Direxion Daily S&P 500 Bear 1X ETF (SPDN) or, for the more adventurous, the Direxion Daily S&P 500 Bear 3X (SPXS). Either way, I'd peg the trade to the SPY, since the ETFs are all based on it.
Set your stop at Tuesday's high — $246.62 – and be ready to take profits as the SPY retests the 50-day moving average around $244.
#-#-#
  Keith Kern has been a full-time day-trader for 17 years; he moderates the Lightning Alerts chatroom at BiotechBreakouts.com. He does not trade in indexes or ETFs at all – focusing his day-trades on individual stocks – but analyzes the market from the top down looking for his daily trading ideas. While he sometimes trades stocks that are members of the S&P 500, he did not have any shares, options or open orders in any such stocks at the time this commentary was published.
Related Articles: