The set-up: The VIX Volatility Index has been bouncing off of support consistently over the last few months, and it is back down to a big support level again. Coupled with an oversold Relative Strength Index (RSI), that means it is poised for a bounce.
The chart: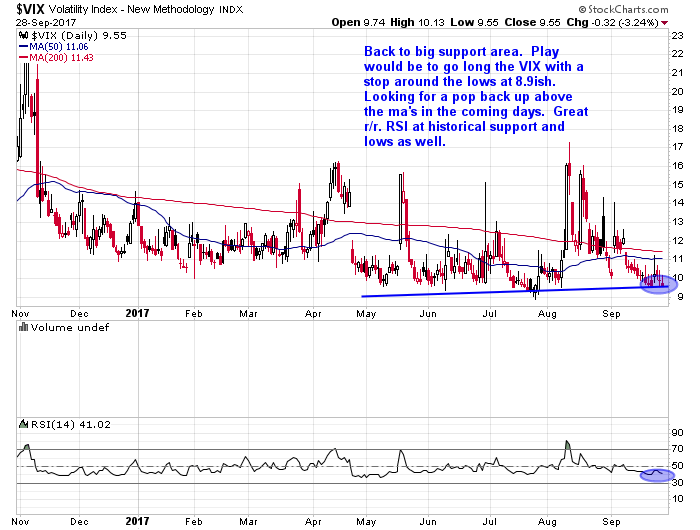 Any time the VIX has gotten down into the 9s, it has had solid support and a nice bounce. From here, I'm expecting a bounce into the 11 area, but maybe as high as 13. I'm not saying it spikes today or Monday necessarily, but at some point over the next few trading days.
If you use recent lows as the stop, you have a great risk-reward picture on this trade. And with the RSI at historical lows, the VIX has been oversold, which you wouldn't expect to last too long.
How to play it: This isn't so much a swing trade as a position idea, something you buy and hold until it pops, assuming it doesn't stop out.
I don't have a favorite VIX-based ETF but my colleague Jeff Bishop of TopStockPicks.com likes the ProShares Ultra VIX Short-Term Futures (UVXY). Whether you use that or your favorite volatility ETF, base your trade on the movement of the VIX itself, because the ETFs sometimes have funky moves off the technical, so set your targets and stops based on the index.
My targets are 11+ on the upside, and I would set my stops at the recent low of 8.90. If the VIX closes below that, I'd be out.
#-#-#
Keith Kern has been a full-time day-trader for 17 years; he moderates the Lightning Alerts chatroom at BiotechBreakouts.com. He does not trade in indexes or ETFs at all – focusing his day-trades on individual stocks – but analyzes the market from the top down looking for his daily trading ideas. At the time this commentary was published on Raging Bull.com, he was 100 percent in cash, but he was eyeing some individual oil names for possible day trades. Jeff Bishop of TopStockPicks.com has traded UVXY many times this year, but had no shares in the ETF — or any volatility-based ETF — at the time this commentary was published.
Related Articles: