The set-up: This is a purely technical trade, based on a coiling pattern. What's nice is this "crude oil coil" is that we don't guess at the direction that crude is about to go, we simply react to where it closes.
A close above the coil is bullish, while a close below it is bearish. No matter which direction it goes, we will have a three- or four-point target. And our risk is the opposite trend line, meaning if we get a bullish move, then your risk is the bearish line, and visa versa.
The chart: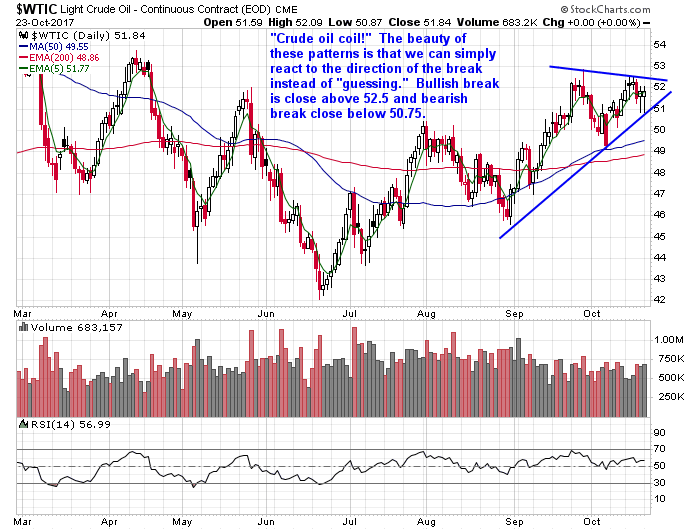 With a coil, it's like a pressurized spring and eventually it busts loose. If it closes above 52.5, expect a bullish move; if the close is below 50.75, oil is going down.
Read a prior call from Jason Bond on light sweet crude
How to play it: I'm agnostic as to which fund you pick – there are plenty of funds tracking crude, and I'll leave it for you to decide which ones track it most closely – but I'd favor going long or short a standard ETF like United States Oil (USO); I'd avoid using leveraged funds because this is a swing trade based on technical analysis, and leveraged ETFs have more tracking error the longer you hold them.
#-#-#
Jason Bond runs JasonBondTraining.com and is a swing trader of small-cap stocks.
Related Articles: