Most companies pay out dividends on a quarterly basis. However, some companies will pay their investors a monthly dividend. This allows those investors to expedite their growth by reinvesting those payouts on a more frequent basis. Monthly dividends are also beneficial to investors that rely on their dividends as a means of paying monthly expenses.
Whether you're looking to grow your positions or pay your monthly bills, the following are ten stocks you should be sure to check out.
The Top 10 Monthly Dividend Stocks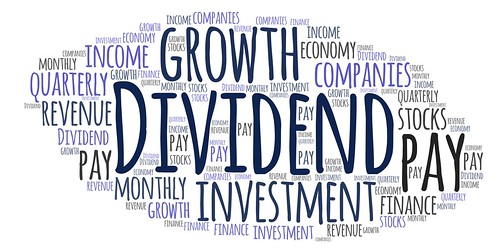 Image via Flickr by Ben Taylor55
The top 10 monthly dividend stocks are as follows:
Realty Income Corporation (O)
Shaw Communications Inc. (SJR)
Pembina Pipeline Corporation (PBA)
Gladstone Commercial Corporation (GOODO)
Gladstone Investment Corporation (GAIN)
Capitala Finance (CPTA)
Stellus Capital Investment (SCM)
AGNC Investment (AGNC)
Whitestone REIT (WSR)
Prospect Capital (PSEC)
Realty Income Corporation
Realty Income Corporation is a real estate investment trust (REIT) that focuses on retail facilities. The company owns roughly 5,900 rental properties. Realty Income Corporation started paying monthly dividends in 1995 using the cash flow from its many properties. These property holdings are rented out to commercial occupants using a long-term lease.
In its 50 years of operation, Realty Income Corporation has paid out 589 consecutive common stock monthly dividends with a steady increase since going public. Its average volume is 1,716,659 with a market cap of $22.839 billion. It has a price to earnings (P/E) ratio of 55.34, earnings per share (EPS) of $1.30, and a dividend and yield of $2.72 and 3.76%.
Shaw Communications Inc.
Shaw Communications is a Canadian cable company that has been successfully increasing its dividends for over 10 years due to its many business lines, including the following services:
Internet
Wi-Fi
Digital phone services
Video services
Shaw Communications hit a bumpy period in 2013 to 2015. However, for the last four years, its net income has seen a continuous increase. The company's stock prices have fluctuated between a high of $27 in 2014 to a low of $16.37 in 2016. Since then, its stock prices have stayed in the $19 range. Despite the many fluctuations of its share prices, Shaw Communications has consistently paid out generous monthly dividends to its shareholders.
The company's average volume is 660,792 with a market cap of $9.851 billion. It has a price to earnings ratio is 257.84 and an earnings per share of $0.07. Its dividend and yield calculate to $0.90 and 4.56%.
Pembina Pipeline Corporation
The North American energy industry uses Pembina Pipeline Corporation as a midstream and transportation service. Pembina Pipeline focuses on pipelines, facilities, and new ventures. Although the company is lacking a long history of dividend growth due to the recent drop in oil prices, it has consistently offered dependable monthly dividends.
Regardless of the oil price drop, Pembina Pipeline has still managed to increase its dividends over the last five years with a current payout of 5.09%. It has an average volume of 469,989 and a market cap of $18.555 billion. Its calculated price to earnings ratio is 19.70 with an earning per share of $1.83 and a dividend and yield of $1.82 and 4.98%.
Gladstone Commercial Corporation
Gladstone Commercial Corporation is another real estate investment trust. It handles rented office and industrial spaces and has been paying its shareholders regular monthly dividends since 2005.
As of the spring of 2019, Gladstone Commercial has paid 172 consecutive monthly dividends on its common stock as well as a large number of consecutive monthly dividends on its Series A, B, and D Preferred Stock.
Although the company's stock price hit a low of $7.10 in the winter of 2009, it has maintained a price range in the $20s since 2010. It now has an average volume of 1,475 and a market cap of $660.41 million. Its price to earnings ratio equals 1,247.73. Its earnings per share, dividend, and yield are $0.02, $1.88, and 6.88%, respectively.
Gladstone Investment Corporation
Gladstone Investment Corporation is a company that specializes in recapitalizations and buyouts of other companies. This company's stock is attractive for potential investors due to its consistent dividend growth over the last five years as well as a strong future outlook in the buyout market.
Its data includes an average volume of 128,850 and a market cap of $373.52. The price to earnings ratio equals 6.75 and its earnings per share is $1.68. The dividend and yield are $0.82 and 7.08%.
Capitala Finance
Capitala Finance uses loans and equity investments to offer capital to smaller businesses. Its funding ranges anywhere from $10 million to $50 million, giving investors the opportunity to position themselves in a small-company situation. The diversity of Capitala Finance is what makes the company attractive to investors. It has ownership in various industries such as retail, technology, industrial, and biotech. Most recently, the company invested in an app, Visible Body, that was designed to assist medical students and professionals in their knowledge of a human's anatomy and physiology.
In addition to its strength of diversity, Capital Finance currently has an attractive dividend yield of 10.49%.
Stellus Capital Investment
Stellus Capital Investment is similar to Capitala Finance in that it is another company focusing on business development. Essentially, Stellus Capital funds medium-sized businesses that are too large for standard loans but too small to go corporate.
Some of its investments include the following:
GoodSource Solutions
Compass Health
Valued Relationships, Inc.
Although in comparison to Capitala Finance, Stellus Capital has a lower dividend yield of 9.42%, the company offers less risk and strong earnings before interest, tax, depreciation, and amortization (EBITDA).
AGNC Investment
AGNC Investment is another real estate investment trust that is geared toward developing mortgage portfolios. It primarily owns government-sponsored companies such as Freddie Mac or Fannie Mae. AGNC's dividend yield is currently 11.23% making it a lower-risk investment but also quite effective for generating monthly income.
Whitestone REIT
Another real estate investment trust, Whitestone REIT assists in developing consumer-focused real estate for companies that remain resistant to ecommerce such as the following:
Whole Foods Market
Verizon
True Food Kitchen
This business strategy seems to be effective given the company's top-line growth of 30% over the last few years. At 8.89%, Whitestone REIT's dividend yield isn't as competitive as some of the other companies' yields listed; however, it offers a decent return with low risk.
Prospect Capital
Although it doesn't operate as one of the largest real estate investment trust companies, Prospect Capital is most certainly widely known. It's in business with many well-known companies such as:
JD Power
Capstone Logistics
ACE Cash Express
Cinedigm
The diversity of Prospect Capital has been one of the company's key strengths and has assisted in keeping its bottom line steady despite some shaky periods.
Although Prospect Capital comes with slightly more risk, it has met or exceeded its earnings estimates in four of its last five quarters and offers a dividend yield of 11.11%. This company could be well worth the risk for investors looking to earn a nice monthly payout.
Investing In Monthly Dividend Stocks
Companies offering monthly dividend stocks can be a fruitful investment due to the more frequent flow of income. However, investors need to make sure they are thoroughly vetting the stocks by looking at a company's central fundamentals and not simply its average monthly payouts.
It is also important to look at the steadiness or growth of a company's monthly dividends. If the company has frequent drops in its monthly payouts, then it is likely that either its overall performance is not consistent enough to maintain an average dividend yield or that the company is transitioning to a quarterly or annual dividend payment schedule.
Are you looking to invest in companies with monthly dividend stocks? The experts at Raging Bull are here to help. Get started generating a steady monthly income using the advice and tips from Raging Bull's experienced team members.
Raging Bull offers free resources, including a no-cost 7-day boot camp led by some of its top trainers. These great resources are sure to help you hit the ground running.