The telecom sector dates back to 1877 when the Bell Telephone Company hit the scene. The industry continues to evolve and change — for example, its transition from the telegram, landlines,  smartphones, and the internet. You can divide into three major groups: wireless communication, telecom service providers, and telecommunication equipment. The equipment sector is the largest sector in the group.

Telecom stocks offer a mix of growth and income to investors. Some, like Verizon and AT&T, are considered blue-chip stocks and are highly sought out by "buy and hold investors."  
That said, here are some of the most important players in the space.
Telecom Stocks- Wireless Communications
Verizon Communications Inc. (
NYSE: VZ
)
Verizon Communications Inc. is a member of the Dow and the S&P 500. The company is predominantly in the data services business.  Over the last few years, the popularity of smartphones has been a critical driver for its growth.
One of its strengths is size. Unlike other industries, the barriers to entry is very high in telecom. In other words, it will be tough to knock Verizon off the block.
That said, there is a consistent demand for Verizon's products and services. Data connection has become a crucial part of everyone's daily routine. While the styles and the models of the phones change, people will continue to subscribe to data plans for their devices.
Need a reason to buy the stock?
Verizon is a dividend stud. It pays its investors an annual dividend of $2.41 per share.
China Mobile Ltd. (NYSE: CHL
)
China Mobile Ltd is a Chinese telecom company that specializes in mobiles services, IoT, data services, voice services, and multimedia message services. The company has been able to grow its market cap to the 100+ billion club because of China's strong demand for internet and mobile phones.  
In fact, it has more than 900 million mobile customers, making it the world largest mobile phone operator by that metric. China Mobile reported a net profit of $9.62 billion between January-June 2018 and its operating revenue rose by 2.9% a year earlier.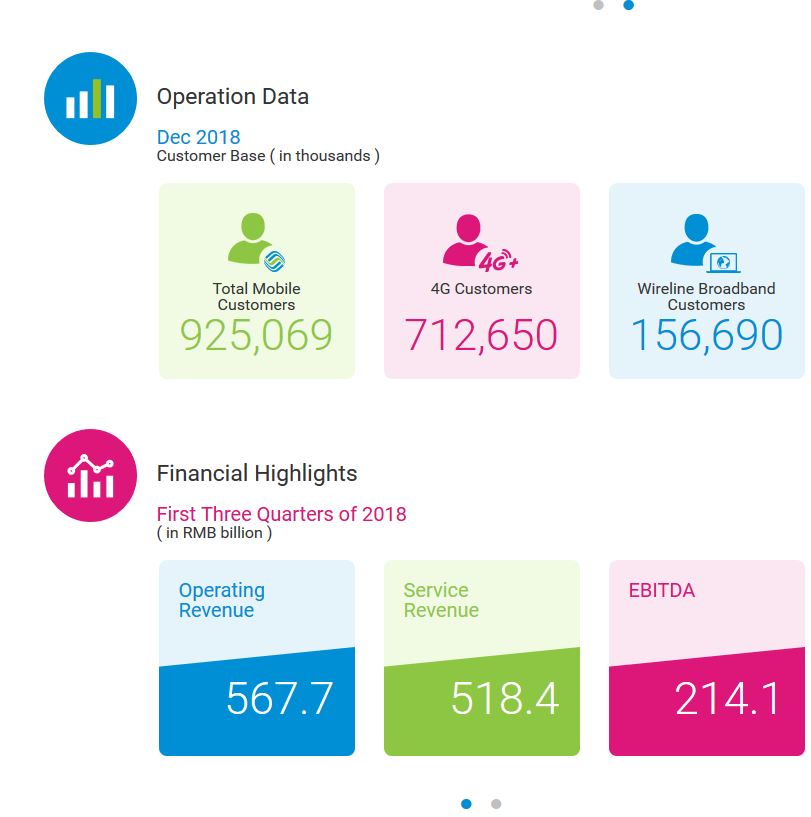 Source: China Mobile
Despite all the achievements, the company remains forward-looking. That said, it plans on making 5G technology part of its core growth strategy.
This telecom stock gives investors a chance to gain exposure to the Asian telecom scene. Also, it does pay its investors an annual dividend of $2.17.  
AT&T Inc. (
NYSE: T
)
AT&T Inc. is the world's largest telecom company, and it is the second largest provider of mobile telephone services. It's the largest provider of fixed telephone services in the U.S.
The company was ranked as the world's most significant media and entertainment company by revenue, in 2018. That's due to its 2018 acquisition of Time Warner. Whether the mega-merger creates synergy and strengthens the company is yet to be determined.
However, there are plenty of reasons to be optimistic AT&T if you're a shareholder, as the company is set to make a push towards 5G technology.
Vodafone Group PLC (
NASDAQ: VOD
)
Vodafone Group PLC is a telecommunications firm headquartered in Europe, but it has a substantial presence across the globe. It employs people from Europe, Africa, the Middle East, and the Asia Pacific.
Vodafone has over 500 million mobile customers and 20 million fixed broadband customers.
One of the company's claims to fame is making the first ever mobile call in the UK, back on January 1, 1985.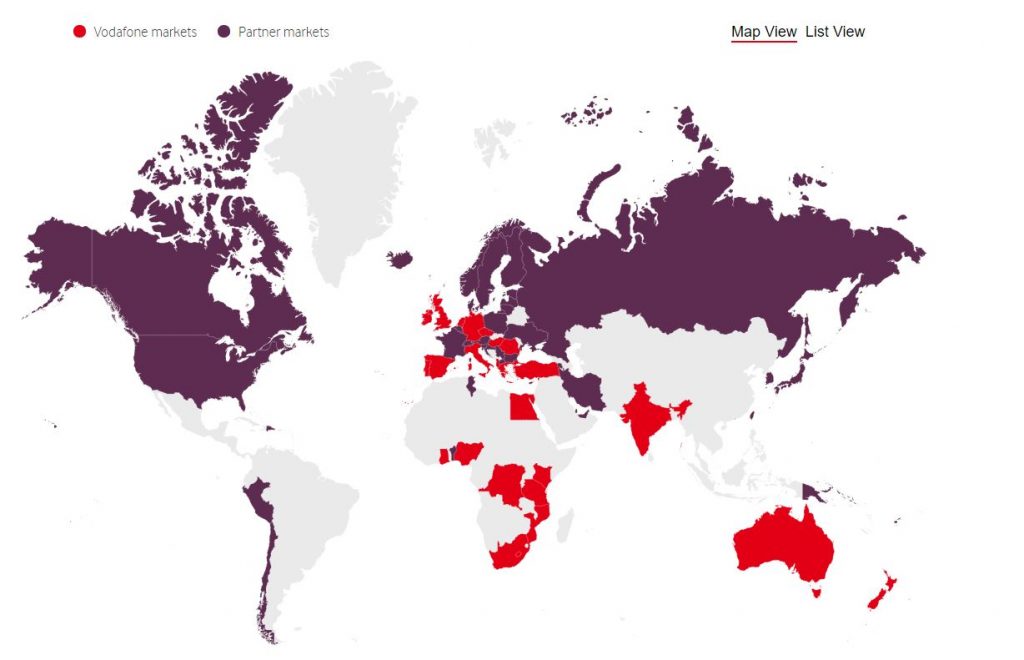 Source: Vodafone
At its current share price, Vodafone offers investors an attractive dividend yield. That said, it shells out an annual dividend of $1.09 a share.
Telecom Stocks- Telecoms Services
TELUS Corporation (
NYSE: TU
)
TELUS Corporation incorporated in 1998, but no slouch in the telecom space. Telus is one of the three biggest telecom service providers in Canada.  The company has 13 million subscriber connections. Telus also has 8.9 million wireless subscribers.
It provides telecom services and products such as data, voice, and wireless services. Some of its data services include hosting, television, internet protocol, and cloud-based services.
This telecom stock has some of the best customer service in the business. The Commissioner for Complaints for Telecom-Television Services awarded Telus as the industry leader in customer service, for the  2017-18 campaign.
Telus is a dividend paying stock. It pays its investors $1.60 per share, annually.
The Telecom Disruptor
Netflix, Inc. (
NASDAQ: NFLX
)
Netflix, Inc offers a video streaming service and is slowly becoming a household name across the globe. It's also becoming making waves for its media and entertainment business. In 2018, in 23 Emmy Awards.
Of course, Netflix is not a core telecoms player, but it has already disrupted the space. AT&T and Verizon are all competitors when it comes to cable and television.
That said, Netflix closed the 4Q of 2018, with more than 139 million paying customers across the globe. It was the best performing FANG in 2018, returning nearly 40% on the year.
Ideas on How To Trade Telecom Stocks
Traders looking for the best bang for their buck may want to consider trading telecom stock options. Why? Well, these stocks aren't very volatile so there many strategies that you can use.
For example, if you are bullish, buying call options is a sound bet. However, since these stocks don't move that much, you may even want to sell cash-secured puts. Now, when it comes to hedging, you can usually get away with buying puts. But doing a bull collar is also an interesting strategy. If you need to brush up on your options skills, make sure to get your free copy of the Options Profit Accelerator.
Bottom Line
Most telecom stocks don't offer explosive growth prospects. However, many of the top names in the space do pay attractive dividends. If you're interested in trading these stocks, consider options to get more bang for your buck.

Exclusive System Tracks Wall St. Insiders
"Dollar Ace Simply Exposes Information That Wall Street Wants To Keep Quiet" Said Kyle Dennis
"One member, Wesley M., has already reported 360%+ gains in just a few short days. Don't miss this!"
(Reserve Access Now)
"What Recession?!" Jason Bond nets $55,060 in realized profit in One Day
After going 6 for 6 on profitable trades recently, we caught up with Jason to ask how he did it.
Check out Jason's exclusive interview revealing this tightly guarded strategy. (Watch Now)
RagingBull.com Co-Founder, Jeff Bishop, Launches High Conviction Trade Service
"We listen to our clients and we give them EXACTLY what they want, so we designed a service to deliver 1 trade, 1 time a week, with a 100%+ PROFIT TARGET, directly to your inbox every Monday before the market opens. (Read More)
Be a Better
Stock Trader, Starting Today
Get the expert insights, tips and strategies you need to optimize your trading skills and profiles
START NOW