When you hear the term penny stocks, what comes to mind? 
A roulette table or slot machine?
So many people think that pennies are just a foolish gamble. 
But I beg to differ with you.
Why?
I dare you to find a sector that experiences as many violent swings as penny stocks. You'd think you were trading options with all the volatility involved. 
And while some financial professionals will tell you to stay away—penny stocks are risky and unpredictable… 
It's because they are viewing them through the wrong lens. 
You see, when it comes to trading penny stocks, the fundamentals rarely matter. 
In fact, it's all about the price action and the catalyst. 
To make it clear, I've gone back and isolated four of the largest percentage gainers of the year (penny stocks of course) and studied the catalyst behind them. 
Why?
Successful trading is all about pattern recognition… if you study Supernova stocks… you're bound to catch one yourself.
4 Penny Stocks with Crazy Gains
Stock #1: Axsome Therapeutics (AXSM)
Look at the chart for Axsome Therapeutics (AXSM), which began the year at $2.68, hitting a high of $30.50… a gain of over 1000%. It is currently sitting at $25… so still up 832% on the year…
So what caused such a massive run-up?
Well… Axsome is a Biotech company, and one of the catalysts that really drive a stock like this is clinical studies. 
Before a drug can be approved it must pass a series of studies and approvals. Each time a company announces the results from a clinical study you can almost always expect some fireworks. 
The future of these companies basically rests on the results of these studies.
And AXSM actually started the year with an immediate bang…
Right out of the gate, on Jan 7, the company announced that a phase 2 trial of its AXS-05 met its primary endpoint, and "significantly improved symptoms of depression."  
The company also said ASX-05 was also safe and well-tolerated, with no serious adverse events.
The stock closed at $2.60 before this announcement and within 2 days was $9.16… an amazing 252% pop…
But that wasn't the last we heard from AXSM. 
The price consolidated for a while, then broke out again as the company reported on a Phase 2 and Phase 3 study on two other drugs it had in its pipeline… building a sustained uptrend to a recent high of $30.50.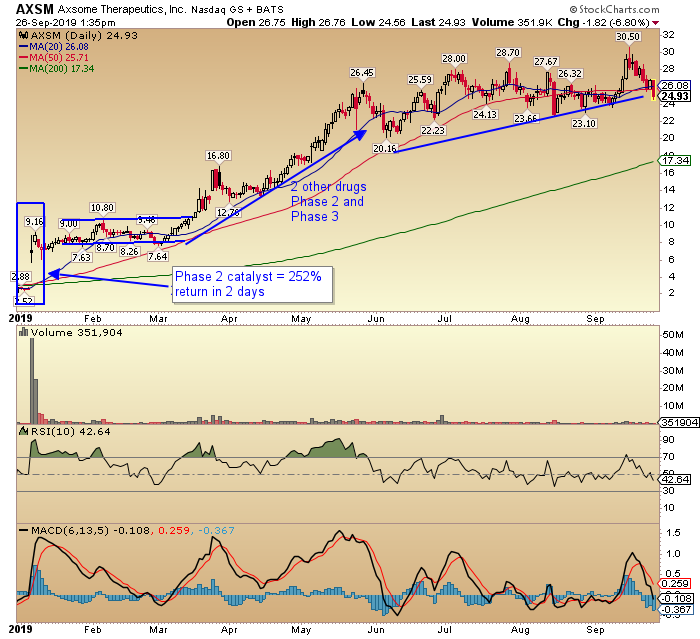 Lesson: If you are going to trade biotech stocks then start to get cozy with the FDA schedule and be aware when these events take place. Showing up is sometimes half the battle. 
Stock #2: Workhorse Group (WHKS)
Now let's examine at Workhorse Group (WKHS). WKHS began the year at a mere $0.65 and reached a high 5.37 for a run-up of 726%… currently it is sitting at $3.29, sporting an impressive year to date return of 406%…
What was the catalyst for Workhorse?
On May 8, WKHS was vaulted to the forefront of U.S. politics after President Donald Trump tweeted the company was buying a General Motors Co. plant that was thought to be closed down.
Shares of Workhorse WKHS  rallied as much as 86% to $1.27 after the presidential tweet, and within 2 days the price went from $0.84 on May 7th to a high of $3.27 on May 9… that's a quick 289% spike… thanks, Donald…
The stock continued to make wild moves… peaking after speculation on July 15 that Workhorse may win a contract with the United States Postal Service (USPS). 
The rumor stated that WKHS would produce 180,000 trucks generating roughly $6.3 billion in work for the winning bidder.
The United Parcel Service (NYSE: UPS) had recently ordered 950 electric delivery trucks from Workhorse, lending credibility to the firm as well as to the rumors…
At the stock's highs, it was reported that GM's comments may have been premature.
Of course, the shares sold off after that. 
Lesson:   With catalysts being the force behind penny stock moves… holding them for a long term play can be unpredictable, as new catalysts can hit at any moment… for better or worse…Don't be afraid to trade the rumor… but don't fall in love with the story.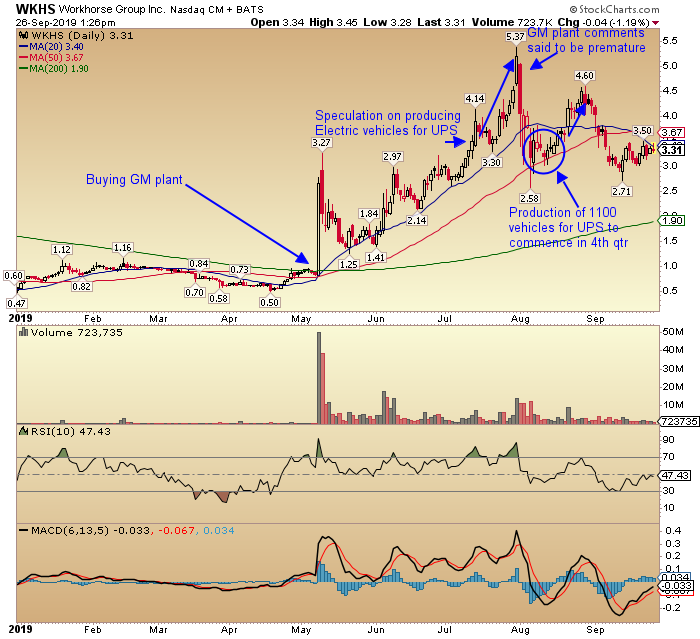 Stock #3: Conformis, Inc. (CFMS)
Now for a super gainer in the penny stock community…  Conformis, Inc. (CFMS) began the year at $0.37 and reached a high of $4.83 in June… a 1200% move… it now trades at 1.87… up a respectable 405%.
On March 13, the company announced it will feature the new 3D designed Conformis Hip System as a key technology focus at the 2019 American Academy of Orthopedic Surgeons annual conference March 13-15, 2019 in Las Vegas, NV.
Conformis previously announced the first surgeries were completed in the US in July 2018. Since that time, over 200 surgical procedures have been completed at over 20 different sites across the US.
In the chart below, the announcement is marked with the blue box and the day of the conference is pointed out… the stock made a 127% run from $1.30 to $2.95 in less than 2 weeks of trading…
But that wasn't it… over the next few months, the momentum continued to a high of 4.95… that's a 280% move up, just from the date of the announcement…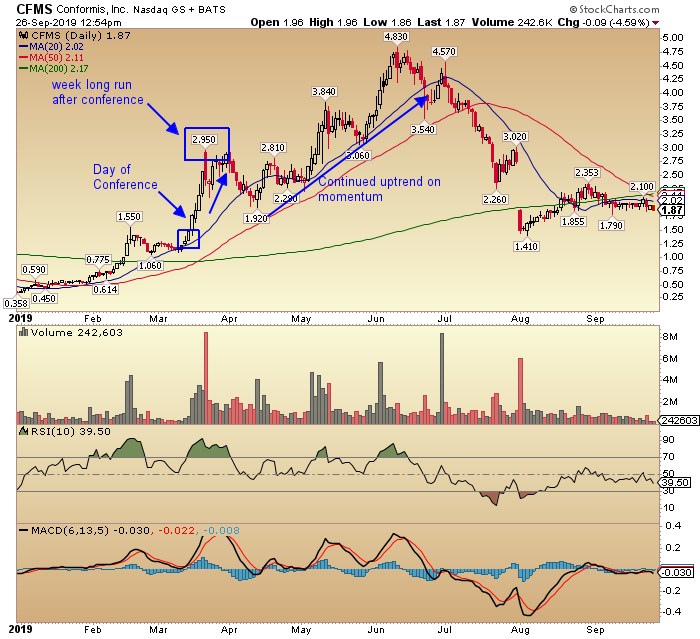 Lesson: The trend is your friend until it's not. There is nothing wrong with riding the wave up, but if the trend breaks, don't be stubborn, close out your position and move on to the next trade.
Stock #4: Corindus Vascular Robotics (CVRS)
And lastly, Corindus Vascular Robotics (CVRS) started the year at $0.96 reaching $4.26 where it sits now — 346% return
So what happened here?
On March 14, SEC filings revealed that Louis Cannon, who is listed as a director at Corindus, substantially added to his position in the company's stock that week… Traders immediately began bidding up shares of CVRS in response to this insider buying.
Insiders know things we don't…
This alone took the stock from $1.51 to a high of $2.54… a 68% jump in a week…
In early May CVRS reported earnings which propelled the stock up another 47%…
And finally… on Aug 8, it was announced that CVRS would be acquired for $4.28 a share by Siemens in an all-cash deal… another 77% pop… for a total return on the year of about 346%.
Not too shabby… pointing out the insider knew what he was doing when he increased his position in the company…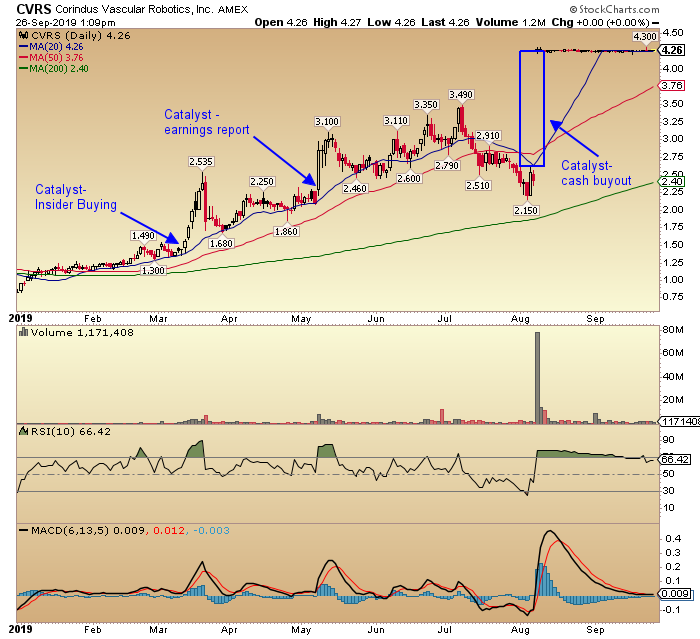 What's the lesson?
First off… Penny Stocks make massive moves. When is the last time you saw a stock with $100 price go for 700% in a year? 
Maybe never…
But with penny stocks, you will see these moves all the time…
And second… pennies don't care what the market is doing… they react to catalysts.
So the best way to trade in an uncertain market is to look for uncorrelated assets like penny stocks…
Now you may be thinking, great… but how can I possibly know when a catalyst is coming?
That's the beauty of it… you don't have to know in order to get returns like that… and you don't have to invest/ hold a penny stock all year…
All you need to know are a few basic chart patterns… and with my custom screener, they are quick and easy to find…
In fact, it won't take longer than 20 minutes to scan, find the best setups, and place the trade… 
It all happens in the last 30 minutes of the day… I just place my trade and then go on with my day. 
In the morning, I wake up and take my profits…
Of course, it doesn't happen everyday… but it happens enough. 
How can you get those massives gains if you aren't holding on to stocks for a long period?
Easy… I have created a system that lets me find the stocks that are set to gap up the next day… positioning me to take profits the next day…
In fact, I like to show how easy it is to make triple-digit returns, even with a small account.
About every 3 – 6 months I reset my trading account and start with a small stack, about $3K, and push myself to see how far I can take it.   
I started my last account in mid-June and in 10 short weeks, it is sitting at over $20,000… you do the math… that's 590%… in less than 3 months…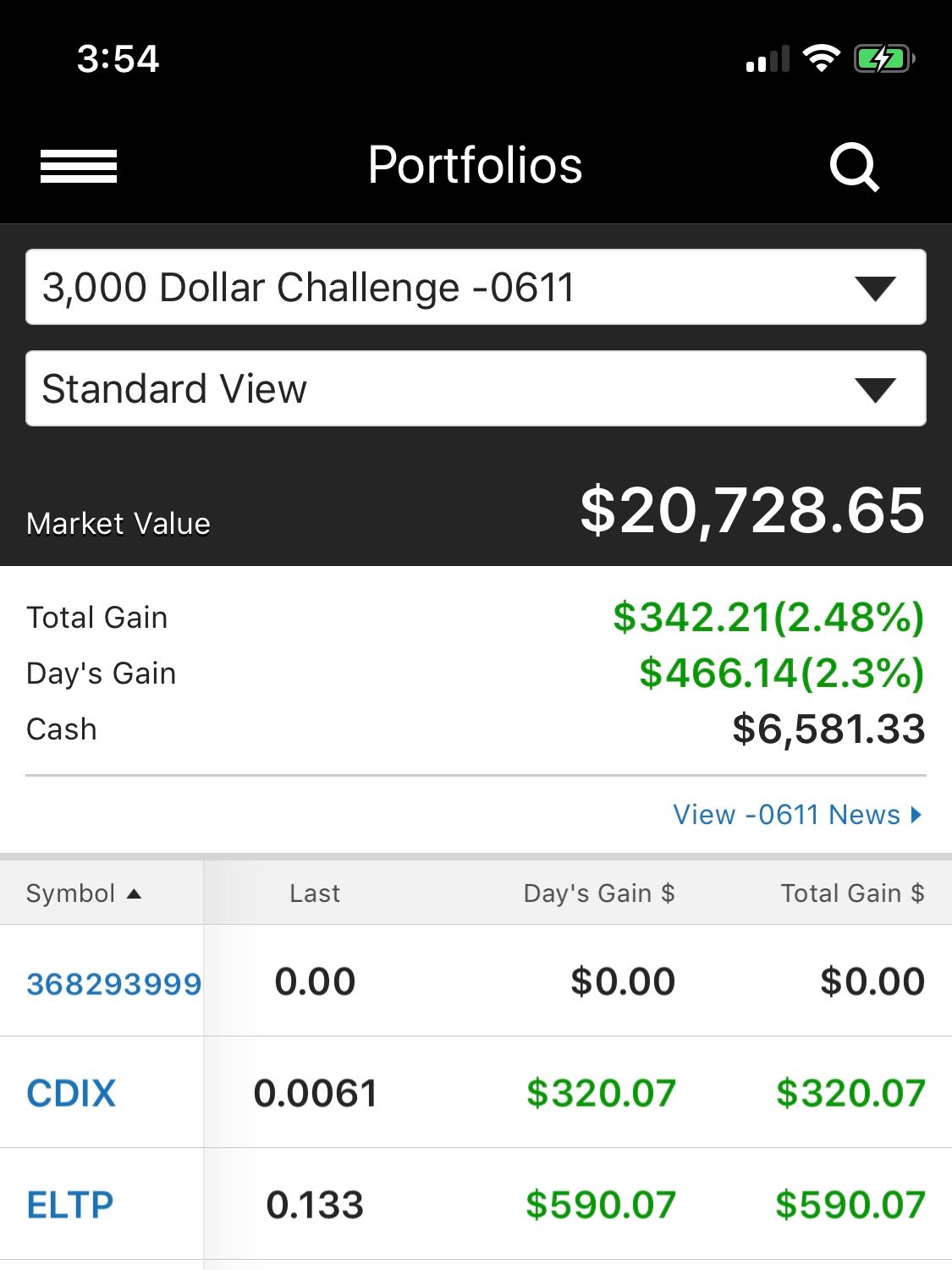 So you tell me… speculate and hold pennies all year?  Or create the same massive gains over and over… profiting in your sleep?
Now, if you find this hard to believe… that's okay… I want you to be skeptical.
But to help ease your concerns I want to share with you a recent training I had. Its actual footage of me trading and mentoring. It will give you a sneak peek at what I'm about and help you answer the question: are penny stocks right for me?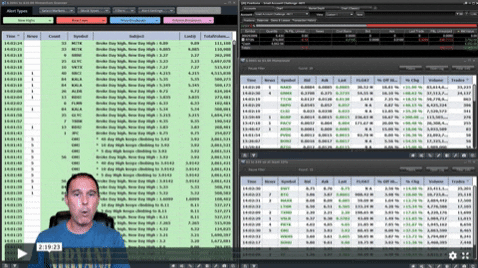 Join our community: