I am not looking forward to Friday.
Don't get me wrong, I love to celebrate holidays, and especially Independence Day.
BUT I LOVETRADING!
And the weekends are already agony as it is.
However, I'm not about to spend my 4-day week pouting.
Instead, I'm charting a course to the land of profitability.
All of that starts with picking out my favorite charts for the week.
We're all friends here right?
I figure it's ok for me to tell you my top three ideas for the week.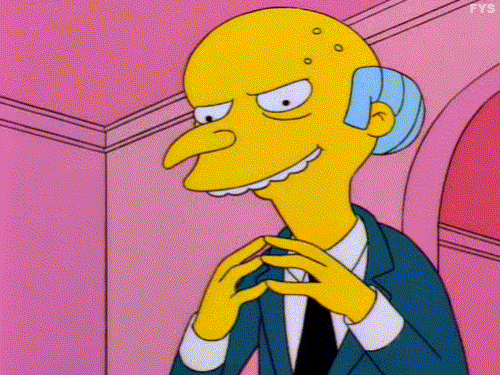 Just make sure you keep them to yourself…
Etsy (ETSY)
Pandemic headlines ripped through the front pages last week. We saw states that lead the economic reopening come to a screeching halt as new positive cases grew.
That led to a dramatic pullback in stocks, hitting some of the biggest winners like Amazon (AMZN) and Apple (AAPL). The carnage was widespread, bodies littering the ground.
But I think I found a stock that not only isn't on life support, but could break out to new highs.
I give you one of my favorite momentum names – Etsy.
Shares of the online craft marketplace steadily rose alongside other stay-at-home plays the past few months. Incredibly, they more than tripled off their recent lows, and continue to make all-time highs.
This is my sweet spot.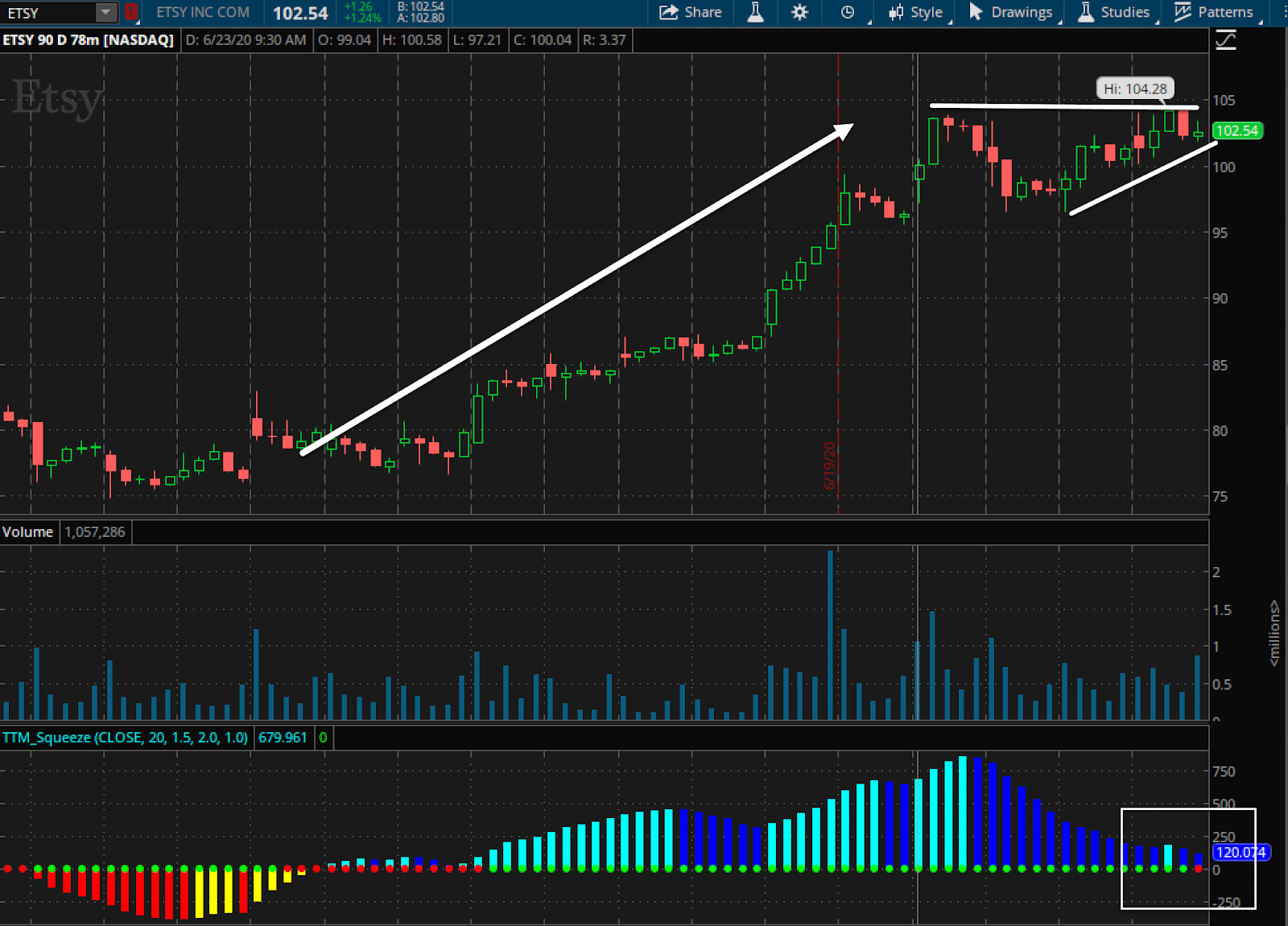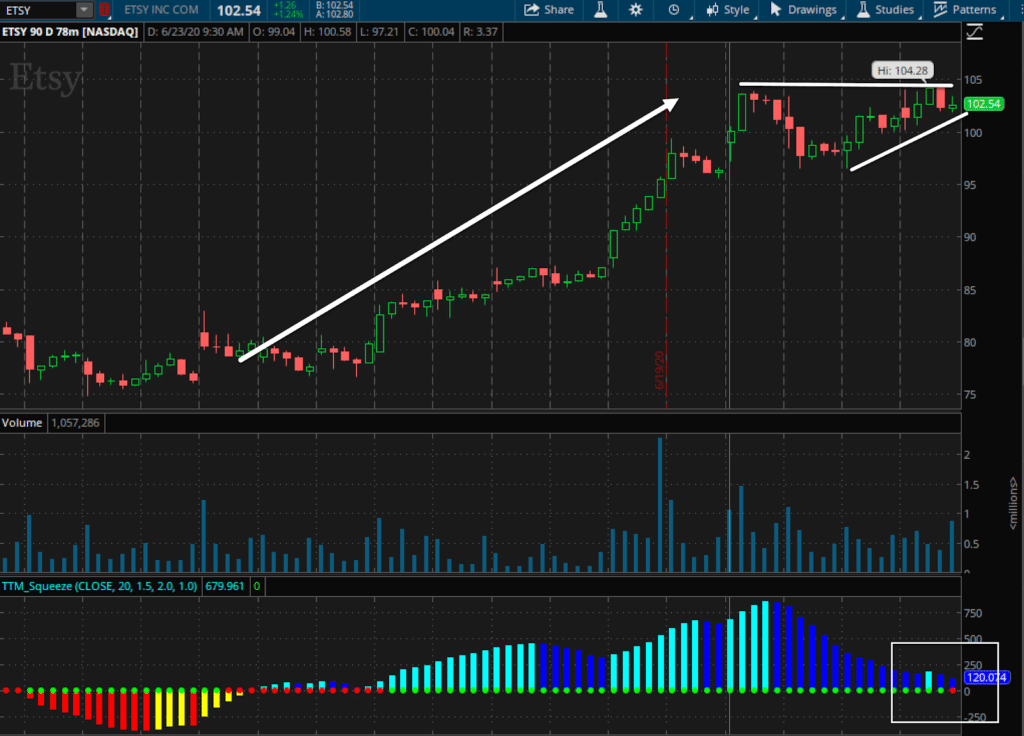 ETSY 78-Minute Chart
LottoX members know that I trade momentum stocks, especially ones reaching new highs. I've never found luck in trying to pick off the top or bottom.
Instead, I make my bones following the trend.
And that's where my TPS Setup comes in, which is present in this chart.
Three components make up my TPS Setup:
Trend

– Swimming with the current is a lot easier than against it. Primarily, I trade stocks with strong trends, mainly in the bullish category.

Pattern

– Stocks with strong trends often take breaks before the next leg. Chart consolidation patterns help me to identify these areas.

Squeeze

– Since I primarily trade options, timing is crucial. The squeeze component lets me know when price action compressed enough to likely lead to an explosive move.
Going back to Etsy's chart, the white arrow highlights the clear uptrend the stock followed for the better part of a month.
Using the tops and bottoms of the candlesticks, the white lines draw a chart consolidation pattern. It illustrates price trading in a narrowing channel.
Lastly, the red dots at the bottom signal a squeeze, when the Bollinger Bands move inside the Keltner channel. Green dots signal when the energy is released.
Working off the 78-minute chart, I plan for the trade to complete within the week. However, the shortened trading week might throw a wrench in things.
Rather than trading options expiring this week, I might instead choose to take ones for the following week.
Whatever I decide, I'll be sure to draw out my logic and plans for LottoX members.
Overstock (OSTK)
Not too many stocks rise from the dead the way Overstock has. Yet, shares made a remarkable comeback after languishing below $10 and surviving a controversial CEO.
What attracted me to the stock this week is another…you guessed it…TPS Setup.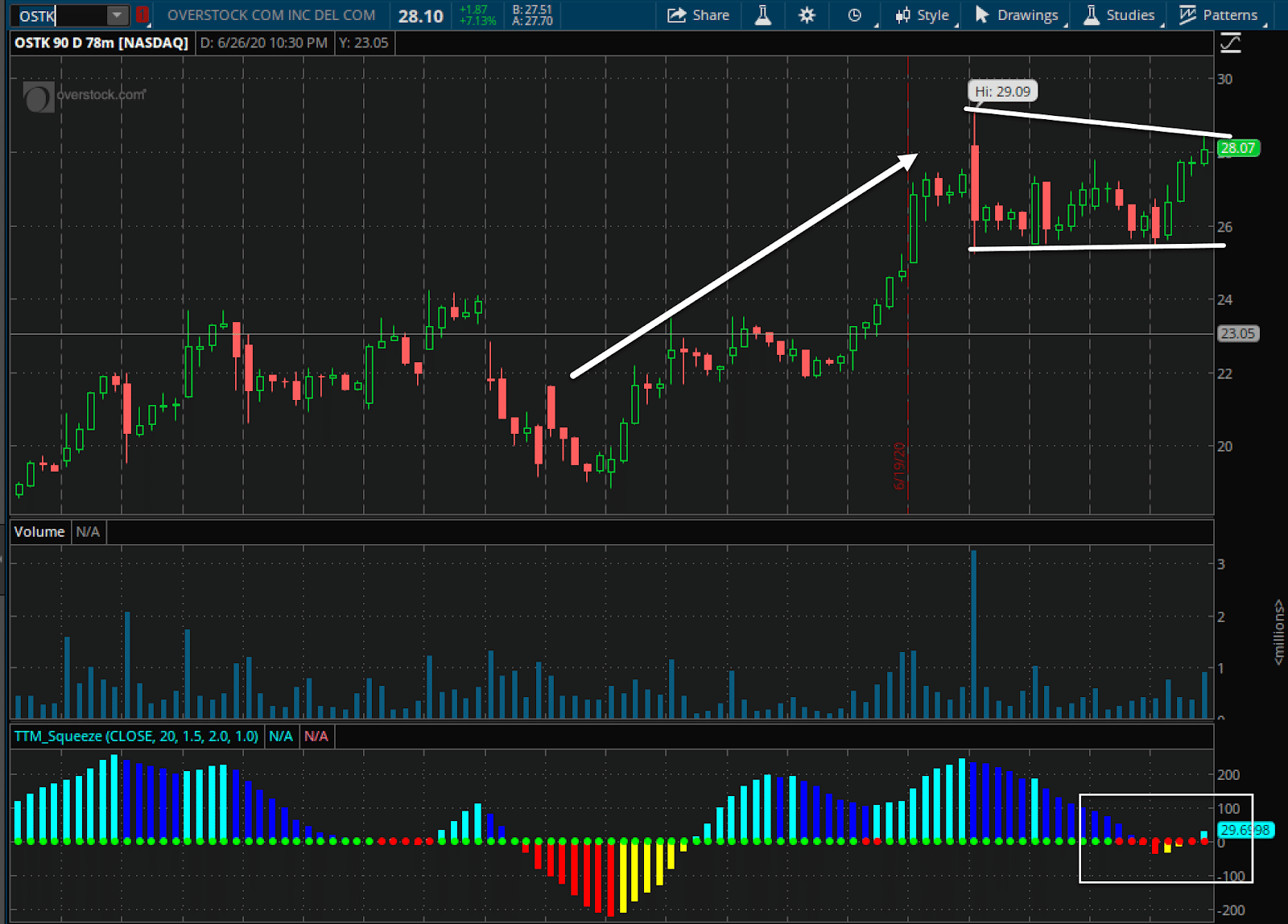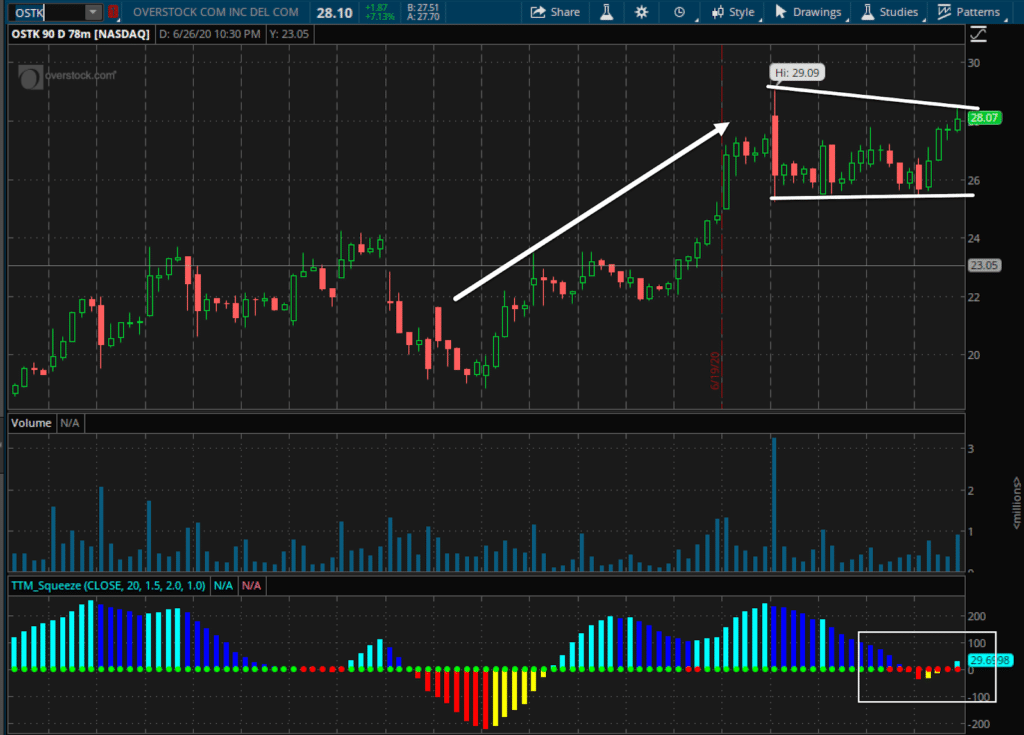 OTSK 78-Minute Chart
In this 78-minute chart, shares made a quick jump to end the week. That created the uptrend and the start of the consolidation pattern.
Now, I hadn't paid too much attention to the stock because it had a lot of negative momentum. You can see that at the bottom histogram in the white box where the bars dip slightly below the centerline.
Recently, momentum shifted higher at the same time the rest of the market struggled. This is called relative strength and tells me enough buyers were interested to fend off a broader market decline.
Mongo DB (MDB)
Lastly, I bring your attention to a tech stock that's traded extremely well over the last few months.
Mongo DB benefited not just form a solid uptrend in the equity but a broader lift in the Nasdaq technology stocks as well.
With another TPS Setup popping up on this chart, I want to point out something different.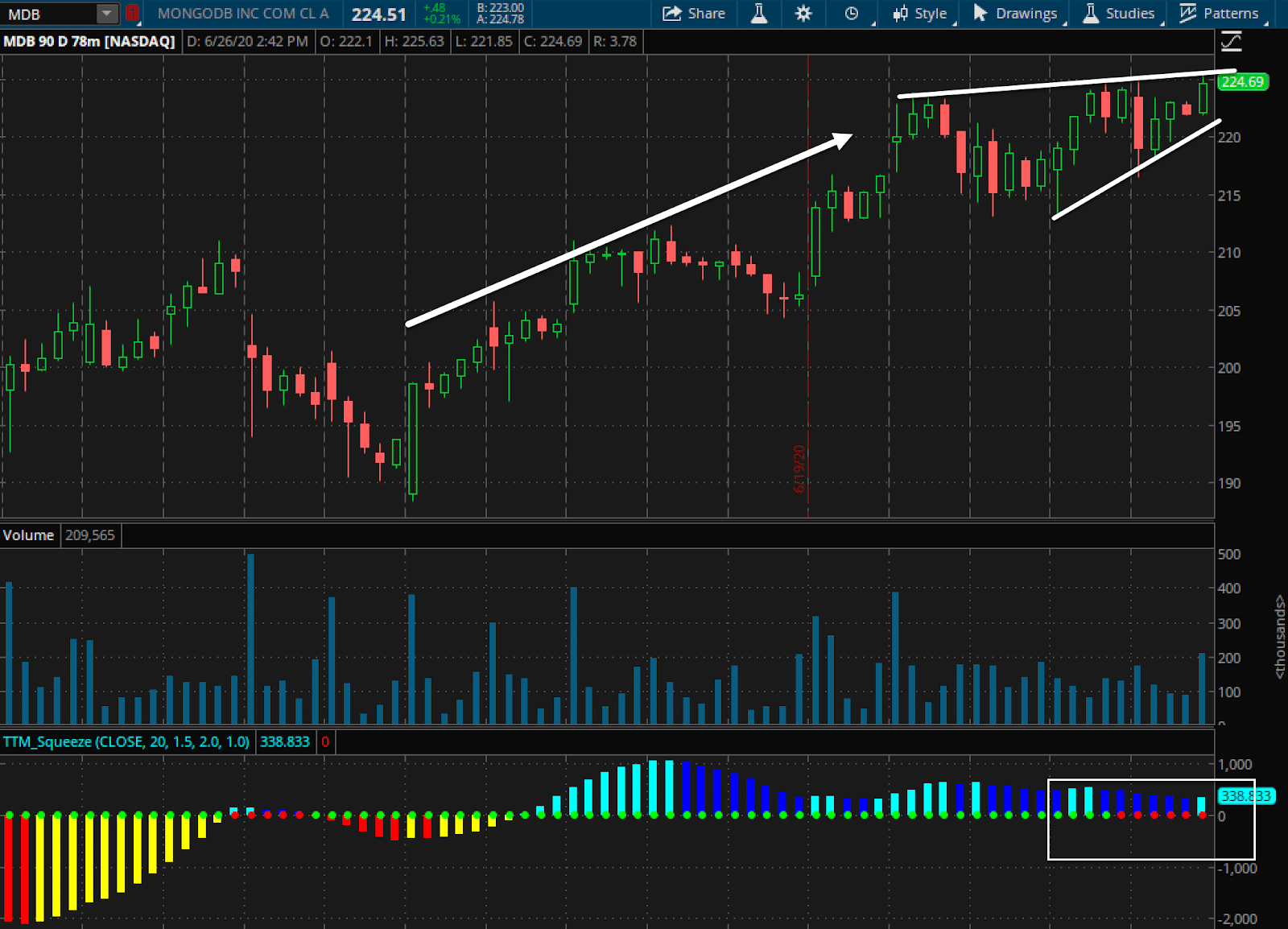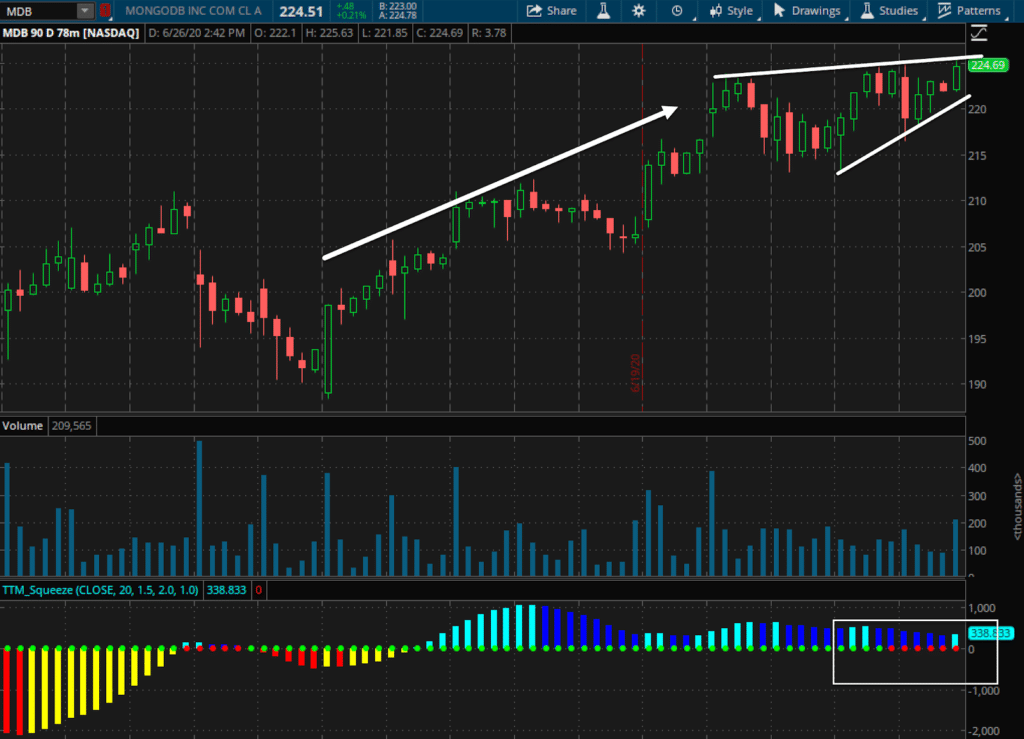 MDB 78-Minute Chart
MDB ended last week close to the highs. That doesn't leave a great entry for me since it's very close to where I would set my target.
Ideally, I want to see the stock pull back somewhere between the 8 and 21-period exponential moving average. Otherwise, I might reduce my starting position size.
I can't tell you which of these trades I will take for certain and how they'll all pan out.
What I can tell you is that the best way to find out what I do is to catch me inLottoX, where my portfolio of trades is streamed live for members.