While most people find gifts under the tree, Santa brought me a few extra trades for making the nice list this year – and it just so happened to be on two of my favorite stocks.

A small stocking stuffer for Weekly Money Multiplier Members!
Remember last week's call on LK? Check out how Mark made out with over 103% returns in one week on his small account.

You don't need a big account to turn massive profits with Weekly Money Multiplier!
I get it. Maybe you were busy with relatives and family. Nothing wrong with taking a breather this time of year. In fact, I applaud those who maintain the discipline to stick to their best setups.
But we can't let Mark have all the fun. There's still a plethora of charts to choose from, and I found some hidden gems to ring in the New Year.
Tesla (TSLA)
Elon Musk continues to prove why those who bet against him are destined for ruin. Tesla's stock is up a whopping 145% from the lows this year. Even with the recent run, I think there is more juice left to squeeze.
My current trade comes off the 30-minute chart. That puts the trade within my time-frame of playing out in less than a week.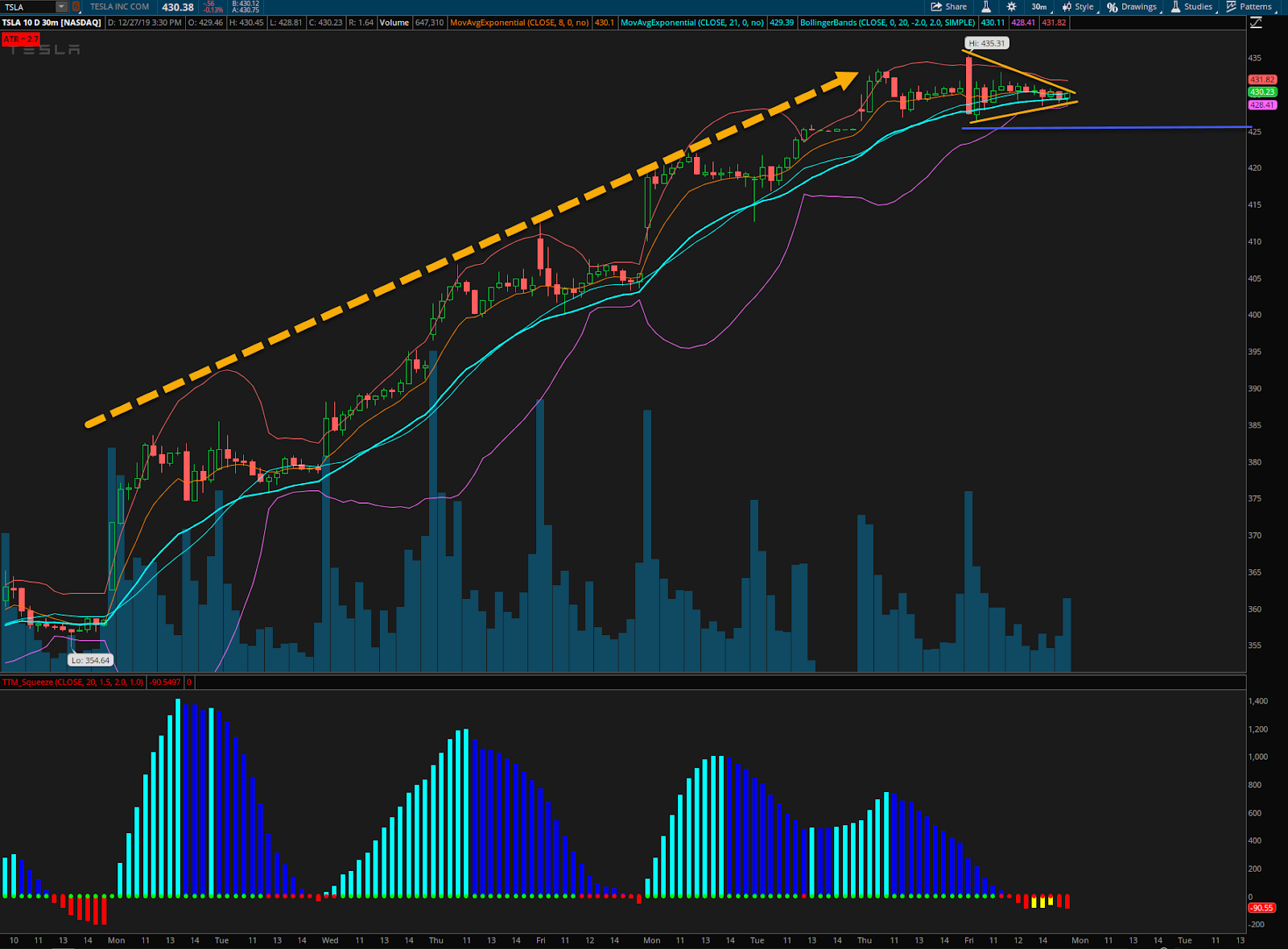 TSLA 30-min chart
You can easily see the stair-step pattern the stock made over and over as it climbed into the stratosphere. At some point, it will fail. However, betting against it has been a fool's game so far. With low volume and end-of-the-year rebalancing, odds favor the current trend continuing.
The setup here follows my classic TPS pattern.
Trend – 

There is a clear trend marked by the orange arrow. You can see how price moved higher as time moves forward. On the chart, this is represented by the stock moving up and to the right.

Pattern – 

I drew the consolidation pattern using the orange trend lines. They create a triangle consolidation chart pattern. The upper trend line connects the highs of the candles, while the lower trend line connects the lows of the candles.

Squeeze – 

A squeeze is represented by the red dots at the bottom. They represent the Bollinger Band indicator moving inside the Keltner Channel. This is a sign that energy is building that will cause an explosive move in the stock.
I also drew a blue line that represents my stop out. While odds favor the squeeze firing to the long side, I need to be prepared for failure. If the squeeze fires and price closes below that blue trend line, I know the trade failed, and I would eat the loss.
With a 30-minute time frame, I expect this trade to play out by the end of the week. Longer time frames can take days to weeks to complete. My TPS setup remains the same for any time-frame. The only thing that changes is the time of the trade.
Amgen (AMGN)
This isn't a stock that I play all that often. However, when I see a TPS setup I like, I won't be shy about picking up a trade.
Amgen's stock exhibits a great TPS setup on the 78-minute and 130-minute charts.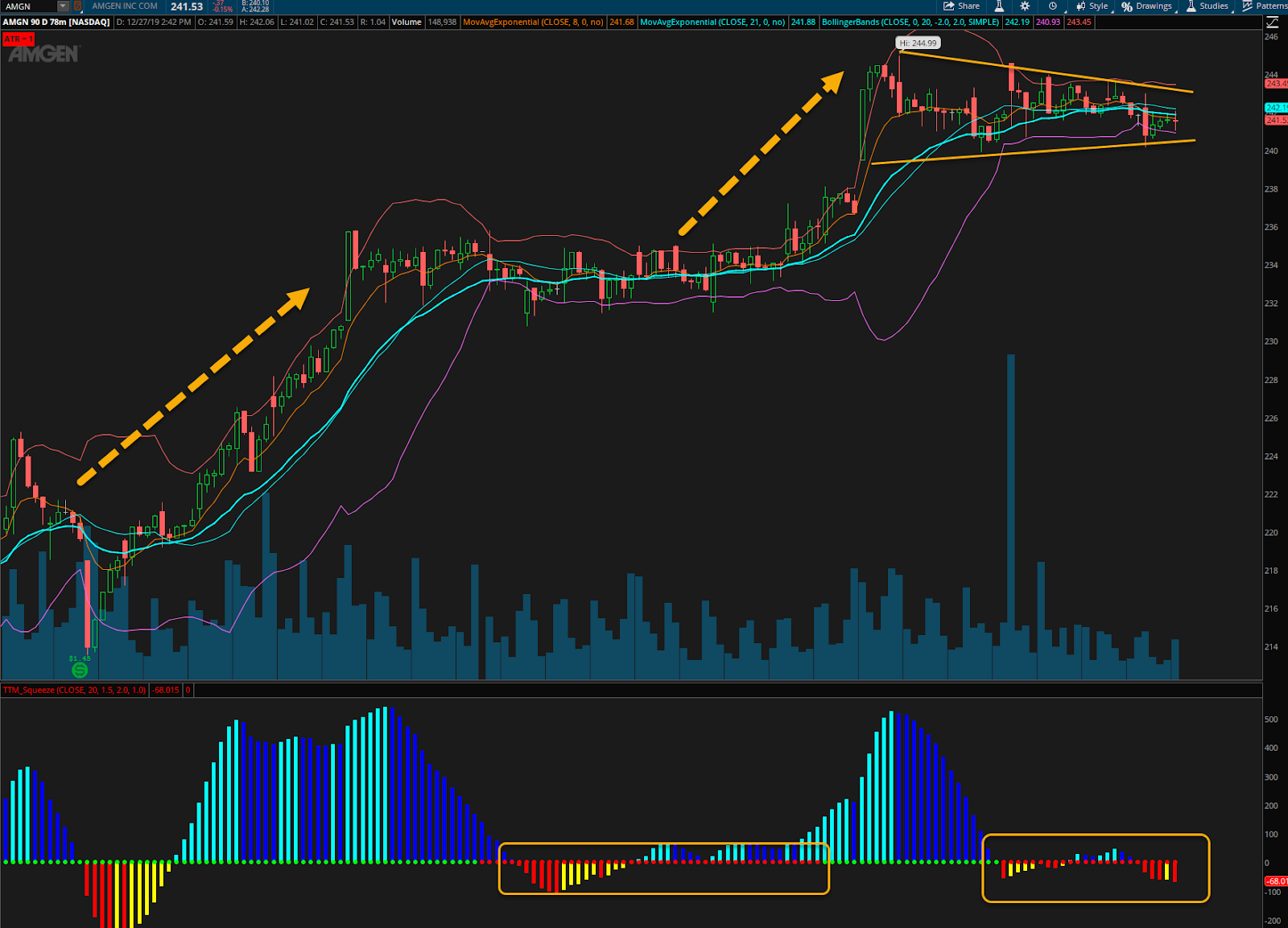 AMGN 78-minute chart
I want to use this chart to show you the power of the squeeze indicator. Check out the first orange box that highlights a squeeze building. When those red dots turned green the squeeze fired…in this case long.
Check out the explosive move that jumped price up into its current pattern. I'm looking for similar price action to occur out of the current consolidation.
At the moment, the momentum is down, as indicated by the red bars in the histogram at the bottom. However, it only takes a little movement higher to flip the script.
I also like this trade because it's very close to risk. The pattern breaks down below the low of the large breakout candle that started this consolidation. That gives me a great risk to reward with a huge potential payout.
Rockwell Automation (ROK)
Sometimes trades can take a long time to play out. Rockwell Automation is one that's been building a squeeze for quite a while.
 When you look at the 78-minute chart, you'll notice several days of a squeeze building.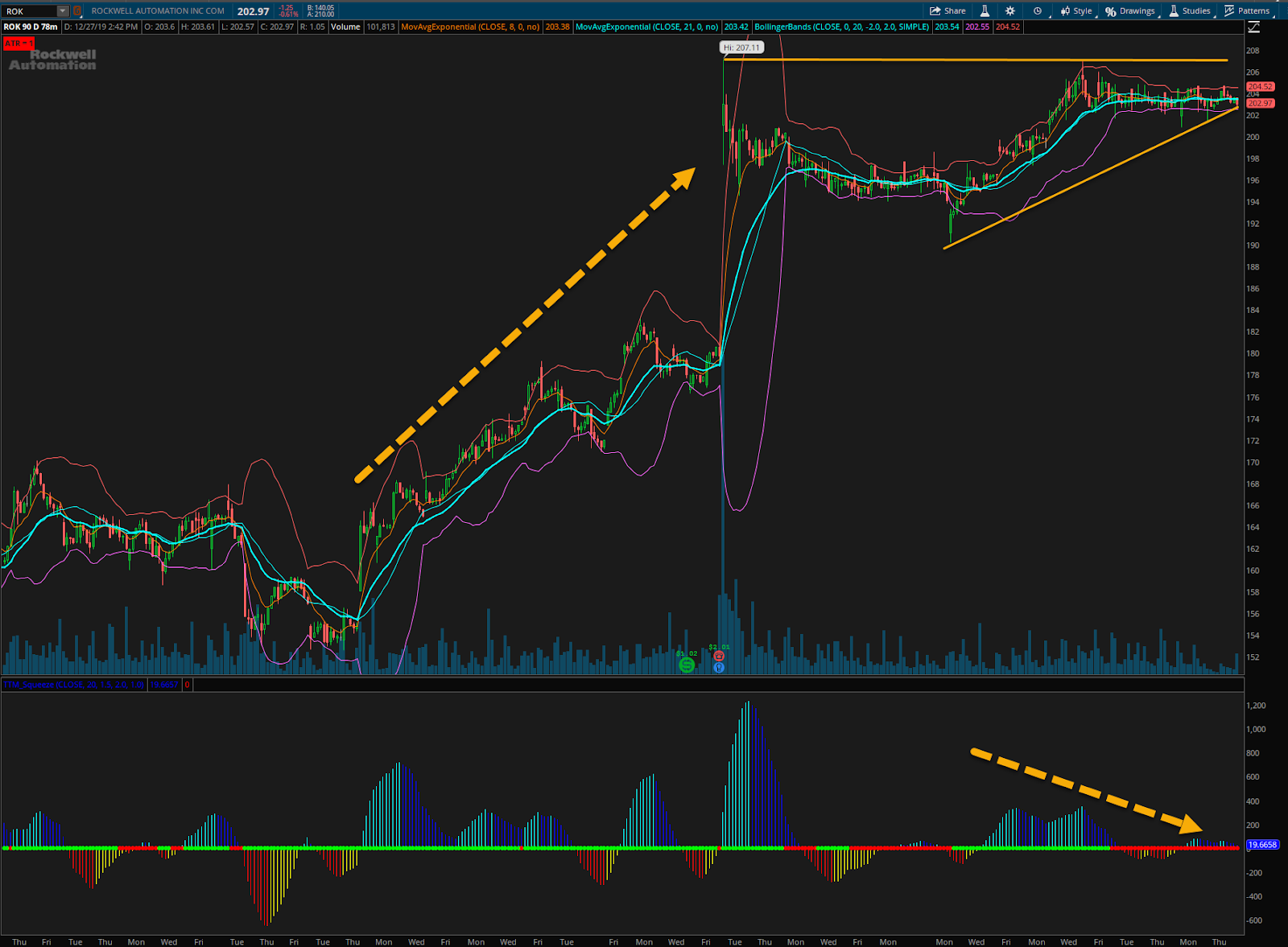 ROK 78-minute chart
The stock already had one squeeze that fired long, taking price up to its current levels. It looks as if energy is building to push through the all-time highs. If that's the case, you could see a sizable swing higher above the orange upper trendline.
I like to use the 127.2% Fibonacci extensions to find my price targets for these TPS setups.
If you want to learn about these extensions, check out my free article where I detail how I incorporate them into my trading.
One trade can pay for an entire subscription
It doesn't take long to learn my TPS setup. Members like Mark G. managed to almost pay for a year's subscription with one trade!

Ready to make your own profits?
Related Articles: