Hello trader,
For quite some time now, I've been following some of the dirtiest players on Wall Street — exposing their scandals… and today, I've got a juicy one for you.
It involves one California couple who took 17 investors on a one billion dollar ride with their Ponzi scheme. And honestly, you won't believe how they spent the stolen money. Like all of these scandals, you wouldn't think the ring leaders would do anything of this nature.
Jeffrey and Paulette Carpoff seemed like a normal couple.
They had 2 alternative energy businesses together, which they utilize to offer and sell investment opportunities for their companies. These solar energy companies dabbled in creating, leasing, and the use of mobile solar generators.
The couple touted these investments for exactly what they were: great for tax benefits, guaranteed lease payments, and sweet profits from the use of the generators.
Any investor who was close to the matter jumped for joy when they heard about the potential benefits to their accounts… I mean who wouldn't.
It all sounded super easy — invest money… get those awesome tax credits… feel amazing for investing in a green company and helping the environment.
Wrong. It was probably the worst investment decision they've made.
The 17 investors who collectively threw down $910 million with the Carpoffs were totally SCREWED! They put money down on a fugazi investment… and little did they know, the 17 investors were just funding Jeffrey and Paulette Carpoff's extremely luxurious lifestyle.
I want to walk you through their elaborate Ponzi scheme today, and show you how Wall Street's dirty players operate… so you can avoid them at all costs, and show you a way to legally profit off the backs of the smart money and Wall Street "insiders".
The way the Carpoffs pulled off this sinful Ponzi scheme was not only shocking, but it was ingenious… and they were experienced. Get this… and the scheme has been going on since 2011.
Here's how it went down behind the scenes.
The couple sold investment contracts for their privately held green energy companies DC Solar Solutions and DC Solar Distribution. The main lure was the tax credits offered only for extremely specific projects.
How odd that both DC Solar companies somehow fit right into this area, right?
Investors would purchase investment contracts for generators from DC Solutions. Thereafter, the generators would be conveniently leased to the other Carpoff company, DC Distribution. Next DC Solution would supposedly sub-lease these generators.
What was presented to investors was a smooth plan of money-making perfection. But as we all know… if it sounds too good to be true, it probably is.
The Carpoffs presented themselves as major players in the alternative energy field, with an even bigger customer base. They told investors thousands upon thousands of their generators were in use. And their track record was elite, as they were able to supply a steady stream of income… and they were "flawless" at finding customers.
They really painted the loveliest of pictures for investors.
But what they sold was lies.
In later efforts made by the investors themselves, they discovered that of the 17,600 generators sold to investors only 6,600 actually existed.
The lease income for that 6,600 of generators that actually were manufactured was under 5% of DC Distributions' revenue. Most of the company's revenue came from the Carpoffs' Ponzi scam transfers between their companies, using that mountain of investors' funds.
$910 million is a huge sum of money and most of the money that didn't go to generators.
So, what the heck did this dirty couple do with nearly one billion dollars of investors' cash?
Well, Jeffrey and Paulette Carpoff bought over 150 luxury and sports cars. And yes, you read that correctly ── 150 cars. You heard that right, 150 cars… while most people just have one or two. They actually bought 150 expensive cars that only the uber-wealthy can get their hands on.
Where does one even store that many cars? How does one keep track of that many keys?
But having an entire personal car dealership at their disposal wasn't enough for the Carpoffs. They gobbled up DOZENS of properties. Business real estate. Glorious mansions. Vacation homes.
And what's the point of having a slew of luxury properties if you have to drive one of the 150 cars you own to them?
The Carpoffs decided to bypass the drive and bought a share in a private jet service to get around in the poshest of ways.
To add injury to insult, Jeffrey and Paulette Carpoff transferred tens of millions of dollars into their personal accounts and to their many business accounts, fully spreading the love (cough… cough of stolen investors' money) to every part of their lives.
And their scheme worked for 7 years…
Until right before Christmas 2018 when Feds gave investors a real special gift ─── thoroughly blowing up the Carpoffs' plush lifestyle. They executed seizure warrants on almost every account associated with the generators. Which at the end of the day was almost every single account the Carpoffs had…
Wonder if the Feds gave them the chance to wave goodbye to all their cars as they were towed away?
Probably not.
The thing is… you may think only wealthy investors are susceptible to these scandals… and it only happens in the "private" market. That couldn't be further from the truth.
We actually see some seemingly well-timed trades in the options market all the time… and if you think the smart money doesn't have some sort of unfair edge, then I'm sorry to say, you're completely wrong.
But the thing is… I've figured out a way to level the playing field with my Dollar Ace trading system.
Don't believe me?
Let me show you how it all works.
Level The Playing Field With This Simple Strategy
Check out this alert I sent out to my Dollar Ace clients recently.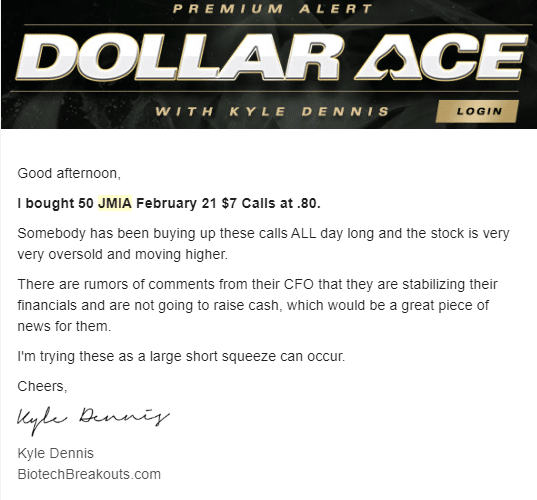 The unusual options activity was one of the main reasons I got into the trade. The way it typically works is some Wall Street whale comes in and sweeps up a massive amount of options… and a proprietary scanner lets me know about their moves.
All I have to do is dissect the information and pair it with a bullish setup.
On the daily chart, Jumia Technologies (JMIA) was just coming off a key support level… and it was a heavily-beaten down stock. Not only that, but the stock had a high short interest and a low float, the makings of a potential short squeeze.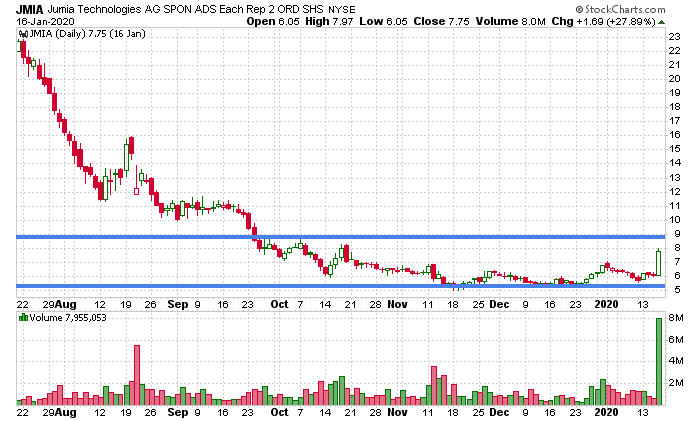 So I figured JMIA could make a move to the upper blue horizontal line, the next level of resistance.
Guess what happened shortly after I got into the trade?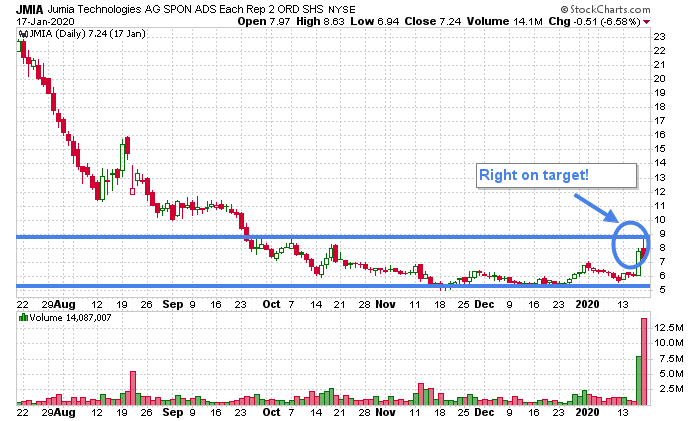 The move happened!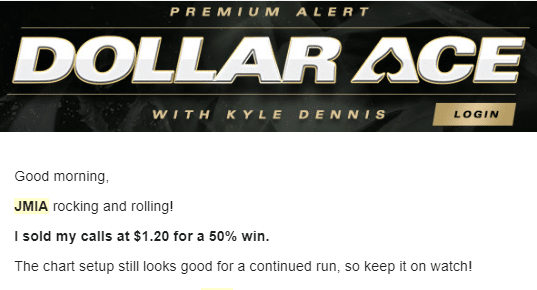 That's a heck of a lot easier than investing in green energy companies, only to find out it was a ponzi scheme… right?
Sure, there weren't headlines about JMIA. All I knew was someone big was buying calls, I didn't know anything of any non-public information, just that the order flow and the charts signaled a potential run higher.
However, those options don't expire until February 21, more than a month after I traded it… but I wasn't going to just leave a 50% winner on the table. I decided to take my profits and find my next Dollar Ace trade.
Could we see the rumors actually become a reality in JMIA?
Who knows… only time will tell.