It's been a wild market, and given the price action of the first two days of Q2 20202… I'm expecting more volatility. Of course, "predicting" the direction of the stock market in this environment would just be gambling.
I want to connect with my readers and help as many of you out as possible, so I've opened up a discussion and I've received an overwhelming response — one question that I kept seeing pop up was: what are you trading right now?
Of course, I can tell you what positions I'm in… but I don't think that would help in this fast-paced market. Instead, I'll show you what I'm watching for the foreseeable future:
Oversold Industries: Restaurants, airliners, casinos, hotels, entertainment
"Coronavirus Names": AIM, APT, CODX, INO, OPK, MRNA, GILD, NVAX.
3D Printing: SSYS, DDD, NNDM
The thing is… I don't want to just show you what I'm watching because I believe it's imperative to develop your own set of skills if you want to make it in this tough environment.
So while I've provided my watchlist, I don't think that's enough… I want to show you my methods, how I was able to lock in $477K in March alone, and how I was able to unlock a hidden bull market

So how am I going to find my next trade ideas?
How I'm Approaching Stocks In This Wacky Market
If you're struggling in this market environment… don't beat yourself up and just take a step back to assess what you could do to protect your portfolio and assets. For me, I think the best defense is offense — and that means I'm actively looking for stocks I believe could explode higher.
But how exactly do I pinpoint these names?
Simple.
If you look at any stocks making a move, on any given day, you'll probably realize there's a catalyst that sparked it… whether the stock is selling off or running higher.
So what exactly are catalysts?
They're the fundamental reason why prices move. They could be earnings, news releases, data releases or product announcements.
The best traders are forward-looking and understand how catalysts work… and I want to show you exactly how to use them to your advantage. For the most part, all of my winning trades have catalysts… and I'll do is time them to perfection.
However, spotting the catalyst and placing your trade isn't the only thing you need to do in order to hunt down explosive opportunities in the market. In fact, I have a simple ruleset:
Eliminate emotions from trading

Silence the noise and trust the process

Develop a trading plan (this helps with staying in between your guidelines, and removes emotion and noise)

Time your entry and exit by identifying catalysts
I believe it's important to have a specific set of guidelines, given the state of the market we're in.
I know what you're wondering… Does this actually work?
[Revealed] How I've Uncovered A Hidden Bull Market
For the most part, when it comes to my trading strategy, I like to keep it simple (as I showed you earlier). Just take a look at the daily chart in CHF Solutions (CHFS).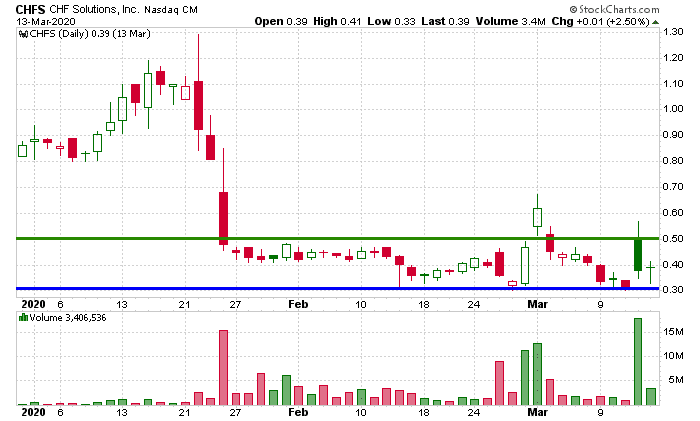 With this specific setup, CHFS had support at $0.30, and had the potential to break out above $0.50 (a key resistance level).
In other words, it had a tough time breaking below $0.30 because there were most buyers at that level. However, if the buying pressure continued, the stock could trade above $0.50.
The thing is, the chart signaled the stock could bounce. However, I needed to find a catalyst.
Well, I was a little lucky here.
The company announced it was holding a conference call about its product and how it was being used in Italy to help with the coronavirus. This was just the following day after I spotted the potential trade.
With this specific setup, all of the buy, stop-loss, and target zones were pretty clear. However, I knew I wanted to be out of the trade before the catalyst date.
Here's what I sent out to my clients in real time.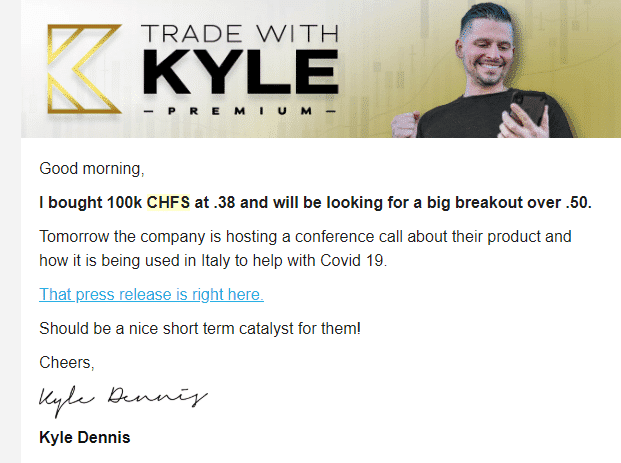 Shortly after I got into the trade, CHFS exploded and actually got to my target. However, I didn't take my profits off the table because I thought it could have gapped up the next day.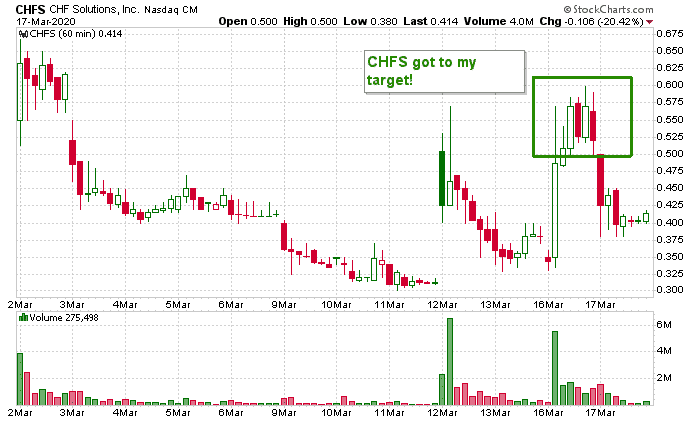 Of course, as you can see, I should've taken off when it was in my target zone. However, I'm not too mad because I was still able to lock in a profit.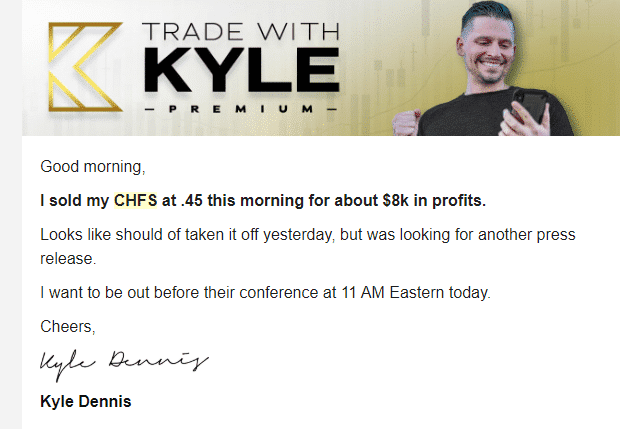 That's just one of the many winners I've found in a hidden bull market that I've uncovered.
If you're struggling in this market environment, don't beat yourself up. There are ways to find opportunities and time your trades to near perfection… and I want to show you exactly these plays are.
How?
Watch my State of The Market address and learn how you could find success in this wacky market.
Related Articles: