The story: Amazon.com (AMZN) looks like it's "taking over the world," after it bought Whole Foods Market, and now it's trying to get into the health care business. AMZN released its 3Q 2017 earnings report in October, and the results weren't as strong as some investors think.
Why AMZN's earnings aren't as strong: AMZN actually reported earnings per share (EPS) of 52 cents, which was flat year-over-year. Moreover, net income of $256M in 3Q 2017 was just a 1.6% increase from the prior year. Although Amazon was able to grow its revenue by 34% from a year earlier, beating analyst estimates year-over-year and beat analyst estimates, net income and EPS are more important figures.
With AMZN's net income falling, investors may be paying an abnormally high price per $1 in EPS.
Amazon also had an immense rise in goodwill, up more than 200% quarter-over-quarter (QoQ). Not only that, but the company has taken on a lot of long-term debt, and the big hike in long-term debt could hamper future earnings growth and the ability to increase EPS. Interest expenses alone could be over $500 million going forward, compared to net income of $2.37 billion in 2016.
What to look for next: The next earnings release is still a few months off, but I'll be focused on any material changes the company might have, such as entering into the drug business, or new acquisitions.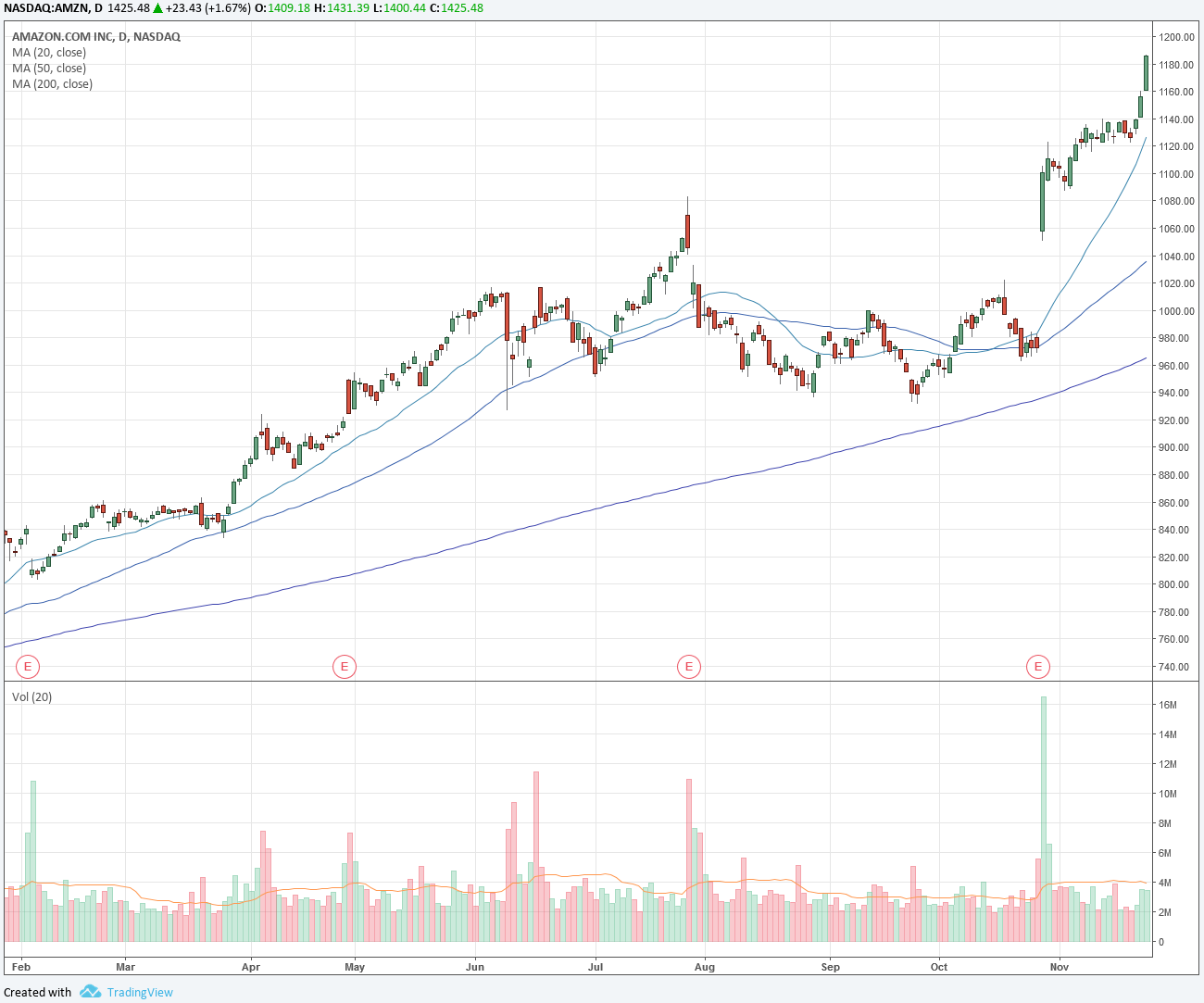 The chart shows an obvious gap; with coming earnings announcements, I think AMZN could potentially pull back and start to fill the gap. Again, that's a few months away, but it's what I'll be thinking about every time someone talks up Amazon in the meantime.
#-#-#
   Jeff Bishop is lead trader at TopStockPicks.com. He runs short-term trading strategies, primarily using leveraged ETFs.  At the time this article was published on RagingBull.com, he had no shares, options or open orders in AMZN.
Related Articles: