We've all heard about how startups are so lucrative. 
But it's not all glitz and glory for angel investors. In fact, there are some pretty shady companies out there, and if you invest in any one of them… you run the risk of losing your entire investment.
Ever watch the HBO Documentary, The Inventor: Out for Blood in Silicon Valley?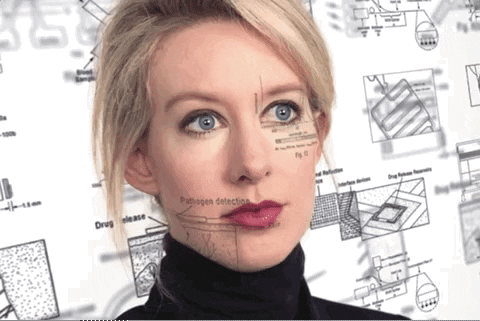 Elizabeth Holmes was on another spectrum — starting a fake company and lying to everyone about the technology
Well, Elizabeth Holmes — a Standford University drop out — came out with a revolutionary blood-testing solution. In 2014, Holmes started Theranos, and its entire business model was based on a proprietary technology that only required a finger prick to detect medical conditions like cancer.
When I first heard about this company… I was stoked (being a biotech junkie) because that would mean it would save millions of lives… but I knew something didn't add up…
And even if I wanted to invest in the early stages… I couldn't because there weren't any modifications to the JOBS Act yet.
Good thing, because I dodged a bullet with that one.
Holmes grew the company to a valuation of a whopping $9B. She started to raise capital for Theranos from some ultra-wealthy investors like Oracle founder Larry Ellison, and some prominent venture capitalists.
The company raised more than $700M… and it got even weirder when she took their money and didn't want to reveal how Theranos' cutting-edge technology worked. 
Not only that, but she was on a power trip and wanted the final say over everything.
I don't know about you, but when someone is raising capital and doesn't want advice from billionaires, the warning bells should've alarmed everyone about the ultimate downfall of the $9B company.
Theranos Had Everyone Fooled
Theranos was like the Illuminati, obsessed with keeping everything a secret. Literally, Theranos operated under the shadows… heck, Holmes even took some employees to court because they "doled" out trade secrets.
Get this: she took some "tips" from Steve Jobs and started dressing in black turtlenecks and also decored her office… she even changed the way she talked to fit in with the startup community.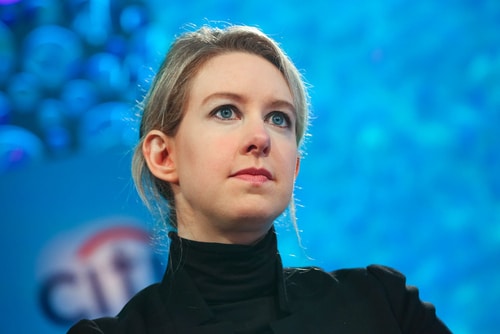 There were a lot of things off about Elizabeth Holmes, and as Theranos' fearless leader, it wasn't good for the company… and she couldn't even hit the ground running with it.
Why?
It was a complete scam.
In 2015, the FDA started to investigate Theranos… and figured out something shocking… that opened the floodgates of investigations, and one Wall Street Journal reporter exposed Theranos' technology.
They found that Holmes lied about the blood-testing machine and it didn't give accurate results as she claimed.
By 2018, Holmes was charged with fraud by the SEC, and had to pay a $500K fine and return 18.9M shares of her shares.
Elizabeth Holmes is now awaiting trial in July 2020. Good riddance!
Just because you hear about stories like this… it doesn't mean startups are bad investments. You just need access to the right deal flow and conduct your due diligence.
Startup Investments Are Risky But Provide Some Lucrative Opportunities
You've probably heard the greater the risk, the greater the reward… and that's how startup investments work.
Sure, placing bets on new companies is risky… and you could lose a bulk of your capital. However, the beauty of angel investing is the fact you can invest as little as $50 in some startups.
That means you could get in on the ground floor running on some of the hottest companies, without breaking the bank. Not only that, but there is a new way to attack the private sector and get in on some of the most exclusive deals in the market BEFORE they go public.
The Boardroom will reveal to you EXACTLY how you can spot some out-of-this-world opportunities (not ones like Theranos)… and potentially build wealth with small investments.
Related Articles: