Some believe, with the right connections, and access to information—you can have an unfair advantage.
Imagine having access to M&A deals, information about a company set to release a key catalyst (before it does), or whatever else these "insiders" have access to.
Sounds great, right? Being like Bobby Axelrod and running billions of dollars… access to insider info…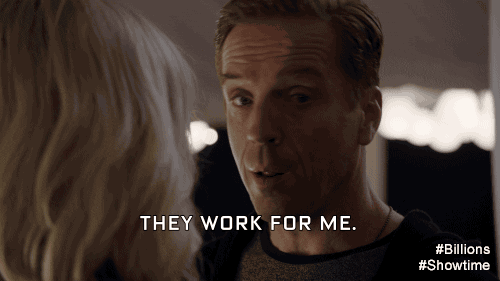 It doesn't work like that in the real world. It's completely illegal to place bets on non-public information… besides, it's nearly impossible for them to hide their trades.
But it doesn't stop these massive players from trading based on "insider information". To them, money is the only thing that matters in life, and they will stop at nothing to make more.
When you figure out how these guys strategically throw down millions on trades, it provides a 100% legal way to piggyback off them.  I'm all about exposing these traders… profiting from their moves just puts icing on the cake.
I got hooked on researching all these "insider trading" cases, and I've stumbled across one of the biggest insider trading schemes… ever.
A trio heisted some trade secrets worth $32M in non-public information… and the way they did it was so covert.
The Feds finally arrested them on insider trading charges… and these guys are so cunning, they got away with it for 17 years.
You will also get an exclusive lesson on how Unusual Options Activity helps you spot some of these plays… and why it's the single best strategy to legally profit from these "insiders' every move" (we're not privy to the same information they are).
This story makes even the scummiest traders on Wall Street cringe. Making $32M in profits wasn't enough for the trio who engaged in "insider trading". Talk about greedy.
For 17 years, these guys ran a secretive operation right under the noses of major law firms… as well as brokerage firms.
Here's how it went down.
It started with Kenneth Robinson, a mortgage broker, was a part of an insider trading scheme with his good ol' boys —  Matthew Kluger and Garrett Bauer.
Robinson was the linchpin of the infamous case, as the Feds were recording conversations between the trio.
It all started with Kluger. This guy worked at some of the most prestigious mergers and acquisitions (M&A) law firms. That meant he had access to a slew of deals, something not available to the public.
Over 17 years, Kluger worked at four major M&A law firms — Cravath Swaine & Moore; Skadden, Arps, Slate, Meagher & Flom; Fried, Frank, Harris, Shriver & Jacobson; Sonsini Goodrich & Rosati.
Kluger regularly stole material nonpublic information about corporate M&A activity… and fed it all to his good buddy Robinson.
Once Robinson got that information, he passed it along to Bauer. Bauer would buy shares for himself, Kluger and Robinson in his trading accounts.
Bauer would then split the profits with the two… and usually, it was tens or hundreds of thousands of dollars.
Robinson pleaded guilty and admitted he personally made trades on the 3Com Corp. acquisition by Hewlett-Packard and the acquisition of McAffee Inc. by Intel Corp.
These guys had a pretty intricate operation… they would only exchange the information through "throwaway phones" and payphones. No wonder why it took so long to figure out what they were doing!
Ultimately, these guys all went to jail… but these insiders never learn their lesson.
They invested $109M and made $32M in illicit profits over the years… and if you think about it… they could've stopped way earlier and lived a comfortable life.
But here's what Bauer got caught saying (allegedly), "The fact is we did something wrong. So it is not like we are convicted of doing nothing. We did something wrong here."
The trio knew it was wrong… but still did it.
That's how these insiders operate… and to this day, we can see exactly how they make millions. 
How to Spot "Insider" Activity
Unusual Options Activity (UOA) is one of my favorite tools to use. It gives me an idea of what the "smart money" is doing. I don't know any of the information… all I know is they're buying, and a lot of the times… a catalyst comes out after.
The only thing I do is look if there are large options orders going off in a specific stock. Typically, when we see massive call buying and there's no open interest… and a bullish chart setup.
Chances are, the stock explodes higher. It's really that easy.
Don't believe me?
Let me show you with a real money trade.
The other day I saw some interesting options activity in Karyopharm Therapeutics Inc (KPTI).
The specific order I saw was 654 calls go off in $15 strike price options expiring on Nov. 15, 2019.

Source: thinkorswim
By the end of the day, we saw so many calls being hammered and I knew I just had to put it on my watchlist…
Then a few days later… they were back again.

This time, we saw more than 3,500 contracts exchange hands. I knew I had to get in once I saw that.
Why?
Well, if you look at the daily chart in KPTI (at the time), it gapped up above a key resistance line (the blue horizontal line in the chart below at $12.50).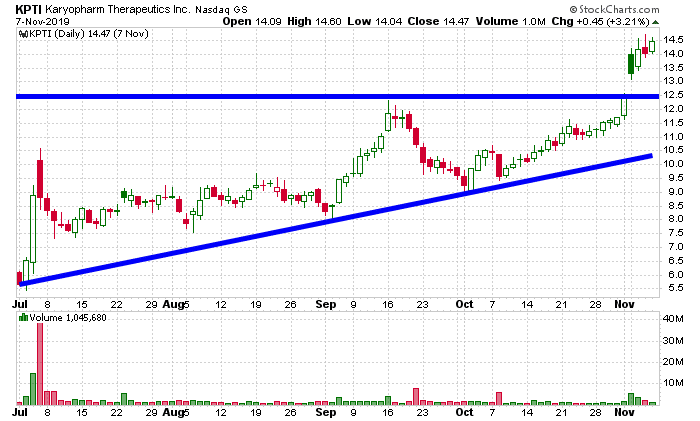 The reason for the gap up was positive news from KPTI, as the company smashed analyst expectations for its first cancer drug research. Not only that, but the company topped revenue estimates.
Typically, when we see an explosive catalyst and a move higher… there's a high probability the stock continues higher.
When you look at the short interest for KPTI, it also helped it was more than 20% because that provided us with a case for the short squeeze play as well.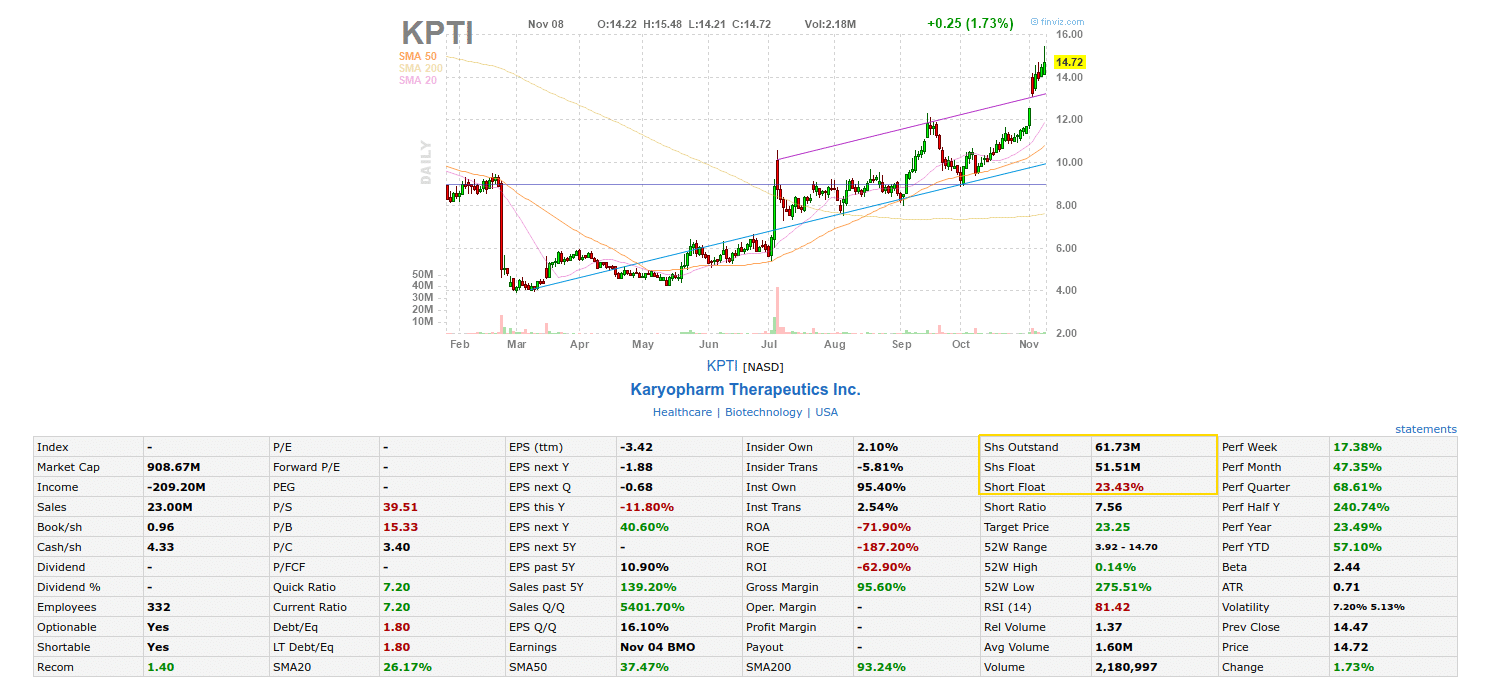 Source: Finviz
So I decided to pick up some KPTI calls too. Again, I have no clue what the catalyst is… but I do know the company is set to present at the American Society of Hematology 2019 Annual Meeting in December.
Who knows, maybe someone knows something… maybe a positive data release could come out… we can only speculate.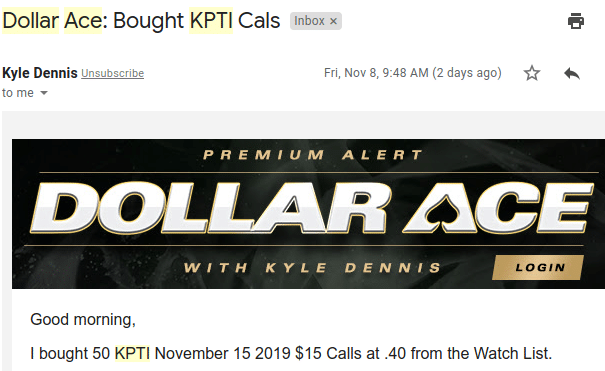 Literally the same day I got into those options… they exploded and I locked in a 100% winner!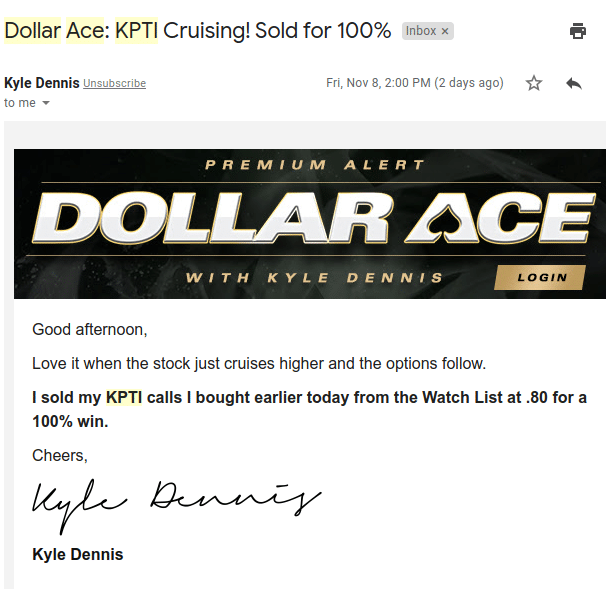 Sure, I could've held onto those options because they don't expire until Nov. 15… but when you've doubled up in just 1 day, it's time to take your chips and walk away… not be greedy like the insiders.
If you want to learn how this all works, watch this exclusive clip about how I use a proprietary scanner to detect what the smart money is doing.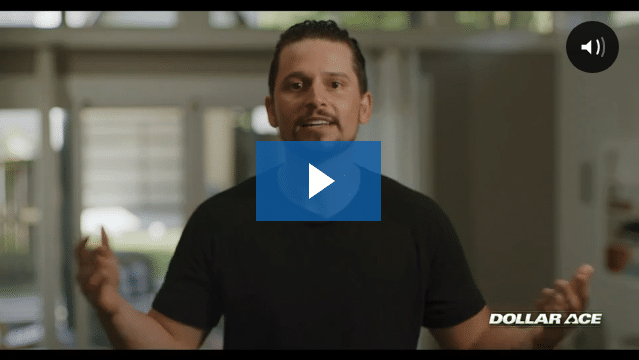 Related Articles: