You've probably seen movies like The Wolf of Wall Street and Boiler Room — and while much of it is just entertainment… there are truths to these stories.
Brokers are among some of the scummiest players on Wall Street, the worst ones will try to churn and burn your account—fleecing you in fees and commissions.
The U.S. Securities and Exchange Commission (SEC) recently probed AIG (you've probably heard of them before). The financial watchdog is looking into the sales and disclosure practices at one of AIG's divisions… and it doesn't look pretty.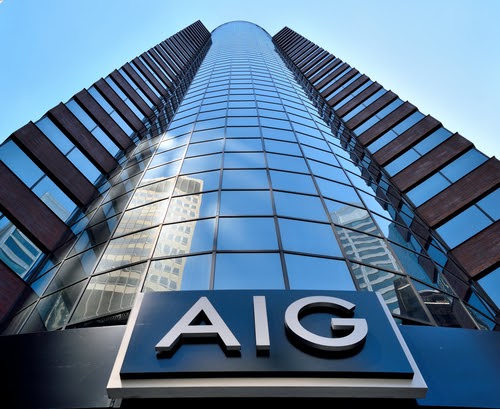 It's not just AIG doing this, there are probably dozens of companies engaging in these malfeasance practices.
What you may not know is the fact these financial services companies directly "steal" from your grandparents, parents, aunts, and uncles.
They don't care if you lose money, just as long as they get a fat bonus check… rather than helping, they try to trick folks in retirement… and that's super illegal.
These guys are incentivized and directly rewarded for the products they sell. So what do they do? They sell higher-priced products to people who just want to live comfortably after they've put in decades of hard work.
What Did AIG Do To Tick The SEC Off?
AIG's division Valic is designed to provide retirement products to K-12 school teachers, colleges, as well as non-profit organizations. Not only are these workers grossly underpaid, but investment companies also try to take what little they had out of their pockets.
The SEC found there was a conflict of interest, as Valic had an agreement with school districts — the division would pay for certain school expenses, and would offer investment advice and products to school employees, as well as some universities.
Rather than act in the best interest of its clients, instead, the salespeople decided to act in the best interest of themselves… and trick these uninformed retirement folks for their money.
In the height of this scandal, multiple high-level execs at Valic were put on administrative leave. Who knows if these guys will ever be charged, they'll probably get off scotfree, just like the rest of the scum on the Street… and they'll be back to their old ways.
That's why I won't let anyone in my immediate family use a financial advisor…rather, I try to show them different ways that trump these funds' returns, and best of all — when they profit, they don't have to split it.
You see, there are simple strategies out there that just take minutes of work… and it allows the busy-professional to still trade, even if they're at work. Not only that, but they work for small accounts.
Profit From The Scummy Players On Wall Street
Retirement funds aren't the only scummy players on Wall Street. In fact, there are corporate insiders out there who place trades off insider information. Those guys are dipping their hands into meemaw's pockets too.
However, I've uncovered a way to legally profit from their every move using my 5-minute options strategy — Dollar Ace.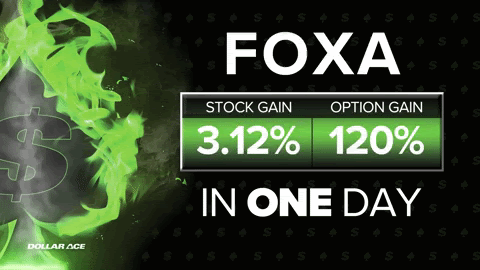 All I really do is look at order flow and chart patterns… but my clients don't have to do that because I do all the heavy lifting for them. I come up with a watchlist and send out real-time alerts if I get into a position.
Here's how it works…
I spotted a massive options order go off recently in Lumber Liquidators (LL).
Someone bought 2,409 calls in LL for a measly 30 cents a pop. Those options were set to expire in just about 2 weeks at the time. The trader "controlled" 240,900 shares, a bet that cost them $72,270… that's a pretty sizable bet to me.
That told me someone must've known something, and those options were set to explode… so I put it on my watchlist and sent it to my clients.
However, I don't blindly follow these trades. I actually conduct my due diligence and look for a bullish chart pattern.
Check out the daily chart in LL.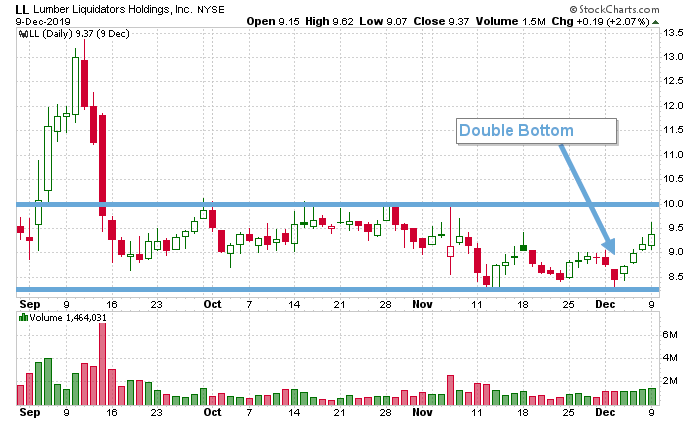 Lumber Liquidators formed a double bottom just below $8.50 and bounced right off that key level. Thereafter, LL actually started to trend higher. When I looked at the chart, I noticed a key breakout level at $10.
Since the $10 level is typically a key psychological level, I figured it would act as a magnet and pull the stock higher — potentially causing it to break out. Once everything checked out on my end, I decided to follow along and let my clients know about my moves in LL.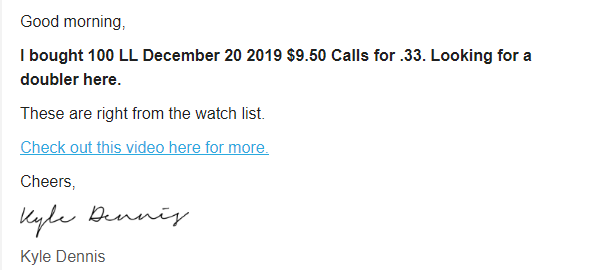 Take a wild guess at what happened with LL.
Well-Timed Trade, Or Did Someone Know?
Lumber Liquidators released a positive catalyst just a few days later, and finished more than 15% higher!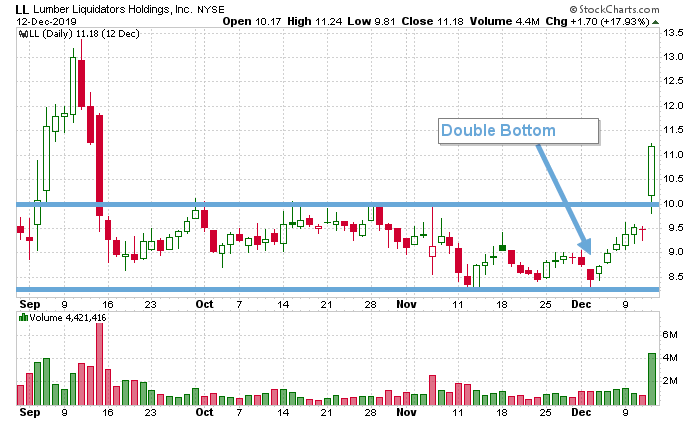 Since I was trading the options, that 15%+ move was good for nearly a 100% winner!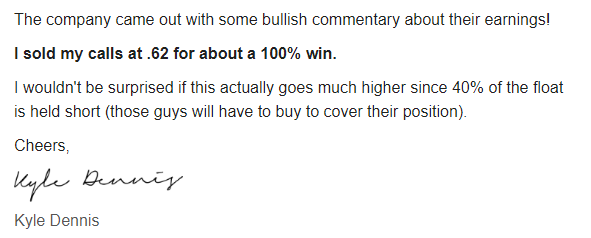 The thing is… that wasn't just a one-off trade. In fact, I see trades like these ALL the time. Take a look at this monster winner in Kraft-Heinz (KHC).
I noticed unusual options orders go off in Kraft Heinz (KHC). Not only that, but there was a noticeably high open interest in the KHC January 17 2020 $32.50 calls. Basically, that told me well-informed traders "knew" this stock was going to run up.
Once I spotted the options order, all I needed to do was look at the chart and find the perfect entry level in the options.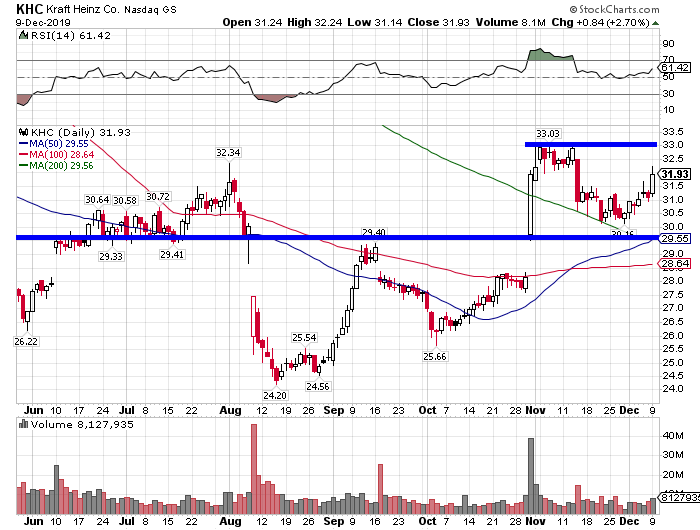 If you notice, KHC tested a resistance level and pulled back significantly after a brokerage commented on the stock. I figured traders just had weak hands and hit the panic button. However, I knew the smart money was in… so I decided to buy the calls.
"I bought 100 KHC January 17, 2020, $32.50 Calls for .45."
Not too long after, I was locking in a 96% winner!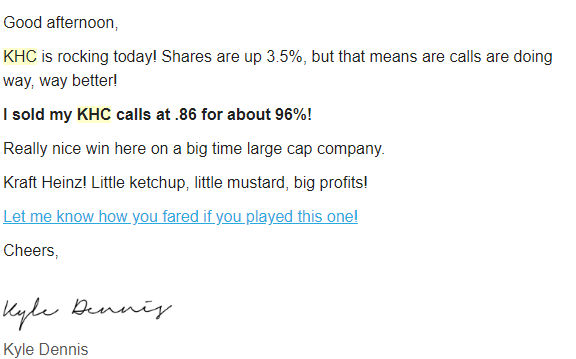 When you can uncover massive returns in the market, why settle for a scummy broker who just sees you as a big $… waiting to find the right time to churn your account and sell you products you don't know about.
Instead of having a large corporation manage your money, you can give your account the love and attention it deserves with my Dollar Ace system and finally put the power back into your hands.