If you haven't heard the news yet, gold hit a fresh record high and is now well above $2,000 per ounce…
And it could keep running higher.
So what's fueling this massive rally in gold?
There are a few reasons that come to mind:
The U.S. Treasury bond yields and the dollar have been dropping.
The Federal Reserve has been printing money to support the economy and will do anything in its power to keep the U.S. afloat.
The fear of inflationary pressures.
Uncertainty in the market and traders worrying if there's going to be a pullback. So traders and investors are using gold as a hedge.
You know what?
All signs point to a higher gold price, especially if the Federal Reserve keeps injecting money into the economy and if we see a slower recovery.
There are actually ways to get in on this action in gold…
No, it's not by purchasing gold outright or piling into an ETF.
In fact, my Dollar Ace scanner detected one interesting play in a gold stock…
It's one I'm going to keep on my radar right now.
Does The "Smart Money" Know Something About This Gold Stock?
There are so many ways to play the runup in gold…
Rather than try to find the needle in the haystack to find the best gold plays out there…
I look at my proprietary options scanner for ideas.
You see, there are large options bets and it's easy for me to steal the smart money's best trade ideas.
For example, on Tuesday, my scanner pointed me towards some large and unusual options activity in Golden Star Resources (GSS) .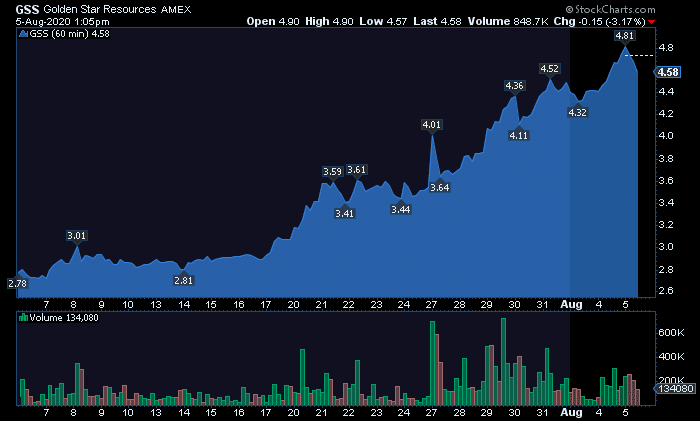 The stock has been on an absolute tear, but that's not what caught my attention…
What really caught my eye was the activity in the name.
You see, on an average day, you won't see more than 138 calls of GSS trade. However, yesterday more than 3,500 traded on Tuesday.
That means the call option activity increased by more than 2,500%!
Now, there was one specific trade in Golden Star Resources (GSS) that stuck out to me.
Early in the afternoon on Tuesday, a trader threw down this bet:
1681 GSS Feb $5 Calls
They Paid $0.65 Per Contract
For A Total Of $109K In Premium
Now, that sounds like a solid trade for a swing for a play on gold.
My Dollar Ace Scanner has specific criteria that need to be met to show up...
Here's a look at just a few of the specifics it looks for…
The type of option bought (in, at or out-the-money)

How that option was purchased

When do those options expire

What was the total spent

What was the volume relative to its average
It might sound complicated, but I have it all programmed into my scanner.
In fact, I have programmed the scanner in such a way… you don't necessarily have to be an options expert to use it to make money.
Regular folks use it every day, and from the feedback I receive on social media, quite a few of them are making money from it.
The Dollar Ace Scanner is one of my favorite tools for generating trade ideas. And it's responsible for some of the biggest winners I've had this year.
Related Articles: