We all know those traders… they see a headline hit the wire… slam into the stock, only for it to pull back and wick them out of what they thought would be a monster trade.
The reason: if you react to all the news coming out of CNBC, Bloomberg TV, Fox News, or whatever other financial news networks you watch… you are literally one step behind.
The Wall Street "insiders" have a clear edge over us ALL the time when it comes to information. Heck, sometimes, they make well-informed bets hours — sometimes days — before we hear about the stock.
I'm hooked on learning about how the "smart money" trades… and yesterday, there was some pretty interesting dark pool activity in Bed Bath & Beyond Inc. (BBBY)…
Hours later, CNBC finally picked up on BBBY… after it was up 3% already… and you're left in the dust because the "insiders" were already in it.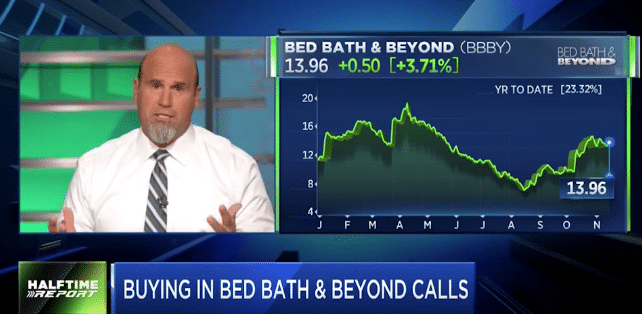 Source: CNBC
So how could you have spotted this trade AHEAD of the news coverage… and more importantly, how could you piggyback off Wall Street's elite?
If you don't know yet… Wall Street "insiders" place well-informed bets using proprietary information… the types that are "no brainer" trades that put them in a position to rake in massive profits.
What these "insiders" probably don't know is even though their trades are anonymous, we can still figure out their moves.
Sure, we don't know who's throwing down money on these trades… we just know a whale is getting in.
Let me show you how it all works.
Yesterday, there was a massive block trade that went off in BBBY. A 500,000 share position worth $6.75M.

Source: Bloomberg
It was quite clear someone was loading the boat with BBBY. Not only that, but there was some pretty unusual options buying in the BBBY Nov. 29 14 calls. That lets us know something was up.
Do we know the news? Absolutely not. All we know is the order flow and traders were placing some bullish bets.
It's really that simple… you notice some unusual trading activity, plan the trade… and just follow along.
BBBY Black Friday Pop Coming?
With BBBY, the trade is interesting because Black Friday is coming up — and the "smart money" may think it'll run up into the catalyst.
Taylor Conway actually spotted that block trade… and piled in. Here's what he sent out yesterday:
"BBBY was on my watchlist yesterday, I purchased the calls at $0.35 around 9:30 this morning after uploading this trade alert video for Shadow Trader members…
And by the time BBBY got picked up by CNBC, my position was already up 83% in barely 3 and a ½ hours."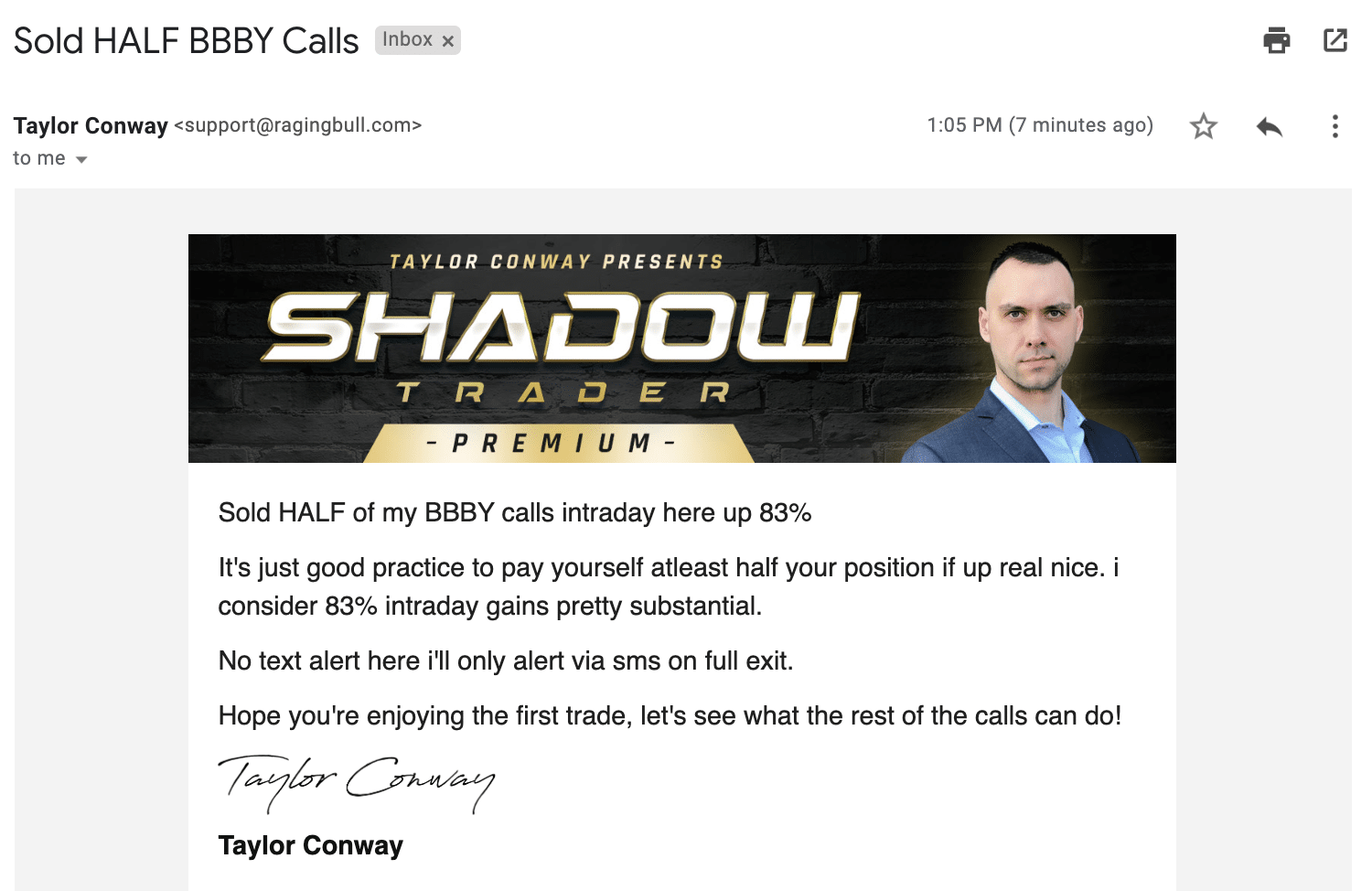 Before the talking heads even picked up this trade… fortunes were made, and it's quite clear you can't rely on them to get you information fast enough.
Overall, Taylor locked in 83% on his first half of the trade… and 72% altogether.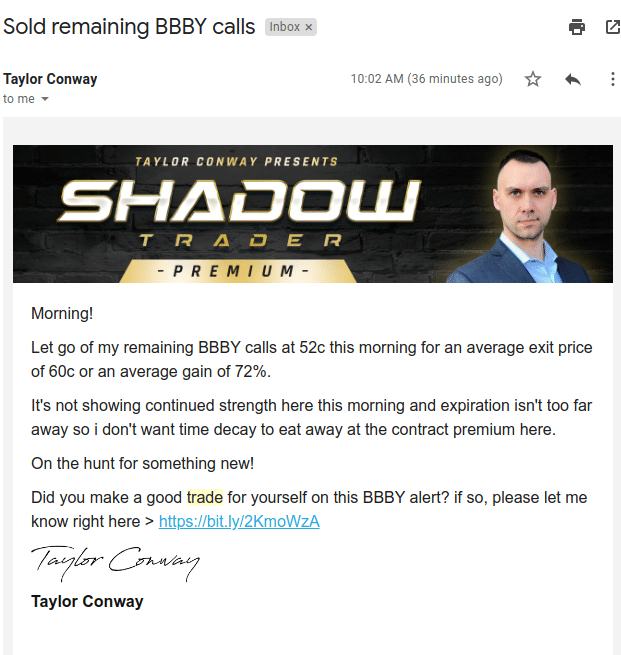 You might think that Taylor could've held onto the trade until next week… but that's the thing with these trades, you shouldn't overstay your welcome.
Typically, what happens is you spot these massive stock or options trades… and shortly after, you take profits.
Why?
Well, holding into an event like "Black Friday" sales is a very risky bet… instead, once you sit in some profits… you should lock it down because you never know when you could give it all back.
If you want to learn more about how the smart money trades… click here to watch this exclusive clip.