I'm not going to talk about where the market is today…
You can read that anywhere and the truth is… I don't care.
The holiday season has been great to my trading account. In fact in just over a month since starting my latest small account challenge, I am already up over 400%… so yeah, it's been nice.
And while the market's current state of being at this exact moment isn't interesting to me, something that does grab my attention… making money over the weekend.
You see as a trader, we sometimes get stuck with the idea that money can only be made when the market is open… and it sure isn't open on the weekend.
So what can we do other than relax and prepare for next week? I'm not complaining about relaxing, that's for sure….
But what if I told you I have a system that makes me money over the weekend… while I am relaxing?
With the stock market closed… you must be wondering how I can possibly pull that off?
Well, you don't have to worry… I am going to show you how to enjoy your weekend activities and make money at the same time…
Listen, if I were to tell you that there is money to be made in the market over the weekend, would you believe me?
I understand you are skeptical, so let's dig in…
The key here is I am not trading over the weekend as the market is actually closed… and I am not dealing with the market itself, such as the SPY… the ETF tracking the S&P 500…
… nor am I trading the stocks of household companies…
You see the market and blue-chip stocks are currently in a news-driven cycle… and leave you at the mercy of weekend headlines… which could be catastrophic…
So instead of keeping up with and worrying about the news over the weekend… when there is nothing you can do about it…
If you are anything like me… you would rather spend time being active, getting things done and relaxing with your friends and family.
This is why I trade penny stocks, they aren't affected by the overall market chatter…
And I created a system to take advantage of that… the Weekend Wiretap…
At the end of the day on Friday… I find the single best stock set to gap up on Monday morning…
By running my proprietary scan, flipping through the charts for the special patterns that set me up for a Monday payday, placing my trade… and enjoying my weekend with no stress…
That's all it takes… and I don't have to spend any time worrying about what is happening in politics, trade wars, the global economy or anything else in the world.
Just pick the very best setups that give me stocks with the highest odds of gapping up on Monday…
I don't have to read all the headlines, or even worse try to make sense of them…
On Friday, September 13th, I shared my Weekend Wiretap trade and my members were able to grab shares of GHSI.
Come Monday, GHSI gapped up for a great return over the weekend…
And by the 18th, just two days later… the stock was up over 100% and many of my members cashed out big…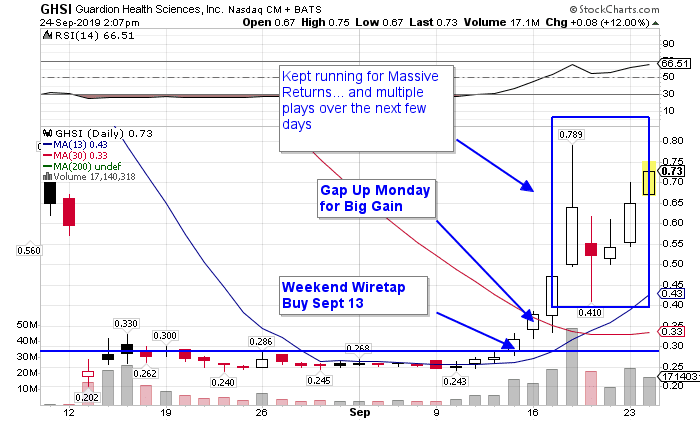 K.P. — Out GHSI – $1100!!
R.D. — GHSI in @.37, out @ .54. THANK YOU JEFF
F.R. — out 2 trades total on LIBE $900 total and 1 on GHSI $1,050 = $1,950 time in trades 1 week and 1 day trade today. Ty Jeff……
R.M. — Total profits out of GHSI for a total of $2,491 and I'm sure there's more down the road. Thanks Jeff
J.B. — out GHSI for $1,716 profit YES YES YES
The system is simple to use… I find the best stock ready to gap up on Monday, so you can benefit from some passive income over the weekend.
Enter on Friday and wake up to a payday on Monday.