Hello Trader,
You know what I love about trading? Every day is a chance to start fresh. It doesn't matter what happened yesterday or last week.
We're all allowed to hit the reset button and start with a clean slate.
That's why even though Friday was the second-worst trading day of my career, I'm focused and ready to start fresh on Monday.
Don't get me wrong, I plan to learn from my mistakes.
And I'm sure Weekly Money Multiplier members are excited to see me pull off more trades like this one in Stamps.com (STMP)…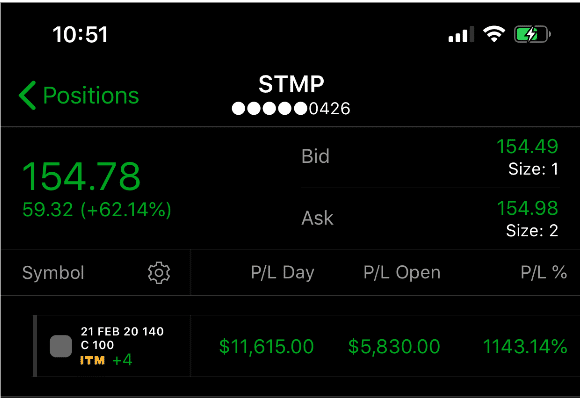 You win some and you lose some. That's trading!
You can't keep a good Bear down! So let's turn the page and begin a new chapter. Commit to making better decisions and become better traders.
That all begins with these three stocks to get us started off on the right foot.
Twillio (TWLO)
A lot of stocks took a beating last week. When you look through how all of them performed, a few stood out from the rest.
Twillio looked like they were headed lower after reporting earnings this quarter. Then buyers stepped in, smacking sellers in the face. As markets made their last push, Twilio went along for the ride.
Looking at the daily chart, I like what I see and think this stock has what it takes to weather the storm.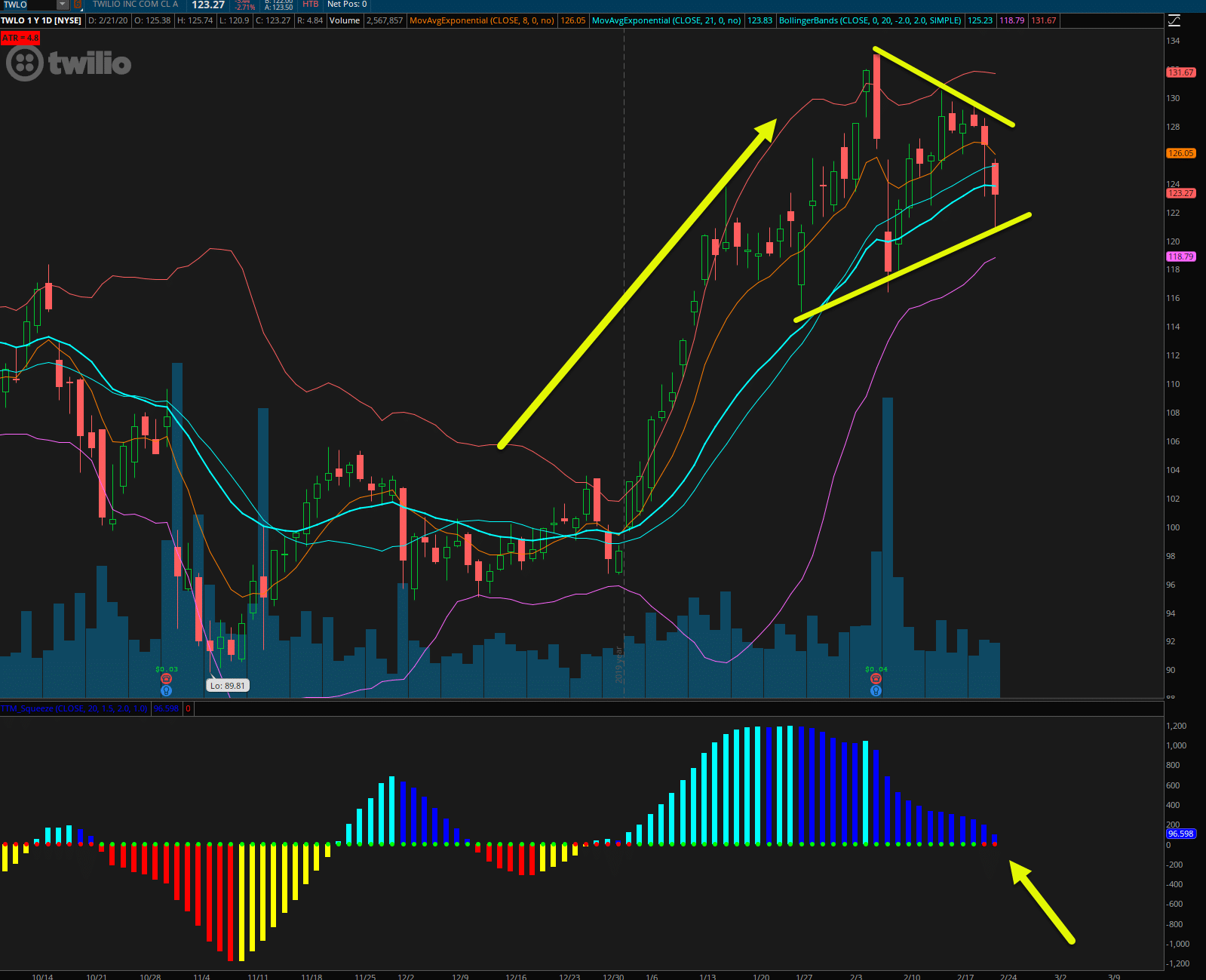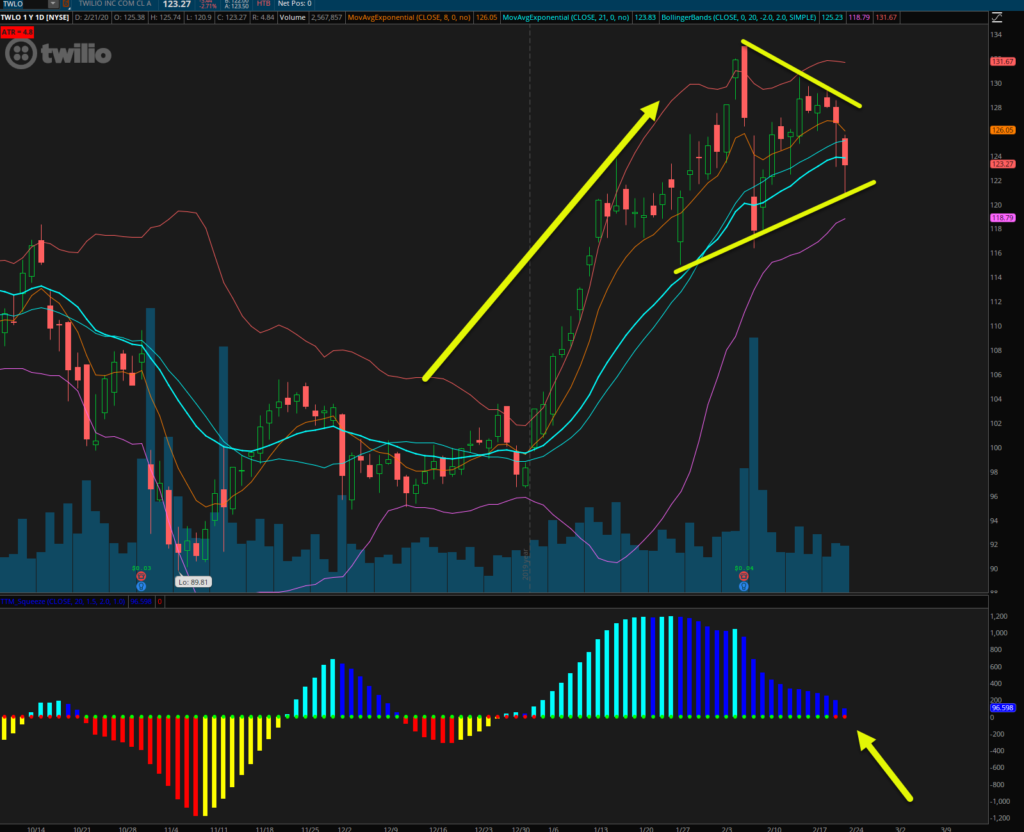 TWLO Daily Chart
Despite the negative momentum on the stock, I like the look of this setup. The chart has all the elements of my TPS setup.
Trend

– Twilio pushed off the lows with a quick thrust after building a base over several months.

Pattern

– Yellow trendlines connect the highs and lows of the candlesticks to form a consolidation pattern.

Squeeze

– At the bottom, you'll notice the red dots. This indicates that the Bollinger Bands have moved inside the Keltner Channel, signaling a potential move coming soon.
Price certainly whipped around a lot recently. Yet, it's still creating a noticeable consolidation. Although the stock moved into my buy zone between the 8-period exponential moving average and the 21-period exponential moving average, I would rather take it closer to the lower Bollinger Band.
Given the heavy market selloff last week, I want to approach this trade with more caution. That means reducing my size, scaling into the trade while saving more ammo for the conservative entries.
Five Below (FIVE)
Brick and mortar retail stores haven't fared well in recent years. Look across the strip malls and you'll find plenty about bankruptcies and store closings. However, some niche retailers manage to display remarkable growth.
Five Below had been trending lower for most of 2019. On January 13th, the stock got whacked on high volume. Buyers came in waves creating a clear reversal candle. Since then, the stock floated higher and now has entered a consolidation phase.
Let's take a look at the daily chart.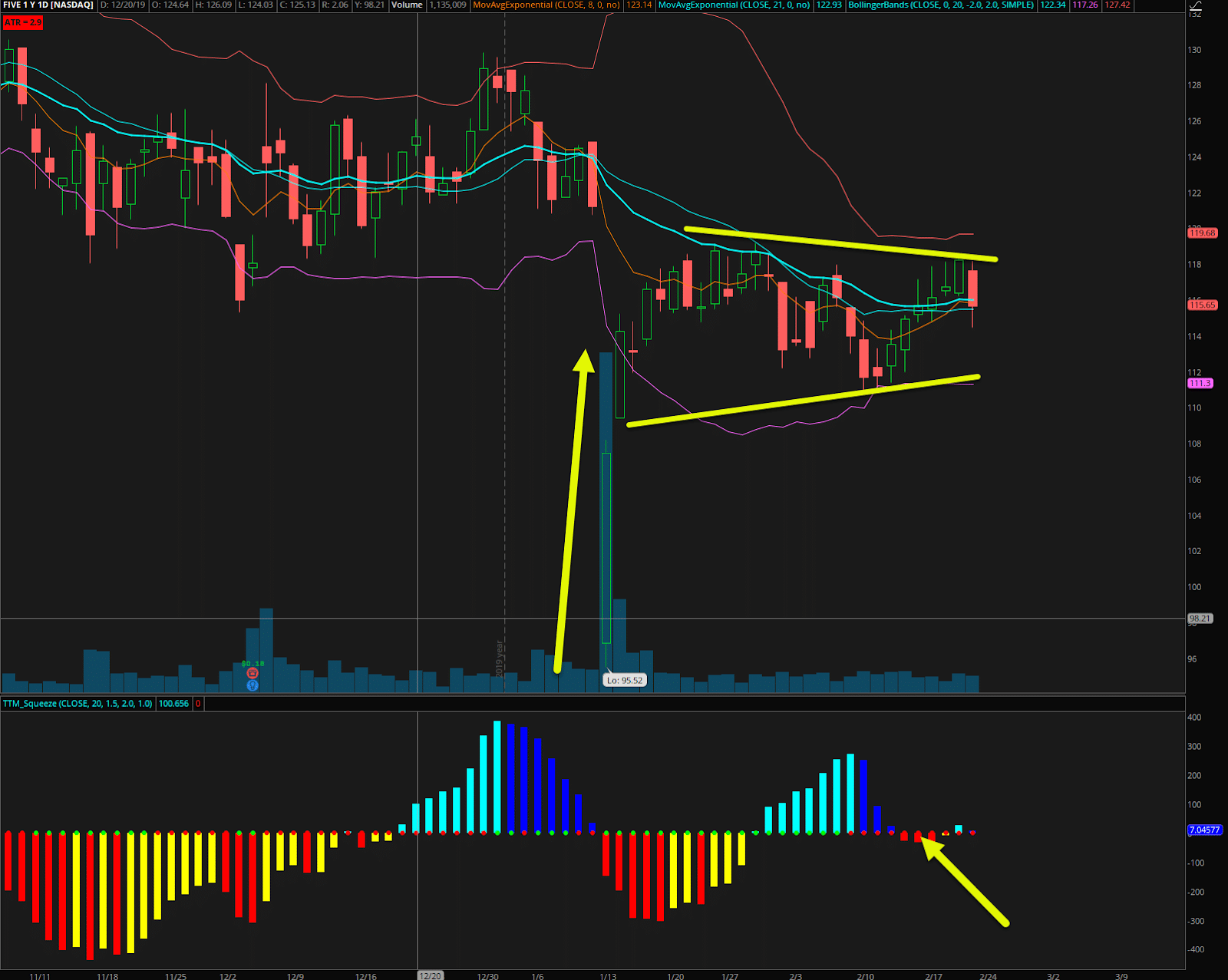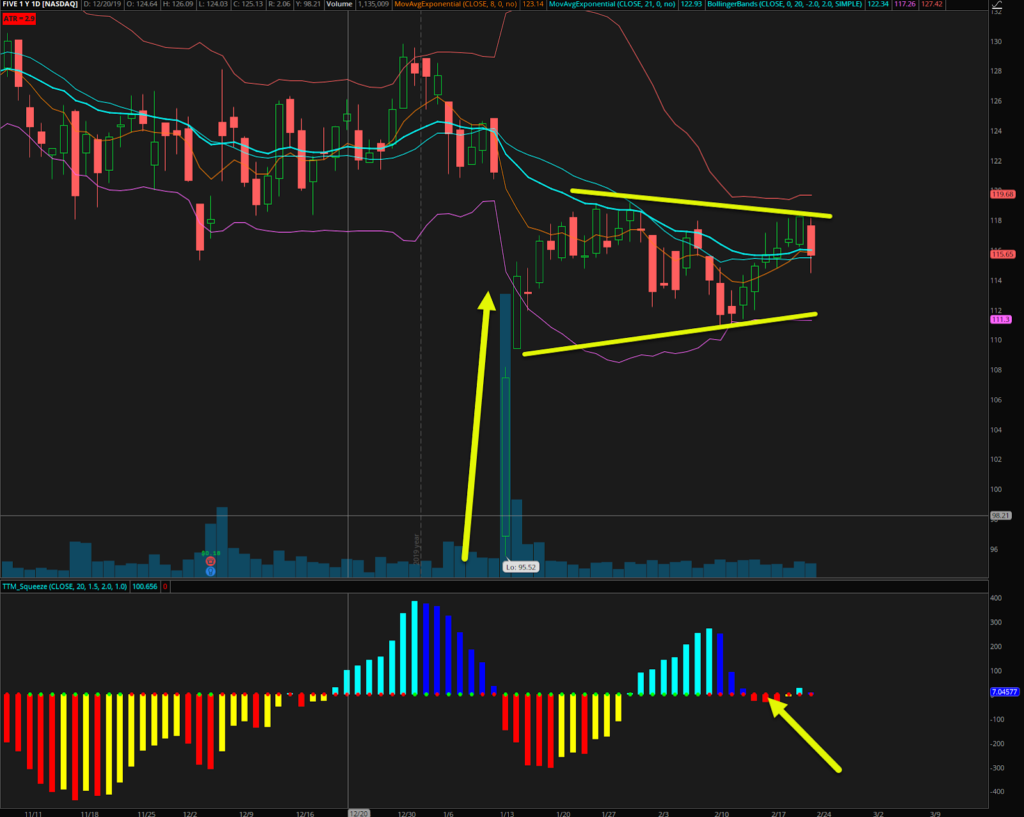 FIVE Daily Chart
You can see the big push off the bottom of the stock made into the current consolidation pattern. Since then, price has traded in a range that keeps contracting. Notice how the squeeze indicator not only confirms this, but also points out momentum shifting to the up-side.
This TPS setup looks rather interesting. With the stock already signaling strength, it could break out even in a falling market. I also like this play since it isn't highly correlated to the broader indexes.
That said I'd love to grab this down near the lower Bollinger Band for a conservative entry. Then, if the stock closed below the yellow bottom trendline, I could exit the trade for a small loss.
Beyond Meat (BYND)
Traders and investors have taken a wild ride in Beyond Meat this past year. The stock doubled in value, crashed, and then ripped higher, all within a 12-month time. That's a lot of opportunities for those of us who timed it right.
When I look at the chart now, I see a fantastic opportunity to work a TPS setup.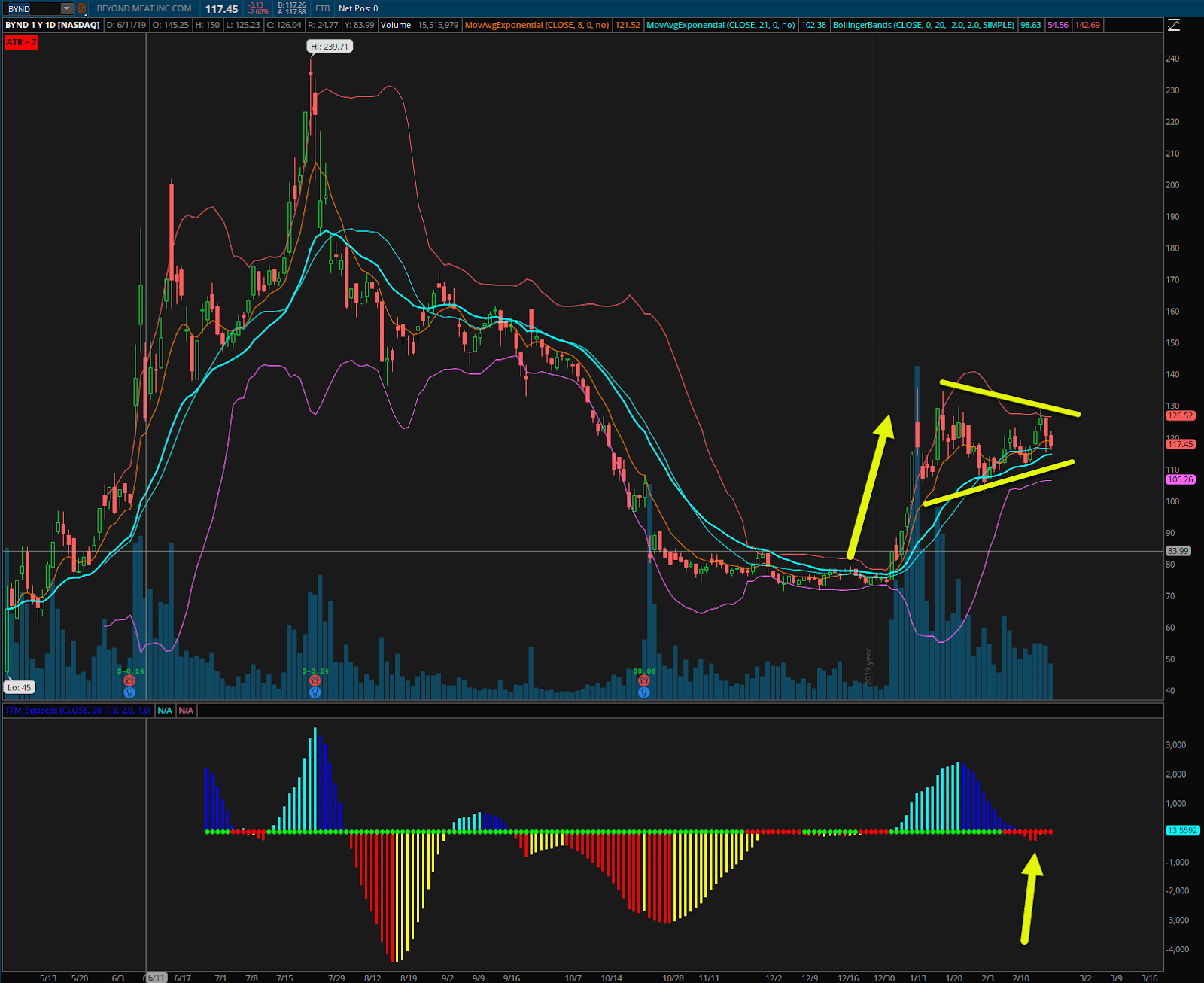 BYND Daily Chart
I don't like fake meat, but this chart makes my mouth water. Price shot off the bottom after forming a base for several months. We've seen it trade in a range that continues to contract. Now that we've got a squeeze going, things look ready to move.
The stock has lost a lot of its short float, now only sitting at 18%. However, I think that if the TPS setup plays out and breaks the recent highs, you could see a vacuum that pulls the stock higher quickly.
Manage your risk in volatile markets
Regardless of whether these trades work out or not, I know that the texture of stocks changed. We're seeing volatility creep back in, ending the perpetual uptrend.
I plan to adjust my position sizing as well as how I manage my entries and exits. You can bet I'll be using my trade journal to review my plans and make sure that I stay on track.
These techniques are the same ones that I used to turn $38,000 into $2,000,000 in just two years. You can apply them to your trading as well.
In my upcoming trading workshop, I will explain what led me to these particular tools and how you can use them to become a better trader right now.
Click here to register for this invite-only event.