With election day here, let's get ready for "what's next."
The market has been waiting for this moment…
And I'll be sharing where I am focusing Today AND sharing my strategies throughout the week… so stay tuned.
The markets took it on the chin last week coming into election week.
All three major stock indexes lost over 5.5% for their worst week since March.
The narrative pointed to election uncertainty and surging virus cases.
But that's in the past, with election day tomorrow…I'm looking forward.
Here's a few stocks I'm watching right now… and an industry that could be set for a rebound.
Quick Mid-day Trade in INNO
I found INNO this afternoon and took a trade at .1865 with a target in the 20s.
It didn't take long for INNO to hit my target and I alerted my members taking a profit of 14.2% for a nice start to the month.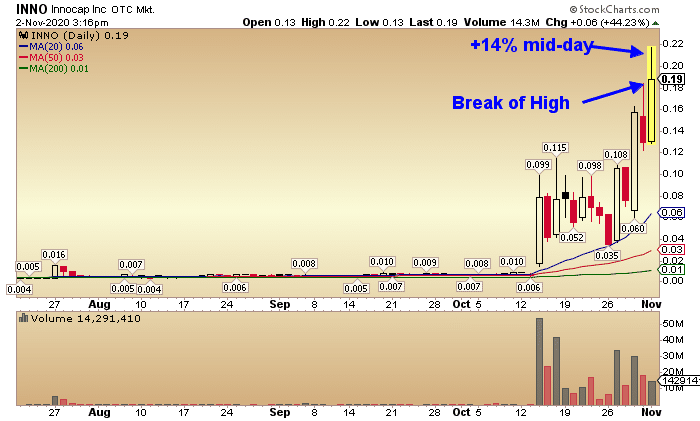 Check out my trading strategy for finding winners like this, Right Here…
Superior Industries Intl, Inc. (SUP)
Superior Industries was another stock showing up on my mid-day scans Today.
I was looking for this to get up through the 200 day moving average and maybe into the $1.90 range.
As you can see, it made that move soon pointing it out to my members this afternoon…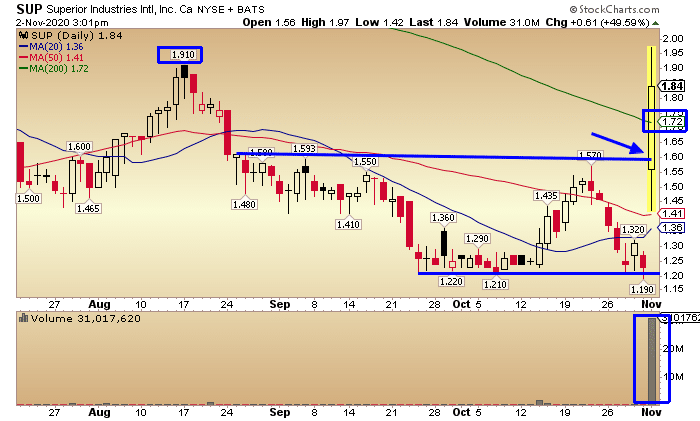 So what's next?
Looking further out on the chart below, I'm looking at the next highs of the $2.11 – $2.13 range.
And if it can break through that longer consolidation period, the next high from there is in the $4 range.
To get more details about how I read these charts…Click Here.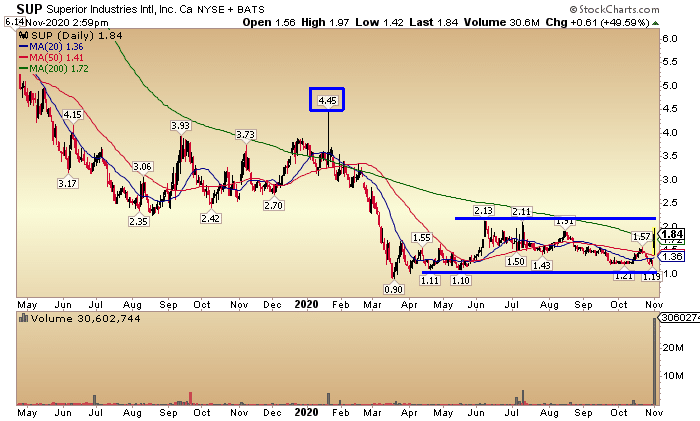 Digital Ally Inc. (DGLY)
DGLY has been riding the 200 day moving average up, with volume picking up nicely today.
Today the stock is breaking out of a long consolidation, currently trading near highs above $3.
Next highs are up into the $3.50s.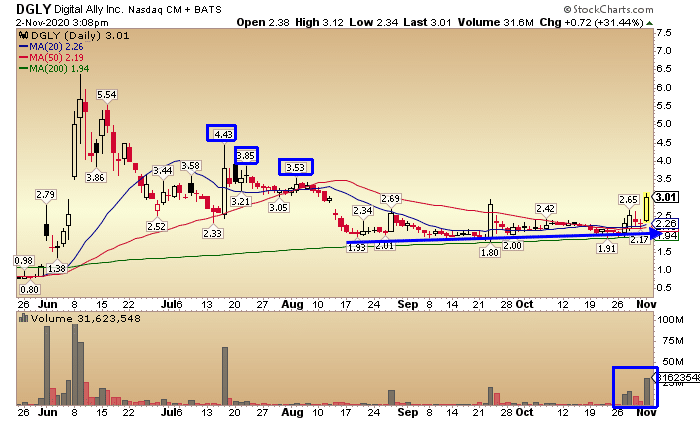 Potential For A Cannabis Industry Rebound
Another thing I'm keeping my eye on this week… Cannabis stocks. Cannabis could be a winner in the upcoming election…
And looking at the charts, the whole industry is trading up on increased volume today going into the election day tomorrow.
Most of the charts look the same with a trading range established in October and trading near the high of that range today.
Canopy Growth (CGC) is the only one that has actually broken above the October trading range giving some traders a breakout buy signal today above $20.50.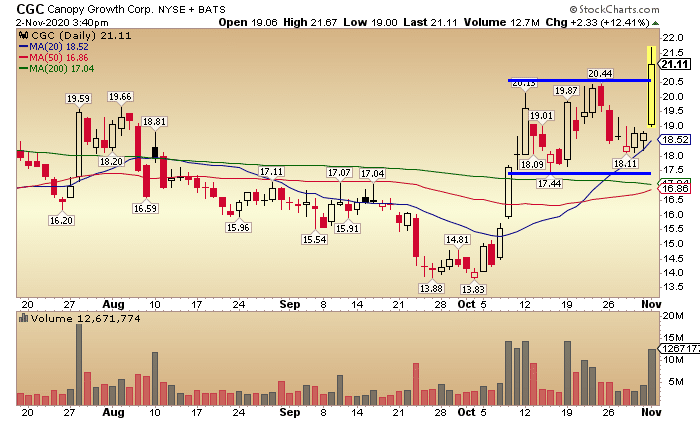 Looking at the other stocks in the group, like OrganiGram (OGI) and Cronos Group (CRON), they are trading near the highs of the October range, but haven't broken above as of yet.
For my trading strategy, I'll be waiting for them to make a break above the range to find an entry point that makes sense to me.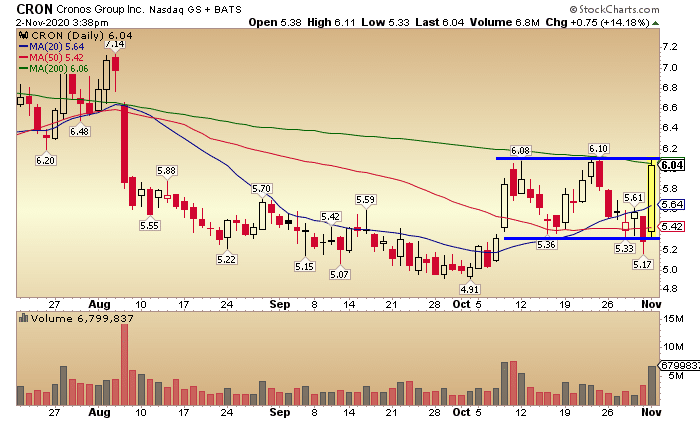 ---
More Stocks On My Radar
ACOR +18%
SOL +17%
RENN +23%
ISIG +28%
---
It's going to be a big week for the markets… stay keyed in by following along as I send out my thoughts every day.
And if you really want to be on top of my movements… Learn more about my personal strategy for finding stocks on the move… each and every day…
Check out this Free Training resource…
And take your trading to the next level