The back story: Last time we wrote about the VIX (the Chicago Board Options Exchange Volatility Index), it turned out right and it is setting up the same way again, because when the VIX gets down to the support area around 9, we tend to see a bounce pretty quickly.
The set-up: I think that bounce started Tuesday, and I think we will see it play out in the next few days to a week.
The chart: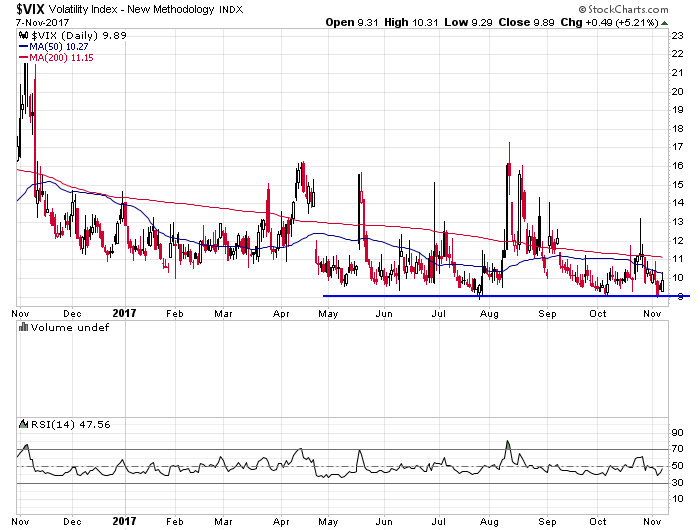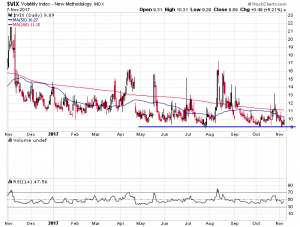 There's no need to highlight anything here other than the solid and consistent long-term support line. If you look at how the VIX has bounced off that line, it's clear that if you can catch the spikes, you can make a lot of money.
That support line defines the risk in the trade, setting my stops below 9.0; I'd be out on a break below support – rather than waiting for a close below that level – because if the VIX ever breaks that support I think the rug would be pulled and it would drop pretty hard.
As for upside, I think we could see a high of 13-14, so you have a lot of upside with very limited risk.
The play: I use indexes and ETFs to inform my day trades, not as something I trade myself, so I am agnostic as to which VIX-based ETF you use, but my colleague Jeff Bishop of TopStockPicks.com favors the ProShares Ultra VIX Short-Term Futures ETF (UVXY) for both the leverage and its tighter-than-average spread, which makes for efficient trading.
#-#-#
Jason Bond runs JasonBondTraining.com and is a swing trader of small-cap stocks.
Related Articles: