The Fed cut interest rates by a quarter percentage point on Wednesday, for the 3rd time in a 2019…
So far the market is happy… reaching new all time highs…
But that's right now…
The questions many traders have on their minds right now… where is the market headed?
Should they sell the rip or continue to buy the momentum?
The thing is… the market is still near all time highs.
However, we aren't out of the woods yet—trade disputes linger and corporate earnings drag on… so while the Fed has us fat and happy today, sentiment can shift quickly.
But I don't have to worry about any of that because I trade penny stocks.
And penny stocks aren't concerned about the overall market chatter… because they trade off catalysts and the forces of supply and demand…
In fact, just over 4 months ago I started a small account challenge. I took a $3,000 trading account and I started going to work… attacking penny stocks… left and right.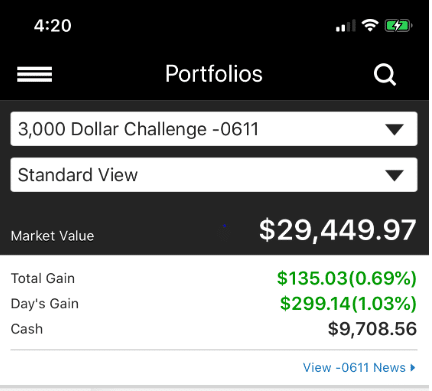 (I send out my alerts in real-time, but I also coach and train traders in the Suprnova chatroom. Click here to find out more)
That same account ended last week at over $29k.
Imagine if I took the same trades but with a $25,000 account…it would be worth more than $200,000!
But I like sticking to small accounts because that's more in line with my grassroots.
I've put together some examples of how I am able to make returns like that on a consistent basis, highlighting my winning chart patterns…
So how did I grow my small account to fast?
Take a look at a couple of my bread and butter trades and see for yourself…
I shared Canal Capital Corp. (COWPP) with my members as I do with every trade I take…
After an explosive move up, COWPP made a great consolidation pattern over the course of a week… I waited for the right moment and once it broke above my Supernova Line…
I pounced on it… as did my members…
And look at that chart… Exploded like a Supernova!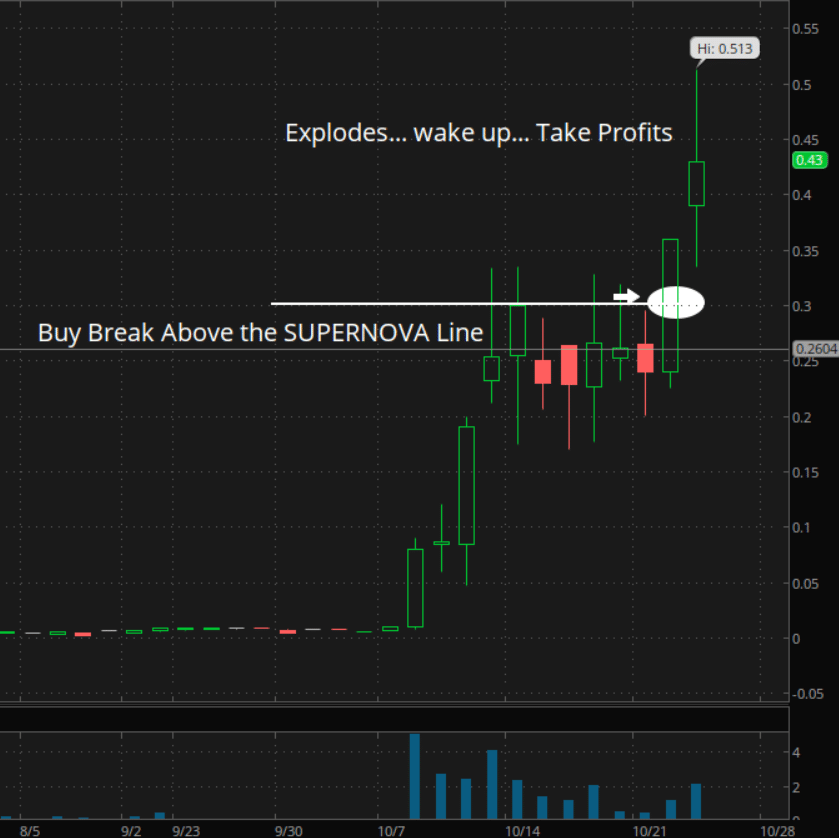 Talk about an overnight return…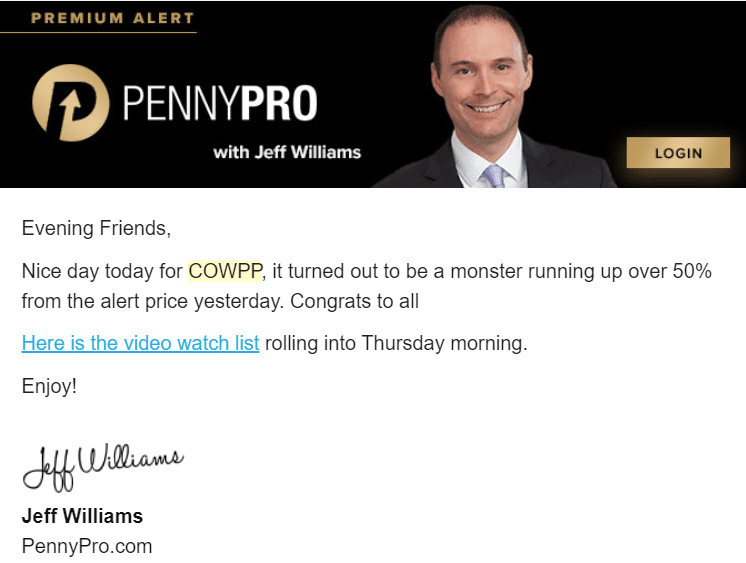 Now, look at the Reebonz Holding (RBZ) chart below… when RBZ broke the Supernova Line, we got a nice pop up as well…
RBZ hit my target so fast I am using a 5 min chart to show you the trade…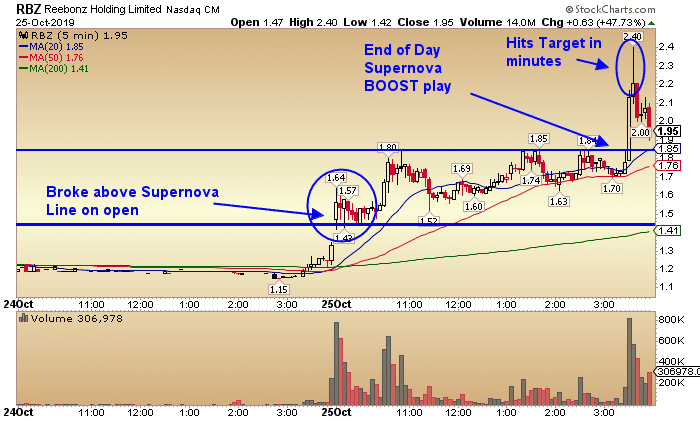 As with any of my end of day Boost trades, RBZ broke above the Supernova Line, so it was on my radar…
Seeing that it held above that level all day and coming into the close it was trading at the high of the day, I entered the trade with my members and this is where it got a little crazy…
Instead of holding overnight for a pop up in the morning…
RBZ hit my target in 5 minutes and we were out for a big gain…
Trading these setups in penny stocks has worked for years… the proof is in my small account challenge… I continue to bank returns time and time again…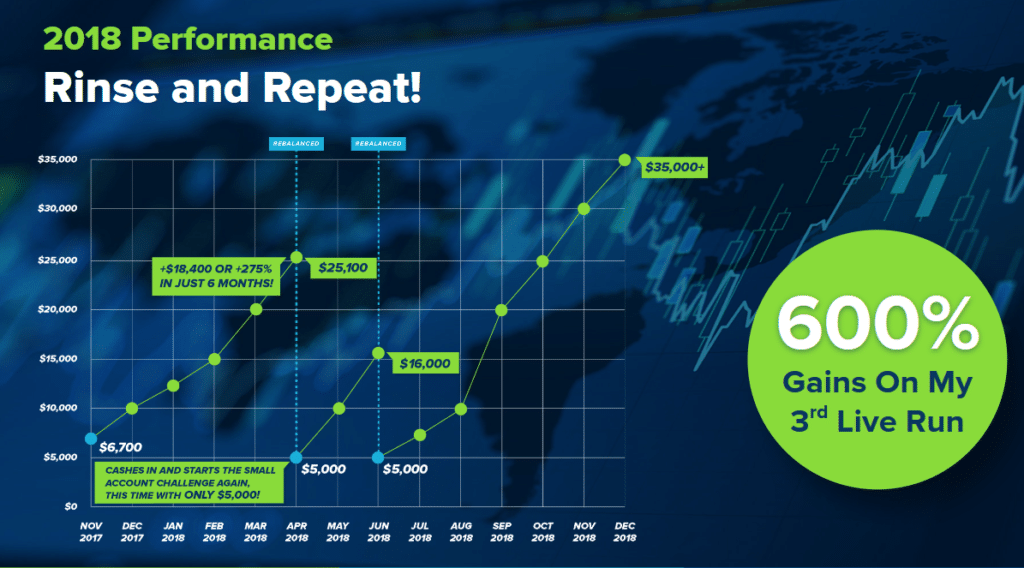 In fact, my most recent small account which I started with $3,000 rocketed to over $29k — that's over 850% in a little over 4 months of time!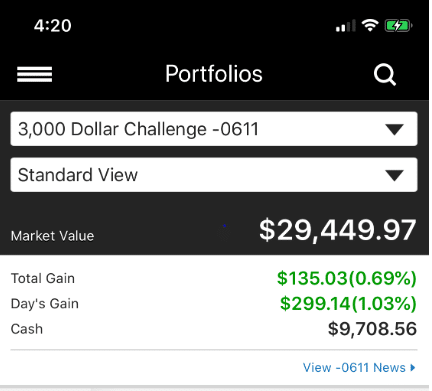 Well, now it's been over 4 months since my last start…
And with an over 850% return… I am getting a lot of requests to start a new one.
While I can't say when just yet… keep your eyes peeled because it's coming your way very soon…
But don't worry, if you follow me… you will be the first to know.
And this isn't just about me… it's about you… I love to coach and teach…
… and being a former teacher… my members benefit from my ability to turn complicated matters into something easy to understand…
It's not hard… and the returns are huge…
If you have never seen a triple-digit return, they are out there…
My next small account challenge is coming soon…
Be there from the start…
Related Articles: