Not too long ago Fibit was a penny stock trading under $5 per share…
So what happened?

Big News… Google announced it will acquire Fitbit for $2.1 billion that's a good $7.35 per share.
For a company that has been struggling to keep up, and lowered guidance on it's last earnings call… to the tune of the stock gapping down in the $3 range… this was quite the bail out…
So why would Google care about a struggling company like this?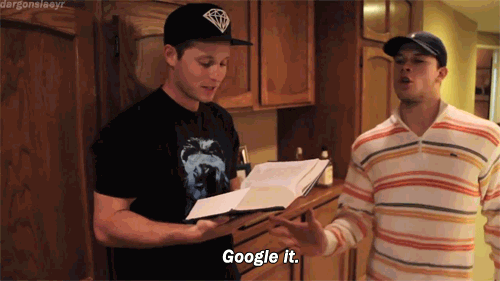 That's one way to find out…
But I have the real answer and it might not be what you think… or what Google wants you to think…
Oh… AND… I am going to look at the stock's reaction and show you how you could have been in Fitbit before the announcement.

So why does Google want Fitbit and how will it Fit In?
Don't get me wrong, this is a great acquisition for Google… it just might not be exactly what it looks like at first glance. Let's take a look..
At first glance… Wearables?
Well you are going to read a lot about wearables and catching up to Apple. So let's look at that first.
Here's what Fitbit offers: fitness trackers that monitor users' daily steps, calories burned and distance traveled, floors climbed, sleep duration and quality, heart rate, diet (when entered on the app), on and on… it's a health tracker…
Fitbit, pretty much pioneered the wearable device craze…
Google on the other hand is playing catch up. And Investing in a preexisting company helps it do that much faster than figuring it all out in-house. So this makes sense…
And on top of that… Google has been trying on its own, currently using the Wear OS platform and has largely failed to break into the wearables market.
Putting Fitbit's hardware together with Google's software and development resources could make the Fitbit operating system a lot smarter and get Google closer to a viable alternative to the Apple Watch.
But let's be honest here, Apple dominates the space and has a very big head start… so they are not likely to catch up any time soon.
But it does put Google on a better track than before.
Now let's get down to the REAL value.
At second glance… Data Data Data
Google is all about data. To be fair, all these companies are…
So let's be real… any device they create is about gathering data… plain and simple.
Google: Here's an amazing brand new device that can learn to give you what you want easier and more efficiently…
Customers: I gotta have it… did you see all the cool things it does… How have I ever lived without this?
But did you stop to think about how it does all the cool things to make your life "better?"  It gathers data…DUH!  I hope we all knew that already…
But if you really think that your data sits around just to help you for spending a few hundred dollars on a thermostat or a google home… You are naive…
And I am sure you read Google's SVP of devices and services mention how they will be transparent with data use and never sell it, etc..
And at the same time Fitbit mentioned their privacy policy still applies leaving you in control of you own data…
Great so we are all safe. Sure…
But regardless… This is what it's really all about…
DATA!
Fitbit currently has 28 million active users allotting to a significant amount of personal data that Google is getting a hold of right off the bat.
Fitbit has also been partnering with health insurers and conducting employer and health programs over the years and Google will also gain access to that data.
In fact some analysts have even said that much of the company's value may very well lie in its health data, and not in the device itself… Oh Really?!
So here is Google, who also owns other small companies focused on healthcare and life science studies… can't imagine this data could be useful there…
And with Fitbit's massive user base, Google can easily add to the software capabilities to track more and more in the Fitbit devices adding to its massive collection of data…
So no matter how much it looks like a pure wearables play… when it comes to Google, it's always a Data Play…
So how could you have possibly known this and been in the stock ahead of time… the answer to that is you absolutely couldn't have… again, don't be naive.
But you could have been in the stock just based on a nice setup.
Fitbit Reaction:
So what is it that takes a penny stock from $3 to $7?
Look at the chart of Fitbit below: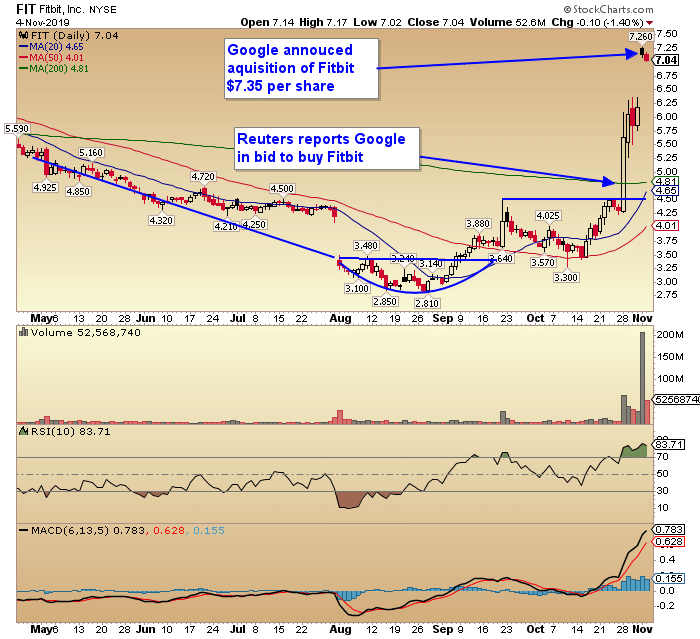 Reuters reported an exclusive on Oct. 28 that Google was in a bid to buy Fitbit and the stock jumped to $6 in no time flat… that's big news…
Well it wasn't until Nov. 1 that the companies actually announced the acquisition at $2.1 billion amounting to $7.35 per share… and you can see the gap up to that price range on that day.
Now here's the pattern in Fitbit that could have had you in before the announcement.
Fitbit was in a downtrend… then on a bad earnings release, Fitbit gapped down…
After that though, the stock formed a rounding bottom and we had an opportunity for a long play as it broke out of that bottom formation. In fact, this is a setup I trade a lot.
It then traded in a range but stayed above the breakout point, proving support there.
And on the day the Reuters report hits the presses, the stock spikes through the new resistance level formed in that range for another potential buy…
And on news like that… as it breaks that support it's a jump in as fast as you can type of trade… there's no looking back.
Google Reaction:
Looking at the google chart, you can see a nice gap to all time highs when the Reuters exclusive came out…
Clearly the street liked it… for wearables?
Or data?  Hmmmm…
Google pulled back some waiting to find out the price of the deal… or if the rumor is even real… and on Nov. 1st it's announced and the stock being its happy data dance back up.
So not only did the players in Fitbit on that bottoming formation make a killing… the Google investors are seeing all time highs on this news…
Clearly it's good for all… well investors at least… consumers?  Depends on your side of the great privacy and data collection debate.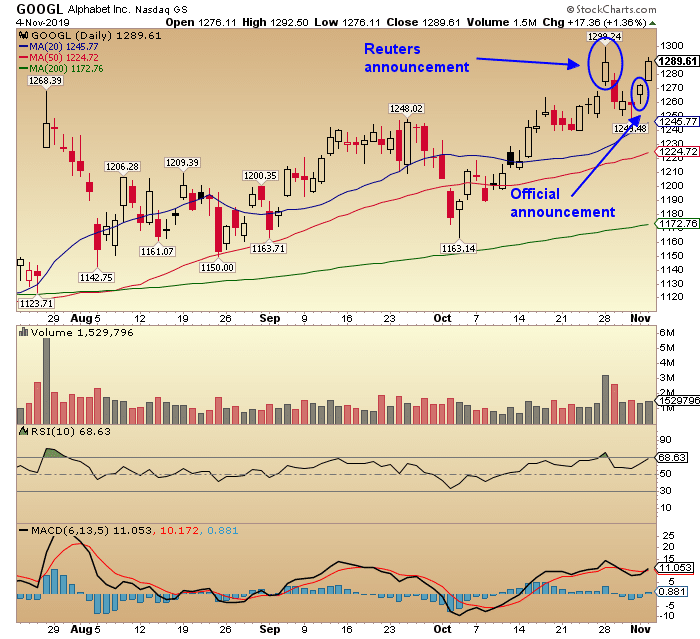 There isn't a trade to be ahead of news, at least not for the average investor… maybe for some insiders or people "in the know."
But as you can see, Fitbit made a classic rounded bottom formation and there was a very simple buy point there…
Sometimes you make a good trade and sometimes that good trade gets a little kiss of luck.
The key is to trade your setups and stick to your plans, catching a little luck every once in a while is great…
Don't get sidetracked by things like this… because even if you don't catch a little luck, you will be highly profitable if you simply stay the course and play your setups…
I trade setups like the one in Fitbit all the time… but even better, I have a system that takes a position at the end of the day, in stocks that are ready to make a pop up the next morning…
This allows me to spend only a few minutes on my trades each day… and believe it or not, the returns are double digits overnight while I sleep…
And right now I am giving you a chance to see exactly what I do every day and how simple it is to pull in massive returns without spending your whole day on it…
Tomorrow on Nov. 7 at 2pm EST… I am opening up my live trading room, for an exclusive look at how I am able to take an account with just $3,000 and turn it into nearly $30k in just 4 months…
You will not want to miss this… OH!!! And did I mention… there will also be a surprise Holiday Themed announcement for those in attendance. DON'T MISS THIS!