You wouldn't know it by looking at my accounts today…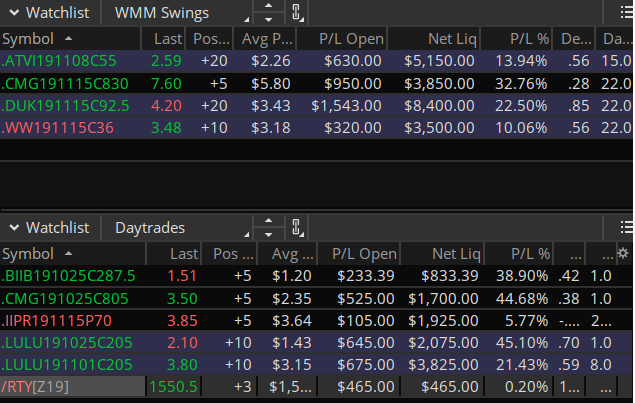 But not all that long ago, I struggled as a trader.
It took me the better part of a decade to become profitable.
Along the way, I took some massive hits.
The worst came to the tune of $40,000 – gone.
That was one of my lowest points.
I questioned my metal…whether I had what it takes to trade. It tore me to pieces.
Losing that kind of money puts you at a crossroads with two choices: grow up or get out.
You know how things turned out.
But what's more important was how I did it.
First and foremost…you need to give yourself a break.
90% of traders blow up their accounts within the first 6 months.
In fact, I've never met a successful trader that hasn't blown up at least one account.
Point is – you're in good company.
Don't take your losses as a sign of failure. Look at them as a badge of honor. You've been through the wringer and paid your dues (literally).
It's the folks who don't learn from their mistakes that continue to lose over and over.
Stick with one setup
One of the first mistakes I made as a trader was trying to do everything.
It's not that I tried to trade every commodity or product. But, I didn't stick with one strategy.
Before I developed my TPS setups, I would look at everything:
Fibonacci retracements

Breakouts

Moving averages

Reversal patterns
This list goes on and on…and that's kind of the point.
It's so easy to click the mouse and over trade. Heck, even the platforms themselves create a casino-like experience.
As newer traders quickly find out, there's too much information out there. Half the trouble is sorting through what's useful and what isn't.
Then you need to find the setups that work for you. Trying to learn a day trading system when you swing trade won't do you much good.
I chose a system that gives me flexibility with my time and is easy to follow. My rules are simple. I do one thing really well, and it's made me millions.
Here's a great example…
Weekly Money Multiplier members got the following email from me: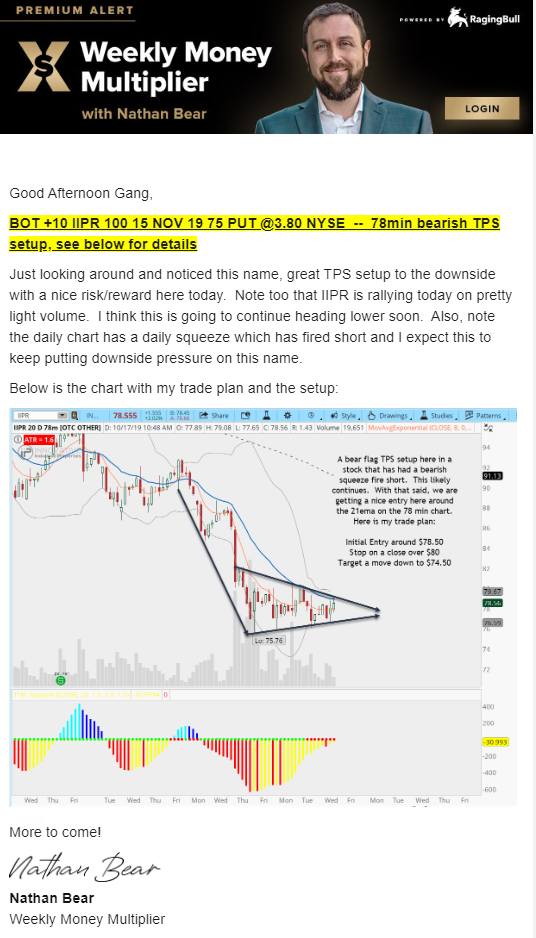 This trade was exactly what I look for…a TPS setup. I had a clear trend, an identifiable pattern, and a squeeze.
Worked out great, and I had a handy profit overnight.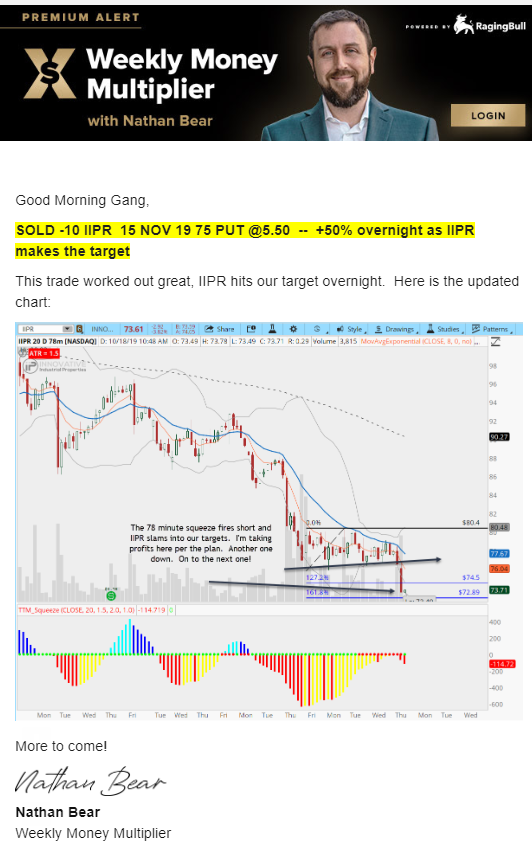 Understand that this was my trading system that developed over time.
I studied what worked and what didn't for myself. That eventually narrowed my focus to this method.
That came from journaling.
Honest journaling
I pride myself on being a disciplined trader. All of my trades conform to my strategy and style of trading.
Stocks that hit their stops get tossed. Trades that hit their targets get locked in. It's automatic.
I had to be honest with myself first.
Most of us don't treat trading like a business. It's a hobby that you win or lose. Some people regard it as a casino.
But when you write your trades in a journal – black and white – you can't rationalize them away. They're staring you in the face.
This honest assessment led me to discover more about my trading than I got from reading the charts. 
To this day I still don't do well on Mondays. No idea why. But my journaling showed this time and again.
One piece that I found useful was capturing the charts along with the trades. That let me visually see why I took the trade, not just the numbers.
Get mentorship
Trading isn't just difficult, it's lonely. 
Most of us only have so much money to try out ideas before we blow up an account.
That's why I relied on learning from the best. 
In fact, I was a member of Jason Bond's group before I became a successful trader in my own right.
I didn't copy his system…but what it allowed me to do was start from a base of successful trading. 
Watching Jason let me learn not just about how he traded, but his journey as well. That gave me insight into how I could develop my own trading system.
My TPS system doesn't look much like anything Jason trades. 
So why would I go with a mentor?
Because he helped me know what losses were my fault, and which were normal outcomes.
It's so incredibly hard to figure out on your own whether the loss you took came from a poor decision or just a bad break.
That's where I've found mentorship absolutely invaluable.
If you haven't seen it, check out the webinar replay where I talk directly about this subject. It was tough bearing my soul for viewers.
But if it helps you avoid even one bad trade, I've done my work.
Click here to check out the free webinar replay.
And if you're ready, I'd love to have you join me at Weekly Money Multiplier.
If you want to learn how I bounced back from my massive losses, watch the short clip below.
"Cut your losses, let your winners run." It sounds simple, but traders let emotions get in the way of this and end up doing the opposite.

Don't let your emotions win!

Join Nathan Bear's Trading Community https://t.co/tz1sndMgGz pic.twitter.com/lRmdzsuEj3

— RagingBull (@RagingBull) November 5, 2019
Related Articles: