Once the Next Big Thing… over the past year, Pot Stocks have been anything but…
Take Tilray (TLRY) for instance, ever since the irrational exuberance that led to blow off top at an amazing $300 per share, TLRY now sits under $20…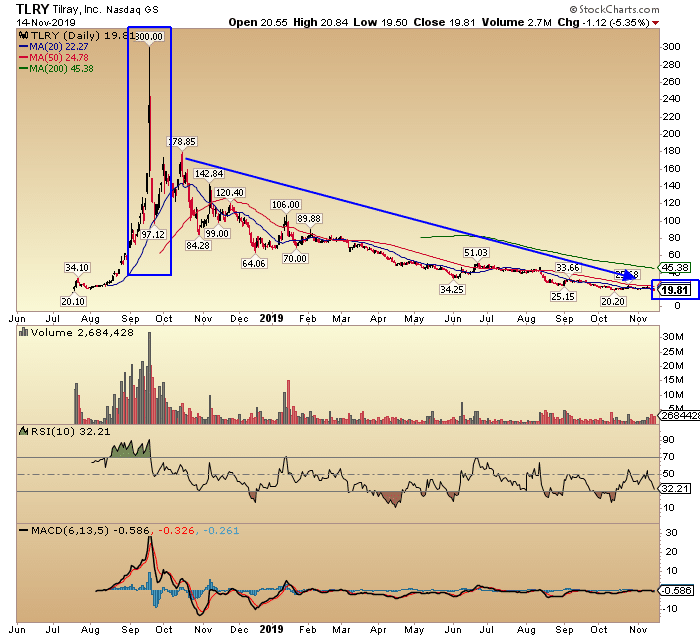 I feel for the poor souls that got left holding the bag on that one…
So what gives?

Listen… while the stocks have taken a beating… the industry is still poised for a great future…
In fact, estimates still put compound annual growth near 25% through 2025… to simplify… that's a lot of growth, well into the future.
But forget the numbers for a second… that's not the whole story here…
You see, investors were pricing in much quicker legalization in the US… as well as looking for immediate massive growth…
But coming into 2019, companies have been underperforming these irrationally lofty expectations.
And at the same time, legalization has all but disappeared from the narrative…
The further in to 2019 we get, the media has been forced into the upcoming election year… leaving the marijuana industry high and dry…
Leaving us stuck with news about impeachment, yield curves, the economy, trade wars, the Fed funds rate, earnings growth, Trump tweets, Warren's extremism…
Take your pick… the media is consumed… and no one has time for weed legalization talks…
So with companies underperforming and the narrative gone cold, the stocks have paid the price…
But it's not over… in fact, this just gets me excited… weed is still an emerging industry with a big future.
At the lofty prices of last year… to me, it was a tough pill to swallow… and I'm sure glad I didn't.
But being out of the limelight, things are just getting interesting…
After the election there will be less for the media to harp on and legalization can come back to the forefront… and put weed stocks back on track…
When the media gets back to the benefits of cannabis, we can be looking at some great potential in these stocks…
Cannabis hits nearly every walk of life.
Sleep, pain, and anxiety

The pharmaceutical industry could see a big impact.

Beverages and sports drinks

Animal health

Personal health and wellness

You got a problem, I'll solve it… Cannabis does it all…
Am I gonna just jump right in?
Currently that would be like catching a falling knife…
But at these levels I am perking up and watching for the pendulum to swing…
I am still waiting and watching for the downtrend to level out with a bottom formation… and then I will be watching for consolidation going into a buy setup.
When we see that begin to play out, we will most likely start to see the narrative change as well…
And when that happens, Pot Stocks will be back.
To learn more about what I'm watching… keep an eye on my newsletters as I will be breaking down the Pot Stock, Cronos Group, very soon…
Just look at that chart… stay tuned-in to find out what I see in it.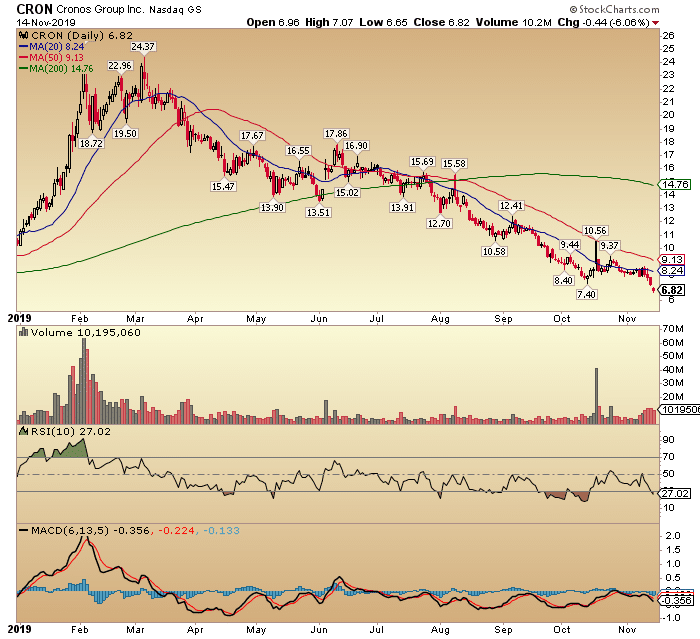 Before I go, check out my Supernova Holiday Blitz, where I am up 40% in the first 4 days…
So what's Supernova all about?
… a simple system with the Number 1 small account expert on The Street. (yeah that's me)
…. a system that continues to outperform the top hedge funds in the world. (last challenge = 900% in 4 months)
… a system that's not just a system but a mentorship and a full community of traders all helping each other
(Paul G — Hey Jeff on a side note, thank you for being here day in and day out doing your lessons… Thank you for your enthusiasm and perseverance making us better traders)
Don't miss another day of the Holiday Blitz…