Now I'm sure most of you may have long term investments and other ways of diversifying your portfolio.
I certainly do and I'm all for that…
But I'm also finding big value in trading penny stocks.
Think about it… In what world can you make double digit returns overnight?
I'm talking about 20%, 40%, even massive returns over 100%.
I doubt you're seeing that in any of those big-name stocks…
Even on huge news, you won't see those moves in big names like Apple and Amazon…
That's why I trade penny stocks… they offer the potential for outsized returns. AND I don't find them to be any more risky than most other trading vehicles…
You just need to know what you are looking for and treat it like any other trade.
Today I am going to show you how to add value, not risk, to your portfolio using penny stocks…
AND you don't even need a lot of money to get started, as you will see with my small account challenge… where I take anywhere from $500 – $5,000 and multiply it many times over…
Using Penny Stocks to Diversify Your Trading
Normally when you hear the word diversify, penny stocks aren't what comes to mind… you may get visions of growth and value stock funds, bonds, and real estate funds…
But penny stocks?
When thinking about penny stocks, you are more likely to envision a slot machine… not diversification or value…
Well, listen… penny stocks are actually a great way to diversify your trading and more importantly to ADD VALUE to your portfolio…
How?
It's simple really… by multiplying your returns on small accounts…
If you take a small account and multiply it many times over, as I have done and continue to do, then you will be adding a lot of real value without taking on a whole lot of risk…
For example… In my last small account challenge I took a $500 account and turned it into $10,758 in just 58 trading days.*
And I've been doing these challenges for years now…
So how exactly do I make such great returns with minimal risk?
Well first off… I am only using a small amount of money compared to my overall portfolio…
I start a challenge with anywhere from $500 to $5,000… cash in on massive returns… then I take the money out and start over again… so I am always adding value without risking it all…
And second… I have simple patterns and tools I use to find the very best stocks that are ready to pop…
My Profit Prism trading strategy helps me find the best stocks ready to gap up the next day…
So I often find myself in some of the biggest winners of the day… BEFORE they make their move…
Here's an interesting example from last Friday.
You'll notice the big run up… and pull back.
I was watching this stock because I had already played it on the run up.
All I had to do during the pullback was watch as it hit the 20 day SMA finding support.
This gave me another opportunity to get in and I alerted my members to the trade at .0149.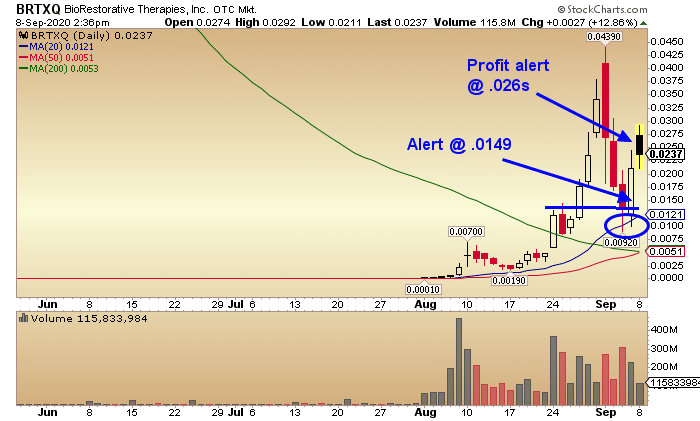 Now of course this one was over the long Labor Day weekend, but the principle is the same.
I'm looking for stocks that have the momentum to potentially gap up the next morning and cash in that quickly.
Looking at the chart above, you'll see I was able to grab a really great return, over 70%, Tuesday morning on BRTXQ from the gap up after the long weekend.
And this happened at a time the markets were all gapping down… that's the power of trading penny stocks.
They don't care about the overall market.
And look at this trade in Northwest Biotherapeutics (NWBO) that I found last Wednesday.
NWBO had been consolidating for a few months, building up pressure for a potential breakout.
And that's just what happened…
With NWBO surging in volume as the stock broke above the consolidation range.
I let my members know about the trade with an alert at .4998 that day.
And cashed in on an overnight 28% return.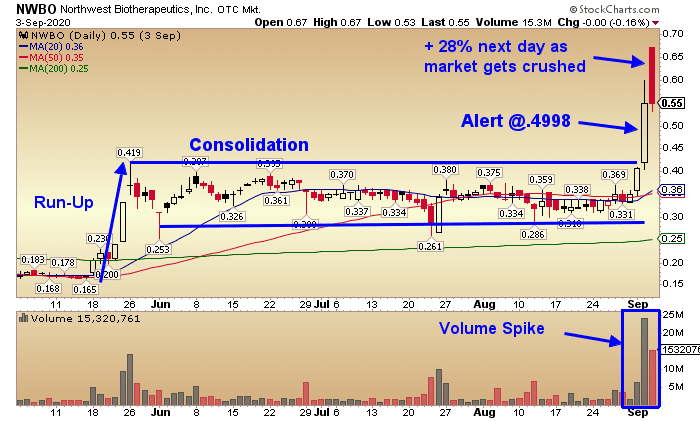 Just like the BRTXQ trade, this gap up happened as the market was getting beat down.
Those are just a couple recent examples of the simple patterns I scan for and find every day.
… run the scan, scroll through the charts, pick the stock with the very best potential to gap up…  and place the trade…
Then I go about my day and wake up in the morning… hopefully to massive profits.
While penny stocks aren't the first thing that comes to mind when thinking about diversifying or adding value…
A good penny stock trading strategy can actually be the very best thing for just that.
This is because you can use minimal capital and return large amounts of cash… continually adding to your overall portfolio…
This is what I call… Rinse and Repeat.
By simply taking out the gains and starting over each time, you will be adding value without risking it all.
Join me in my live training room, where I do my trading and provide training all day long… at an incredible price…
Get Started Today…    Join Profit Prism Platinum
*Results presented are not typical and may vary from person to person. Please see our Testimonials Disclaimer here: https://ragingbull.com/disclaimer