I love trading penny stocks.
And when it comes to trading them… you want to get 'em while they're hot…
You see with penny stocks, they don't always stay hot for long… so it's important to get in and out quickly — so you're not the last one holding the bag.
Take COWPP for example. This popped up on my "hot or not" radar…
This stock went from under .02 to .50 within a month… now that's HOT!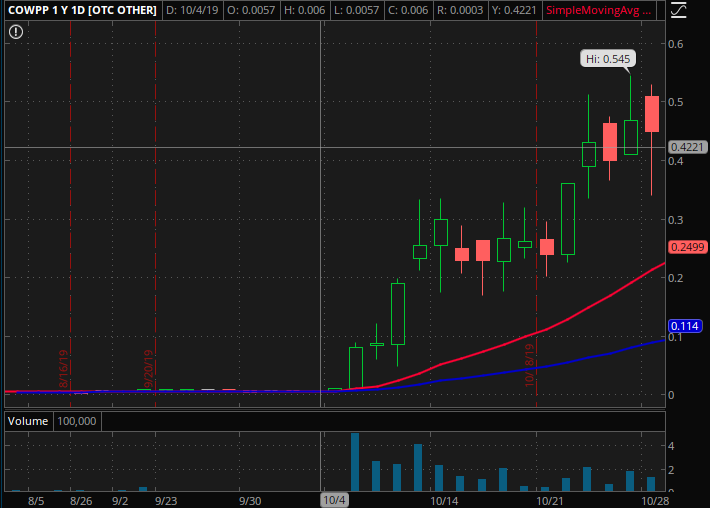 And it's not about finding a stock that is going to make a move over a month and holding… it's all about finding the best moments to grab returns while you can… I actually made multiple trades in COWPP… here's one: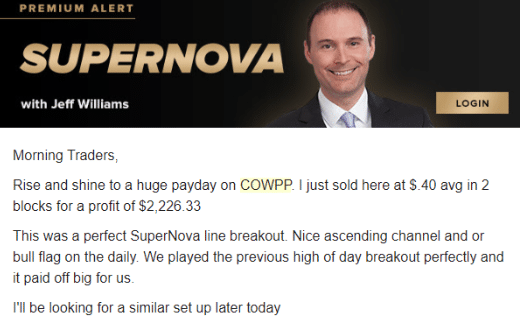 These are the pennies we want to be trading…
The key is being able to find the stocks that are primed for lift off… and I have the scoop on that. And I'm going to share it with you in today's lesson.

To make money in penny stocks, you must first know which ones to trade.
And the thing is, not all "hot" penny stocks are common knowledge.
You see we all hear about penny stocks when they go nuts and hit the news wire.
Riot Blockchain, a company focused on bitcoin mining and blockchain technology, was trading around $3 before the days of bitcoin exuberance.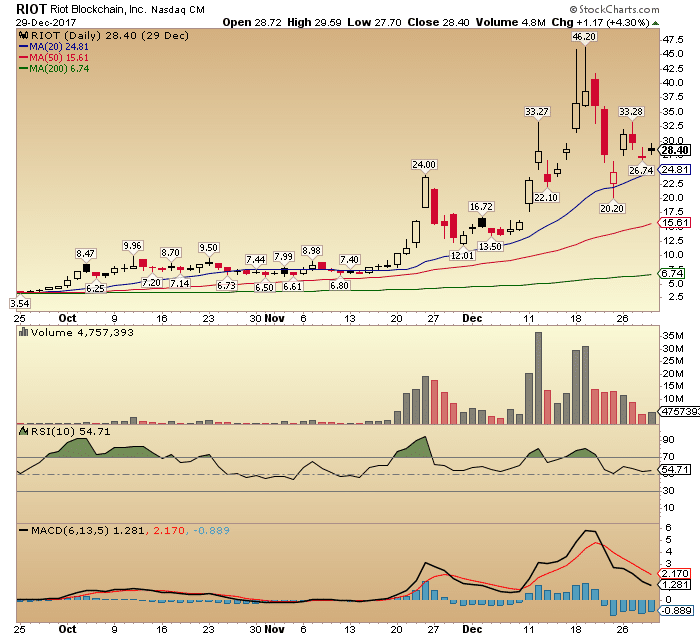 By the peak of the craze, RIOT was trading near $50…
Now that was clearly a hot penny stock at the time we all heard about it.
And as with all great penny stocks… what goes up, must come down.
Today, the craze is over and RIOT now sits back in penny territory at just under $2.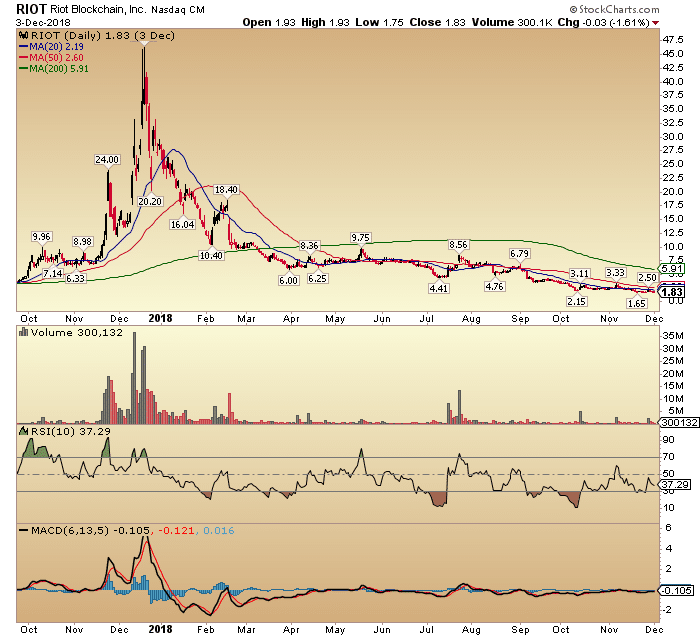 So what made RIOT such a "hot" stock?
Bitcoin of course… it was all about industry news and speculation… the narrative.
You see most people don't know any penny stocks… and why would they?!
So what makes a penny stock "hot" to the general public is usually an industry paradigm shift  that rockets the stock up and brings it to center stage.
Like the bitcoin craze…
… or the weed craze we saw recently…
Another is NBEV, $1.53 up to almost $10 in about a week on monster volume… all based on speculation of laws and regulation changes in the weed industry.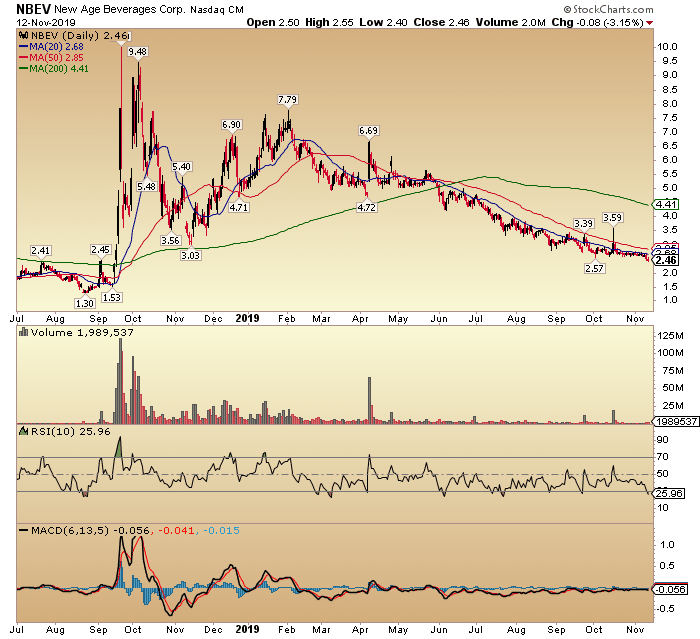 While these mega industry trends make for super hot stocks to the general public… and while they are great for trading, we don't actually need a bitcoin or weed stock craze to find great trades in penny stocks…
Heck, I find them all the time… daily in fact… that's because there are some very simple parameters that create penny stock momentum…
… and these parameters are what make for "hot" penny stocks on the daily…
Smaller catalysts happen all the time… such as a biotech getting a drug approval, buyout speculation, a change in earnings outlooks, or simple speculation can set a penny stock up for massive percentage moves!
This is why there are "hot" penny stocks to trade everyday… all we need is a quick pop to make the returns money managers would drool over…
The great thing for you is that I have learned the lessons and found out what will set us up to pull in those massive returns…
Here are the things I look for to find the right penny stocks to trade:
High Volume
What is high volume? Well every stock has a different "normal" level… so for it to be high, I am talking about spikes above the normal range for that specific stock…
One indicator used is Relative Volume (RVOL), which is a comparison of current volume to the average volume of the previous period. An RVOL above 2 tells you that current volume is more than twice the average.
The more recent the time period, the more relevant the RVOL… so comparing current volume to the average over the past month is suitable.
In trading penny stocks we want to see higher volume, showing interest in the stock, leading to momentum, as well as giving us a way to get in and out easily…
So the higher the RVOL the better/more "in play" the stock is…
You can also put the average volume line overlaid on your volume bars and look for spikes higher… and again, the higher the better.
Price
Obviously I am looking mostly at stocks in the $1 range… why? Because these stocks make massive moves when measured as a percentage… so with a small account, these stocks allow me to grow my account fast.
That doesn't mean I'm stuck to trading stocks in that price range. I will trade higher priced stocks if the setup is there. However, I found the quickest way to grow a small account is to trade lower priced stocks.
Recent price action and percentage moves
I use specific patterns when looking for my trade setups… so watching the recent price action is key in finding stocks ready to pop… Join Supernova to learn the setups.
And going along with high volume, I am looking for stocks that are making large percentage moves on the day… these stocks are more likely to be "in play."

Pairing all of these parameters… I am able to pinpoint the stocks that have the highest odds of continuing momentum into the next day.
Here's a stock that we found and analyzed in my chat room this week…
FuelCell Energy (FCEL)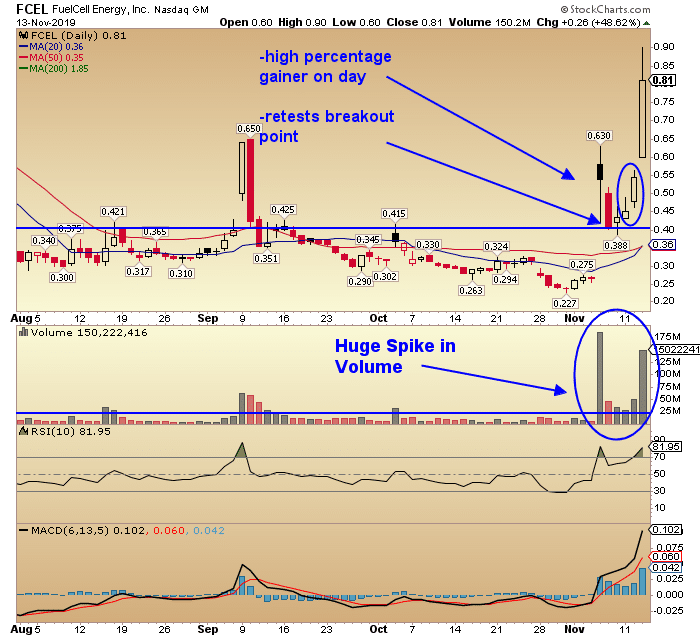 High Volume – spike from 10 million to upwards of 150 million plus
Price Action, % mover – under $1, gaps up over 2X the price, and then we get a pullback… with the key being a test of the previous resistance and holding it as support.
As it bounces, volume begins to move back up and it setups nicely at the close of the bar I marked on the chart (in the blue oval).
And you can see what happened the next day… wake up to profits!
My system to find and trade "hot" penny stocks works, just ask my members:
And the best part of all… it only takes about 15 minutes at the end of day to scan, analyze, and get in trades that are ready to fly… then simply wake up the next day to cash in…
It's not hard… my custom scanner takes seconds to run… I walk you through the charts it finds… then pick the highest conviction trades and enter…
This all happens at the end of the trading day so you don't have to be sitting at a computer for hours and hours…
Once we are in the trades, we just go about our everyday lives and wake up in the morning to take our profits…
Related Articles: