I always like to have a watchlist going into the week…
Not only am I watching the stocks on my list, but I also put together a detailed plan on how I intend to trade them.
What exactly am I "watching and analyzing?"
Key variables like: support and resistance levels, current vs. relative volume, as well as, and a quick analysis of the stock charts I feel have the best potential for trading opportunities.
Of course, if you're a paid-up subscriber then all you have to do is check out my video watchlist—it's where I walk you through the stocks I'm eyeing, along with the trading plan…  get access to my video watchlist here.
But that's not all.
I want to share with you two stocks right now, that I believe can make monsters starting Monday morning…
Bloom Energy
Looking at the price action in BE, you can see after the gap down, it formed a rounding bottom consolidation pattern…
Last Thursday BE broke above the resistance at the small gap giving it space to the $5.22 – $5.70 previous highs… I took this trade with my members and as you can see, it hit the target the next day…
"+1,580 on BE" ~ Keith R.
"20% on BE…Thnx Jeff" ~ Chip C.
"out BE $565 thanks" ~ Jack M.
"out of BE +445 :–) hooah" ~ Eric R.
"Good morning. Out of BE +1200/- Thanks Jeff." ~ Muthu
This is an interesting stock to continue to watch this week because of the higher volume on the breakout… and a key note— there is a big gap up to $8 range…
If BE can break into the gap above $6, we could get a possible gap fill, for another big return, on top of what we already cashed in on…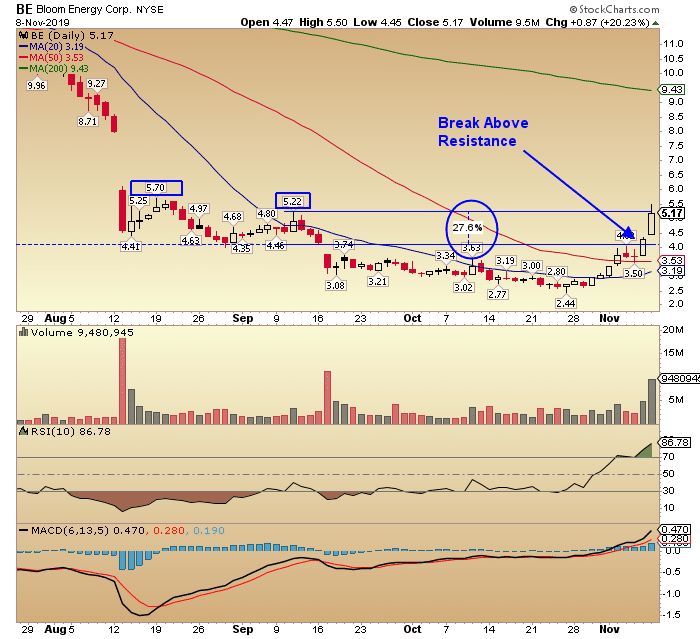 Levels to watch: the $4 range where BE made its breakout… if it pulls back, we will want to see it hold above there if we will get another move up to the $5.50 – $6 range…
And the other level we want to watch is the $6 range… will it break above or not? And will we get high volume if it does? If we get into the gap, there is room up the $8 range.
REI
With REI, we saw a nice downtrend that showed signs of a double bottom, a bit messy to call it pure… But once it broke out of the resistance from that bottom formation just above $2… we had a buy with room to $2.6 range…
I will continue to watch this as it hasn't quite made it up to the target range… what will it look like tomorrow? Will it hold above $2 and reach the target range? Once it gets to the target resistance, do we get a pullback that holds support?
REI and BE are 2 stocks we will be watching in my members chat room… but they aren't the only ones…
If you want a deeper insight into what I see and how I trade them…Join the Holiday Blitz and  get access to my live chat room where I walk members through my trades…
As a former teacher, I have the skill set to break down the complicated or unknown and make sense of it to even the most novice trader…
Related Articles: