We only have a few hours left in the 2019 trading year to pluck off those last winning trades.
After a great year in Weekly Money Multiplier, I want to end on a high note.
Although, it may be hard to top the year of this newest 2019 Weekly Multiplier Member who scored a new home!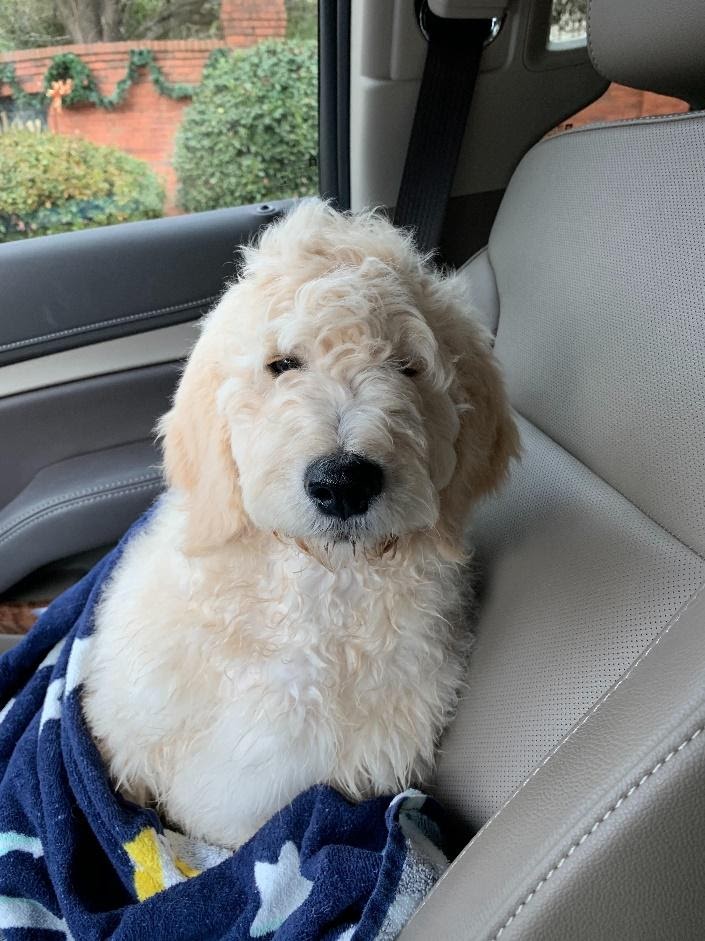 Say hello to Lancaster Bear!
This gentleman has a very expensive taste for the finer things in life…
Although he will take payment in belly rubs, he doesn't want me to squander my earnings…unless it's on squeaky toys.
So what has he advised me to do for the remainder of the year?
Change it up, if you want to get some.
In order to squeeze out more profits, we'll have tweak our strategy, so it takes into account the low trading volume that comes this time of year.
I'll show you what I mean…
At this point, most of wall-street has cleared out for the holidays and left the junior traders to man the helm. Trading volume dries up, becoming almost non-existent. This leads to a few unusual characteristics.
First, most large-cap stocks will float in the direction they've been going. For example, don't expect that Apple will have some massive sell-off into the end of the year.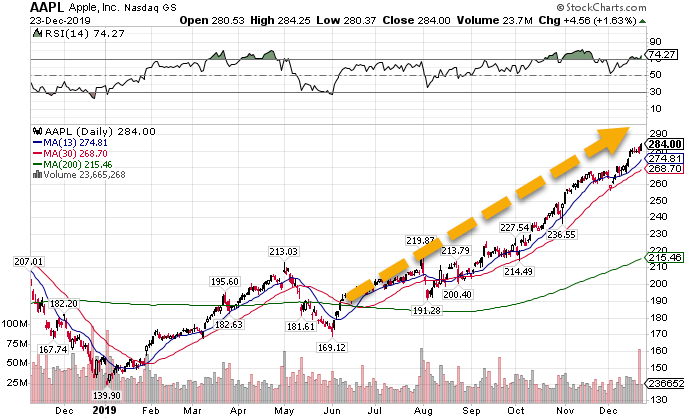 AAPL daily chart
That gives you a chance to perform some surgical scalps on mean-reversion. I like to look at Bollinger Bands to get a sense of the typical trading range for a stock. High volume stocks with solid trends will tend to bounce off their Bollinger Bands during this time.
So, any meaningful sell-off intraday on Apple without any news can be an opportunity to take a quick long position until it breaks back towards the center-line.
You can also use this on long holdings you already own. This is known as 'trading around a core position.' That doesn't mean you trade 1,000 shares if you own 1,000 already. But, even scalping off $10-$50 with 100 shares is enough to buy a nice lunch.
Keep your trades close to the vest
The central theme of trading light volume is risk management. You should be extremely picky with your entries, not so much your exits.
When the volume gets lighter, stocks like to pull up short or blow past support and resistance levels. In those situations, I prefer to take a conservative approach. There will always be trades around the corner. So, I see no reason to take extra risks.
This is when I stick to the stocks I know and avoid the newsmakers. I don't want to try to pick off bottoms, nor stake out new claims.
With the VIX at extremely low levels, option prices are much cheaper than average.
Right now funds are cleaning up their accounts to make their performance look better. Sometimes this collapses a stock I'm trading. That's why I keep my position sizes much smaller than I typically would. Sometimes I'll be as small as 10% of a normal trade.
Work intraday time-frame setups
My normal TPS setups look at daily time-frames, collecting swing trades that can last several weeks. Until the end of the year, I'll be focused more on 'lottos' that play out before December 31st.
Here's an example of what I mean. The other week I grabbed Tesla (TSLA) off a 30-minute TPS setup.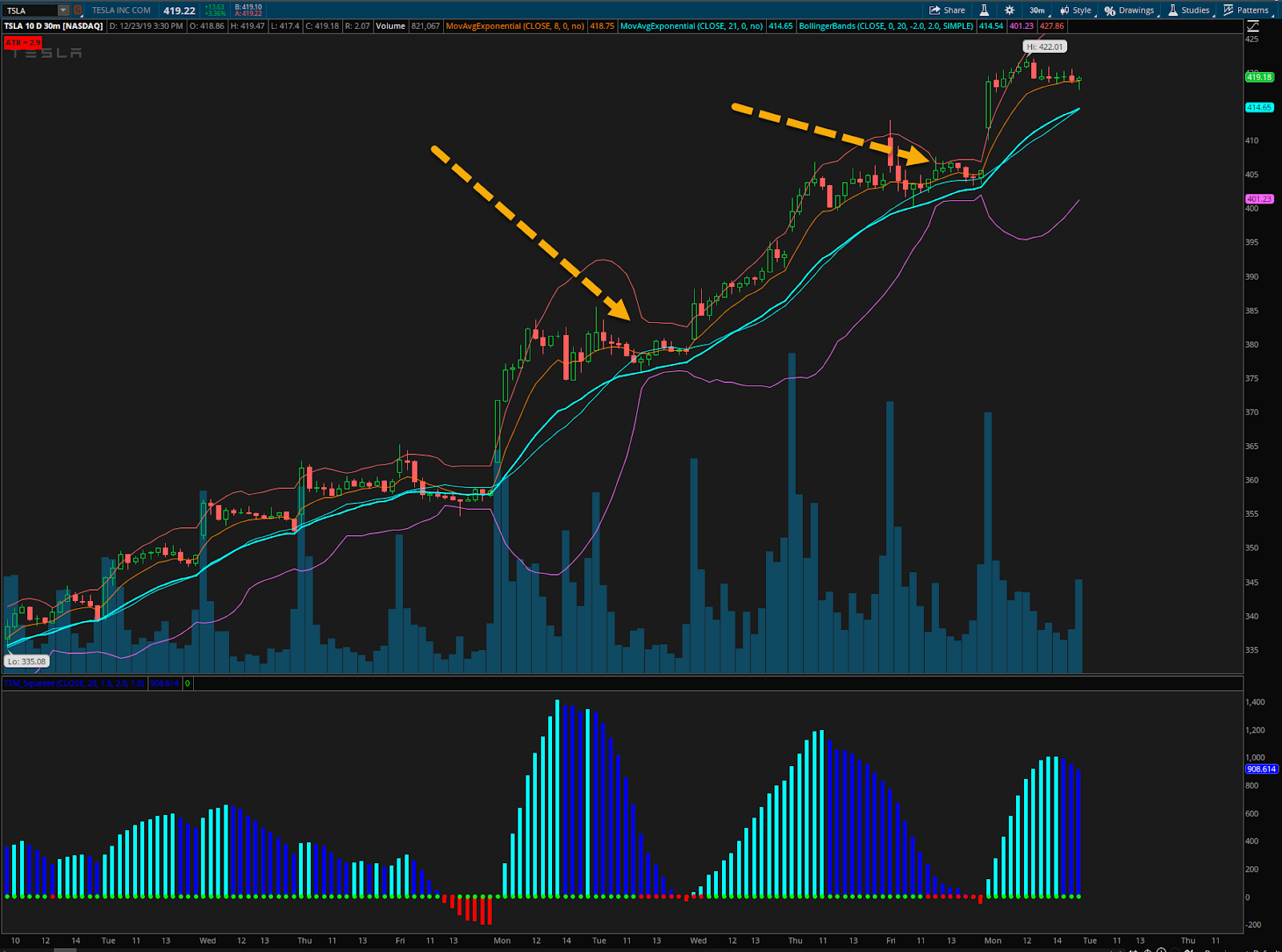 TSLA 30-minute chart
The first arrow points to the original setup that I used. It follows my classic TPS pattern. There's an unquestionable uptrend, a consolidation pattern, and a nice squeeze (noted by the red dots at the bottom).
That's how I caught these big gains.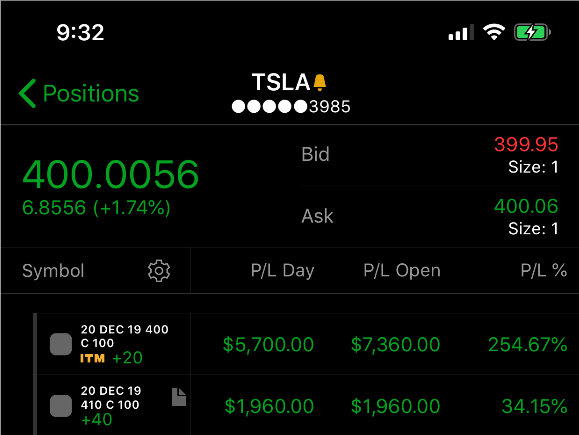 When you play shorter time-frames with shorter-dated contracts, you get big moves in the options. So, I make sure to scale my risk accordingly.
Now, check out the second arrow. That points to the most recent squeeze that occurred. You had the exact same setup again, and what happened? The stock jumped for another sweet score.
As we head towards the end of the year, these are precisely the kinds of trades I'll be looking for. Now, I don't necessarily want to grab Tesla after a wicked run. But there's plenty of quality trades out there that work great.
Catch out my exclusive training event!
Let me show you what Weekly Money Multiplier can do for you. Join me for a free webinar where I go through all the juicy details about how I took my $37,000 account to over $2,000,000 in just two years.