Every week, I send out my master watchlist and updates to Dark Pool Profits subscribers.
And inside the emails, traders can expect detailed plans, along with stocks to watch for a potential runup.
But not just any stock makes my list…I am going to show you what I look for in these Dark Pool trades.
There's one common trait that each one of my trades has in common…
And that's tracking the occurrences of unusual trades in Dark Pools.
For example, there was dark pool activity in a popular retail stock that hit my scanner recently.
And once I saw this chart… I was hooked.
I had to be involved with this trade and dynamite chart pattern.
You see, hedge funds and large trading firms don't just allocate money at random… Their moves are well thought out.
So when I saw something this special hit my Dark Pool trade scanner, I suspected it was special.
Let me show you how I was able to pull down not 50%, not 100%… not even 200%… but 300% profits in this single stock.
This way you can see for yourself the importance of tracking the Dark Pools and why this strategy is so powerful.
It Pays To Hit It and Quit It
Many times, you will hear the only way to make money in the markets is to "Buy and Hold" a stock and let it trend upwards over time.
And this is true, many wealth management strategies do this and have been very successful over the last 20 years.
One great example of this type of trading is the great Warren Buffet, who considers himself a shark when it comes to investing.
His edge is a well-defined game of predator vs prey. He sits and waits like a shark for a stock to get bloodied up before swooping in for the kill.And once that opportunity presents itself, he unleashed hundreds of millions into his positions over a period of time.
You see, this is his edge in the markets…but it's not mine…
My strategy is a faster trading style, a more opportunistic version where I wait for the shark to hit, and only then do I go in and clean up the scraps he left behind…
Now let me show you what I did in this recent MIK trade to crush it with a 300% ROI in only a few days
How I Made 300% From MIK In Only A Few Days
Instead, One of my go-to strategies is uncovering strange and unusual activity in the dark pool markets. I identify dark pool trades in specific stocks and get in on the action!
One name that was on my radar is Michael's (MIK). It's a popular art and crafts store and I believe that with so many people at home, they will be flocking to this store to expand their hobbies.
This was the trade when it came across my custom dark pool scanner:

From looking at the scanner, I noticed that the stock was getting more trading action than usual. Something must be going on in this stock that has the hedge funds getting excited to put huge money into this stock
I started with these 3 questions that I had to answer first:
MIK is hitting the dark pools for the first time in a while

The dark pool total volume seems to be in line with the average

MIK is showing some large single block trades. A dark pool block trade is when millions of dollars worth of stock trading are trading at single clips from large traders and hedge funds

Some of the dark pool block trades were also intermarket sweep orders. An Intermarket Sweep Order (ISO) is an extremely aggressive order type used by hedge funds exclusively to find liquidity for a stock they want to buy
And when I saw the technicals, I knew this was a stock I had to get behind myself and follow along with the smart money traders.
With this trade, I believe the stock could trade back above prior highs, or even beyond it!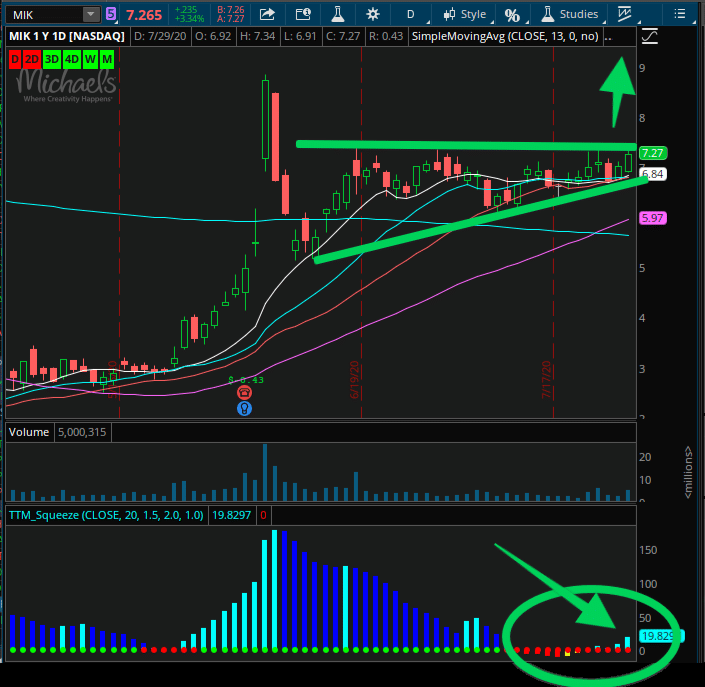 On 7/29/2020 I sent this alert to my subscribers…


But since all trade information is public information, I'm just riding the coattails of the smart money who spend millions of dollars on research.
And if they put their money to work they must be doing it for good reason!
So what happened?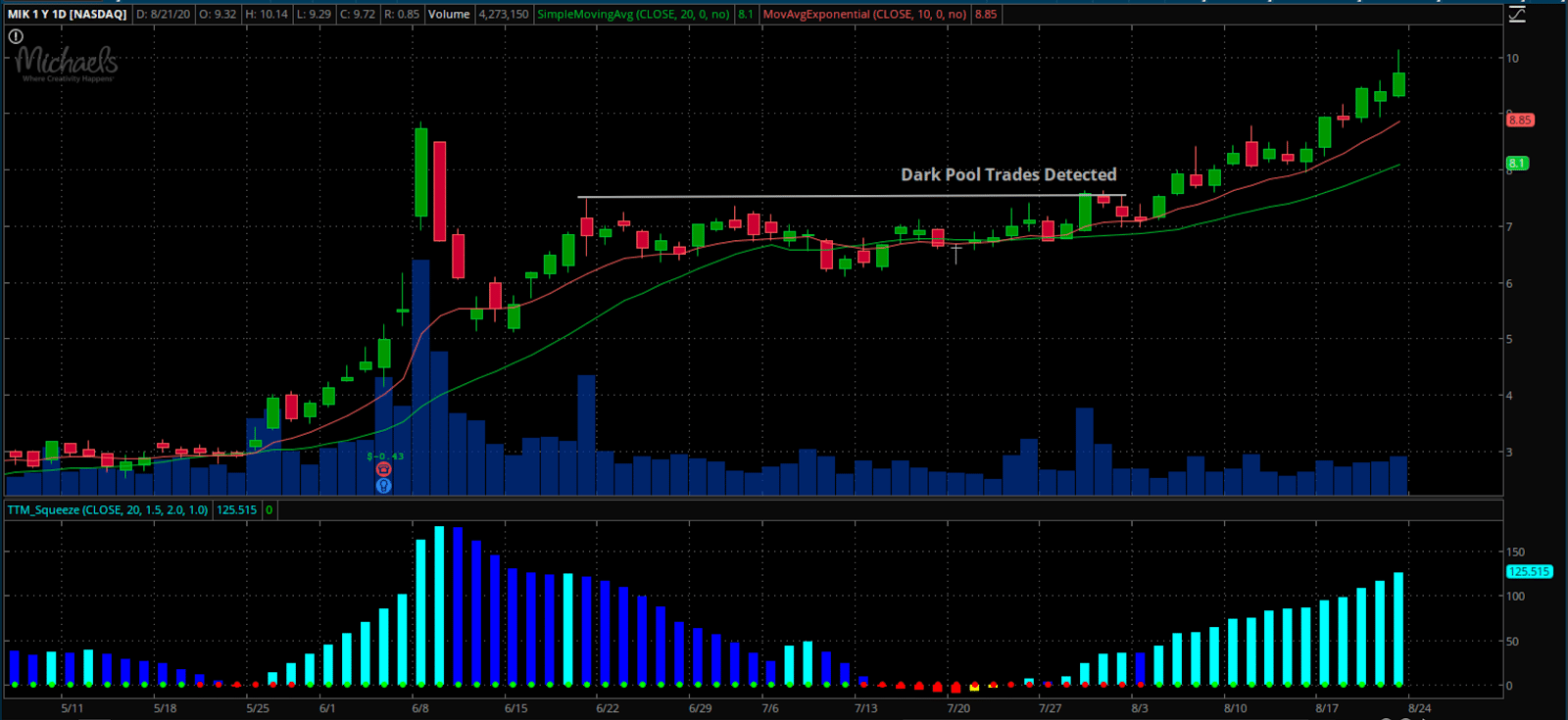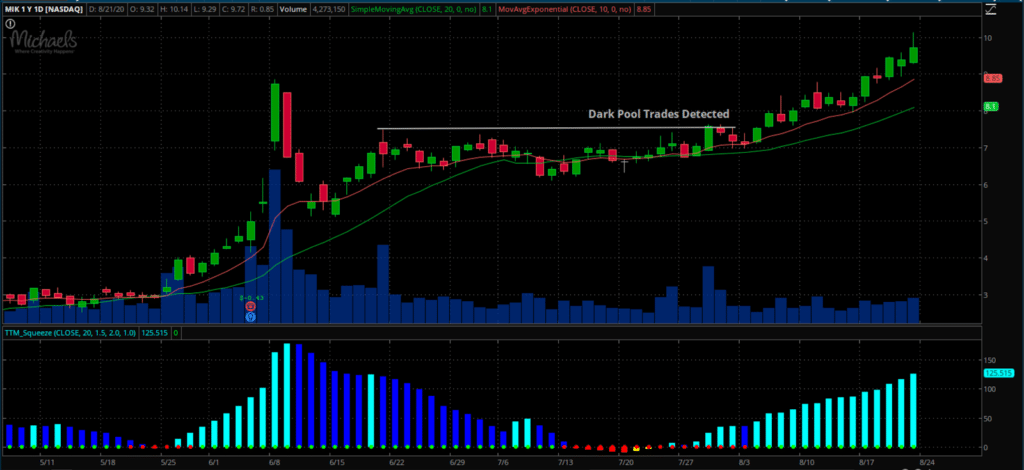 As you can see, this stock just soared after the dark pool trades were seen hitting the tapes.
And that's why I absolutely love trading the quick money in the Dark Pools
What's even more unbelievable is what happens next in MIK…
Shortly after the Dark Pool trades hit, I noticed a wave of selling in the Dark Pools that I've never seen before
This wave meant that this stock was coming close to an end of it's run and the big money was looking to exit their trade or hedge the position by removing exposure.
Unfortunately there is no way to know exactly what was going on here, but I was able to combine that with my day trading indicators to get a good picture of what's happening…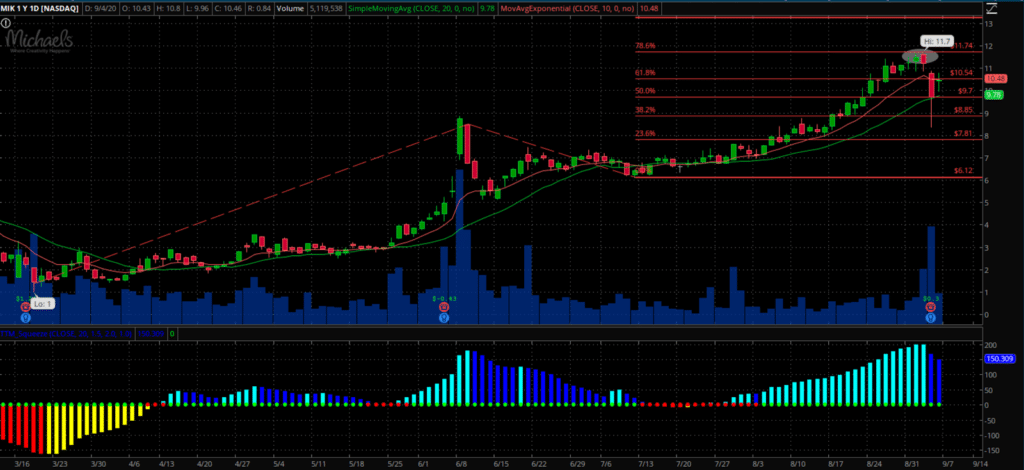 You see, once I noticed that the move was at the top of the FIB Retracement Levels…. My spidey senses got kicked up.
Stocks are not supposed to trend forever.
As you can quickly notice, a stock moves up and down randomly almost, like a boat on the open ocean.
It's when signals like these that come along do I get nervous about a trade I am in.
Fibonacci Extensions Predict A Reversal In MIK
What is Fibonacci and why does it matter?
What is Fibonacci?
Fibonacci is a mathematical sequence of numbers that are used to describe unsolvable equations in nature.
Some examples are the volume of a seashell, the curve of an aloe flower, and the length of a coastline.
By selecting key numbers in the Fibonacci sequence itself, you can create the key reversal areas in the markets.
For example, if you take:
144 / 233 = 61.8%
13 / 34 = 38.2%
55 / 233 = 23.6%
Fibonacci is everywhere around us, from the whirlpool of water in the sink to tornados.
And even big corporations incorporated Fibonacci into their branding, such as Apple's famous Apple, to Toyotas interlocking circles.
Why does this happen?
Well, these patterns are selected because the human eye finds these patterns attractive and shows engagement from their customers is highest with these patterns used.
For more information about how to trade Fib and what each level means when you're trading, watch my premarket videos where I explain this indicator in more detail and use it daily for my trading
Like the A-Team would say… I love it when a good plan comes together!
The stock managed to run higher and caused the options that I signaled to buy to skyrocket to a whopping 300% ROI on my options!*
But since all trade information is public information, I'm just riding the coattails of the smart money who spend millions of dollars on research.
And if they put their money to work they must be doing it for good reason!
As you can see, this stock just soared after the dark pool trades were seen hitting the tapes.
I continue to monitor the Dark Pools for more and more of this trading activity every single day.
Now I want to show you exactly how this works
If you are interested in learning about my other dark pool scanner that monitors huge volume surges that signals huge 100% returns in single day.
Join me here and I'll explain how I trade this system daily.