Make no mistake about it… pot stocks are out of favor.
And as hot as the story was running in the beginning of the year…
The narrative has changed… and we're about to enter an election year.
Sure, cannabis stocks are underperforming, but its future is still Lit.
We just need to figure out which companies will survive the inevitable shake out.
And I have my eye on what I see as one of the likely survivors in a monster emerging industry.
Here's my analysis…
Cronos Group is a globally diversified cannabis company with multiple international production and distribution platforms and partnerships across five continents.
Cronos Group's portfolio includes PEACE NATURALS™, a global health and wellness platform, two adult-use brands, COVE™ and Spinach™, and Lord Jones™, a hemp-derived cannabidiol (CBD) personal care brand.
Cronos (CRON) reported third-quarter 2019 numbers on  Nov. 12… again reporting one time charge to show a "profit." But being unrelated to the business operations, it was technically meaningless… the "real" earnings amounted to a loss… again.

Let's look at the real deal…
The Good
Revenues grew 238% year over year (YoY)

Cost of sales was down 31% due to lower production cost per gram

511% increase of grams sold in canada YoY

Altria's stake of 45% plus $1.8 billion cash infusion less than a year ago

New products- Hemp to US with Lord & Jones

Cash on hand- more than $1 billion

The Bad
Net price per gram falling – high supply and lack of sales channels – pricing pressure

Despite revenue increase, it's still low overall…

Losses show that CRON is still struggling tremendously with profitability.

Multi-billion dollar valuation doesn't match revenues only being in the millions and the continued losses
The Other
Insider ownership = 48%
Institutional ownership = 9%
Short percent of float = 27%
Short ratio = 9.6
As explained in my short squeeze post, a high short percent of float and short ratio create the potential for a short squeeze… but only once buyers take over and pressure them out…
Fundamental Analysis
Taking a step back, there are two realities here for CRON stock.
1. The future is bright… but…
2. Investors won't buy without proof…
You see… With the ability to invest in the cannabis market and tons of cash to buffer against current losses, what Altria brings to the table will have a big impact on Cronos Group's growth and future.
In fact, Cronos has already been using it to drive huge volume and revenue gains, and lay the foundation for long-term growth with acquisitions, R&D, and international expansion.
BUT… until the company figures out its profitability issues, and current losses start narrowing, investors won't be very interested… as shown by the huge short interest…
With Cronos' current financial performance… the over $2 billion dollar valuation is quite the stretch… millions in revenue paired with net losses doesn't exactly compute.
Technical Analysis

Now my favorite… the charts.
Where did you come from? Take a look at this long term chart: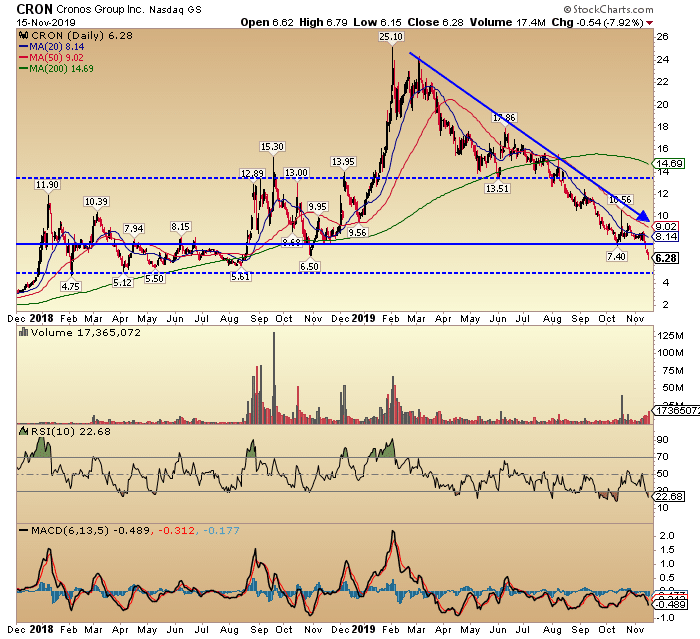 It's not pretty… but if the current market cap is high for the current profitability… imagine how overvalued CRON was at the peak of $25.10… whoof.
Highly speculative prices at the peak led to a big downtrend as the industry underperformed, and that's where we are today.
What have you done for me lately? Now for a look at the recent price action: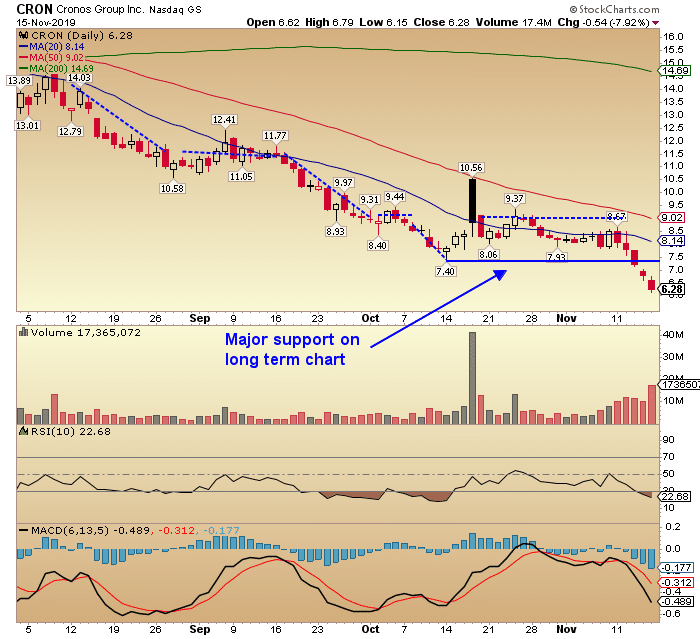 Looking closer, we can see the downtrend more clearly… and it's a really pretty step by step down… No reason to buy this trend.
In fact after the Nov. 12 earnings release, CRON just broke another key support level from the long term chart around $7.40… this is really ugly.
What's next?
Looking back at the long term chart, the next major support level is in a range around $5, that's another 20% downside to a heavier support level…
So I want to watch this chart closely in this area, especially if it gets to the next support level…
If it doesn't hold there… what's next? Who knows? 3,2,1 death… it would really take a business fail to get back to those levels… so watching revenue and earnings growth rates will be key…
And from the technical side… I will be watching the stock here and if it gets to the next support level around $5, I will be watching it like a hawk…
My Personal Outlook
Current consumption trends imply that the cannabis market is still going to be huge in the long term. Disruptive huge… tobacco, alcohol industry huge…
But as this trend plays out… consolidation will without a doubt happen and only a small percentage of cannabis companies will remain in the end…
With the above analysis, I believe Cronos will be one of them…
However…. This stock, with all the other cannabis stocks, will likely remain weak until they prove growth to investors…
But…  don't take CRON off your radar… Once the company begins to figure out its profitability issues, we could get the spark that leads to a huge rebound… and you won't want to miss this one.
In the meantime… You don't have to wait around for CRON… Learn to pull in profits everyday with my Supernova system…
Related Articles: