Are you feeling couch lock from watching all these pot stocks burn out?
All the hype and excitement faded like the stink of patchouli.
However, I believe the latest sell-off has gotten ahead of itself. In fact, if the market wasn't so nearsighted— focused on the current laws and regulations—they'd be able to see the massive upside potential in some of these companies.
I know I do.
But when it comes to trading them—there is no time better than the present. Indeed, one of my favorite pot companies to trade options on is Tilray (TLRY).
I smoked a 1000% return for Weekly Money Multiplier on this trade!
Yeah, I got high returns on that trade above, made a whole lot of green ($18,000 in profits)!
And you know what else?
Real money sees the potential here too.
Even Raging Bull CEO and multi-millionaire options trader Jeff Bishop took a piece of the action…with a $100,000 position!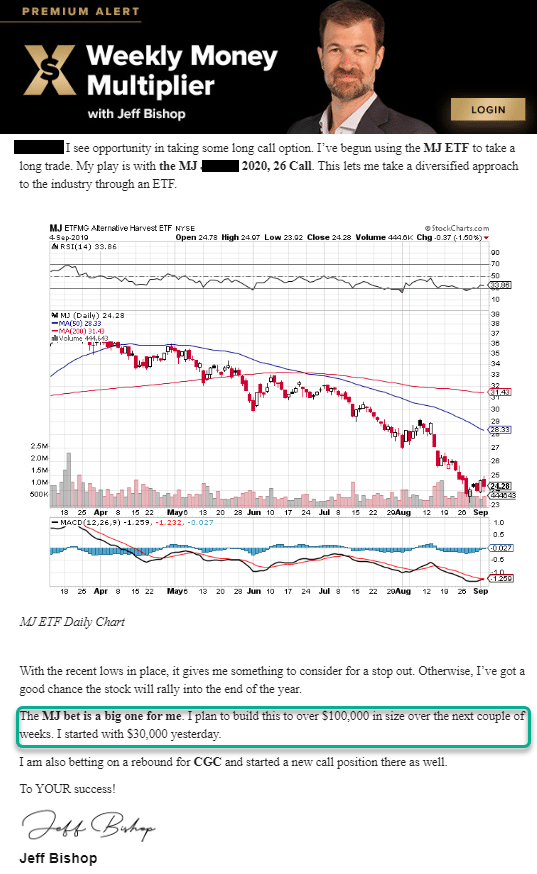 No one wants to be the last to the party… buying at the top of the market. But, plenty of these stocks pulled back well off their highs (pun intended).
Is this the last dance with Mary Jane or do these stocks still have room to roll?
Sorry avocados your ship has sailed. The new MVP is cannabis, and it is storming the shelves and stock market.
And boy has it!
Picking up a snack for the kiddo? Why not grab a pack of CBD gummies for yourself?
Starting to get winter skin? Smooth on some CBD lotion.
Cannabis saturated our market ranging from normal to truly bizarre. Luxury brands like Lord Jones got in with a $60 box of 9 gumdrops.
But cannabis isn't just the new superfood. It's the new cash crop and it's up for sale.
What Are Cannabis Stocks? 
The legalization of marijuana is slowly sweeping across America. With the ability to spark up and eat up, a whole new industry emerged. With these new companies comes new investment opportunities.
Stock opportunities blossom alongside the countless cannabis products. You have got your pot growers. Companies that produce products. Medical marijuana. And even companies that rent and sale real estate solely to cannabis companies.
But cannabis hasn't been in the game long.
In 2009, the first marijuana stock arrived at the market, an OTC. But, it paved the way for its fellow brethren.
The first real hit of cannabis came in 2018 when it debuted on both the Nasdaq and New York Stock Exchange.
Slowly but surely, times they are a' changin'. States continue legalizing medical marijuana. America is warming up to recreational use. CBD is pretty much accepted all over the U.S. but with restricts on the THC.
But, you can buy cannabis stocks if it's legal where you live.
Why Cannabis Stocks Are So Popular 
There is a large amount of momentum fueling cannabis on the stock market. With these changes came changes of opinion.
Every marijuana medical breakthrough pushed public opinion. As the public's opinion changes, so does the amount of revenue coming in. 
Every state legalization brings forth tax revenue for the government.
Want to know how much Colorado made on legalized marijuana last year?
$1.2 billion dollars in sales and $6.5 billion since 2014. The state gained $270 million from simply taxing cannabis this year. This revenue completely surpassed what was originally estimated.
Let's put this in perspective Colorado only made $45 million the same year from taxes on alcohol. In a study done by Georgia State, they discovered that sales for alcohol dropped as much as 20%. 
Colorado isn't the only lucky one reaping the benefits from cannabis. California and Washington both pulled in tax revenue going well over $300 million in 2018.
With every legalization comes more profit to the cannabis industry. A side effect is its good for the state too. Who knows they might fix those pesky potholes on your morning commute. 
Cannabis Catalyst That Could Drive Real Growth
There are two major catalysts for cannabis stocks.
Cannabis is saturating our world, becoming part of our everyday lives. CBD or marijuana dispensaries (if you live in a legalized state) are popping up everywhere. Food, drinks, beauty, wellness, and even old fashioned smokes are readily available.
And every company wants a piece of the action.
The first catalyst is acquisitions, the simplest way to get in on the action is to buy in. We've already seen interest from big tobacco companies.
Catalyst #2 keeps getting increasing coverage this year and oh, how it will only grow ─ the 2020 election and pot will be a hot topic for it.
People are seeing states reaping the benefits. They see the progress made in health and wellness. 
And it has Americans getting on board with pot! 
A candidate's stance on which way they will vote on the STATES Act will become a driving factor in the debates to come.
Cannabis Stock Performance YTD
Now for the real talk.
While some cannabis stocks saw tremendous YTD returns, others fell on their faces. With all the potential for profit comes a lot of growing pains for the industry as well as red tape.
CannTrust was one cannabis company that took a tumble. This year the company was caught growing pot in several unlicensed locations. What resulted was probably the worst thing that could happen to a cannabis company. It had its cannabis license suspended.
No cannabis license for a company means no cannabis. No cannabis means no money. Since last year they have YTD fallen 77%.
But CannTrust is the bottom of the barrel when it comes to cannabis stock performance. Brightside is it only goes up from there.
A shining star was Innovative Industrial Properties, climbing 75% this year. This company is unique because it doesn't have a lot to do with cannabis. It profits from making acquisition and marketing real estate solely to cannabis producers.
This shows that companies can find their own niche in the cannabis industry and stock market. 
The cannabis industry and stocks are at a pivotal moment in history. So much is riding on the legal aspects of marijuana. Legalization holds many untapped profits for the industry. But navigating this new industry's law is treacherous. 
But for every aspect of the unknown and yet to be determined comes the potential for profit.
If you're looking for a strategic way to trade options on pot stocks then…
Related Articles: