Safe haven ETFs are investment vehicles that investors and traders flock to in times of uncertainty and volatility. No matter what is creating market turbulence, there will be some areas of the market that provide investors a safe harbor. In other words, they  have the potential to retain their value or maybe increase it slightly while the rest of the market is in turmoil.
Generally, safe haven ETFs rise when there is risk-off sentiment. While investors and trades have been in risk-on mode for much of the current and long bull market, there are plenty of times when investors look for safe harbors when a market rally is stalling or there are worrisome headlines on the horizon.
Clearly, in those times, investors and traders  turn to certain exchange-traded funds to inject assets they perceive as safe into their portfolio; here are a few ETFs that typically play that role:
SPDR Gold Trust
The SPDR Gold Trust (GLD) typically is considered a safe haven, as it aims to track the price of gold bullion. Since the ETF is exposed to the price of gold, investors flock to it in times of uncertainty. This is due to the tendency of gold holding its value, or even rises in times of market volatility.
The SPDR Gold Trust currently charges an annual gross expense ratio of 0.40%, and has over $35 billion in assets. GLD can be a hedge against everything from political and economic risks to tail risks, unexpected systemic risks and more. Moreover, many market participants see gold as a hedge against currency risk, or the potential that a currency gets devalued; GLD, therefore, is a safe haven when there is a high degree of uncertainty in the market or economy.
Here's a look at GLD on the weekly chart: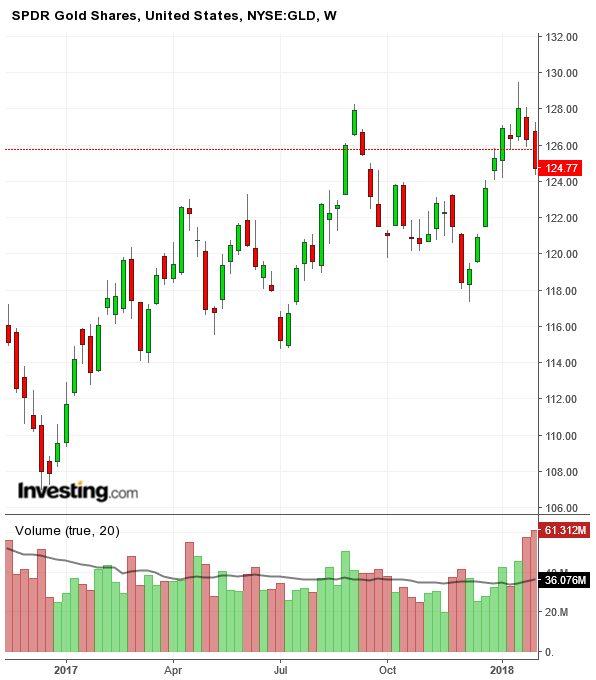 Source: Investing.com
iShares 20+ Year Treasury Bond ETF
The iShares 20+ Year Treasury Bond ETF (TLT) provides exposure to long-term U.S. Treasury bonds. It's a safe-haven ETF because U.S. Treasury bonds typically are seen as "risk-free assets."
That's not to say that this ETF is risk-free. As bond prices fall when interest rates rise, so this issue tends to fall when risk is back on the table, as well as when the rate environment looks like it will punish the prices of long-term bonds.
The iShares 20+ Year Treasury Bond ETF tracks the ICE U.S. Treasury 20+ Year Bond Index, which is composed of U.S. Treasury bonds with remaining maturities of more than 20 years. Consequently, it has a higher duration than short-term bond ETFs, giving it a higher degree of risk and volatility. You could estimate how a change in interest rates will affect the share price of a bond fund by multiplying the fund's duration by the change in rates.
Therefore, assume TLT has an effective duration of 18 years. Shareholders would have expected the fund to fall by 18 percent in response to an overnight 1 percent increase in interest rates.
Here's a look at TLT on the monthly chart: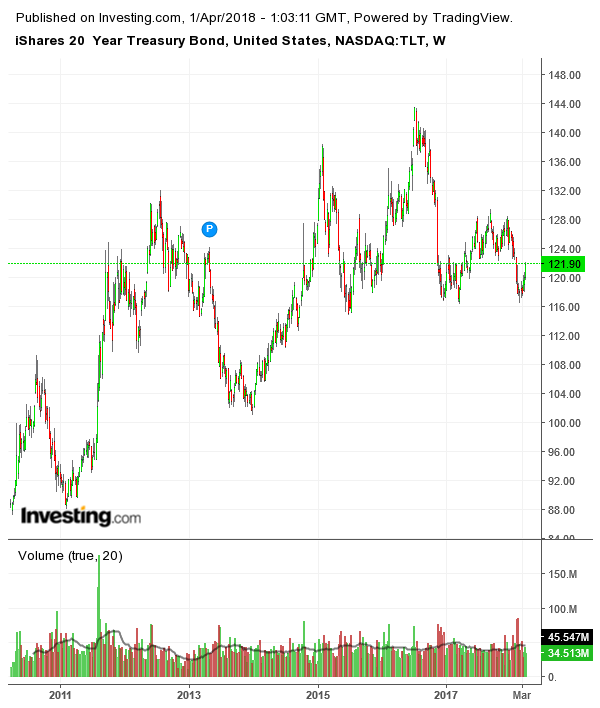 Source: Investing.com
Intricacies of TLT
Keep in mind, there is a big difference between how a fund performs short-term during times of rate hikes and what investors get paid long-term. If rates rise, corresponding bond funds fall with them. However, savvy fund managers actually can reinvest cash flows into new bonds paying the higher yield. This often allows the fund to catch up over timed that if interest rates rise, bond prices should fall, and therefore TLT should fall in the short term. However, over the long term, TLT fund manager's could actually reinvest their cash flows at higher interest rates. In turn, this should offset the short-term fall in TLT, and therefore, pay off in time; moreover, unlike GLD, the TLT (and other bond funds) offers passive income, which can make it a more-appealing safe haven to income-seeking traders and investors.
Final thoughts
Safe-haven investments are no guarantee against widespread, sweeping market declines. They are a diversifying tactic worth considering at a point when pulling some money away from the market's primary risk spots makes sense.
#-#-#
Jeff Bishop is lead trader at WeeklyMoneyMultiplier.com and widely recognized as the Mensa Trader. He runs short-term trading strategies, using stocks, options and leveraged ETFs.
Related Articles: