With this market environment, some traders are actually having a tough time coming up with trade ideas.
Of course, the waters are a bit muddy with all the retail traders pouring into the market…
And to me, there are a lot of newbies in the market at these levels…
Buying stocks left and right…
Without clear signals.
That's just gambling in my opinion…
Rather than just trading what's moving right now, I actually try to see what the smart money is placing their bets.
Today, I want to reveal to you some stocks on my radar right now…
Ones that I believe could move soon.
Click here to continue reading…
You should know the deal by now… I use my dark pool activity scanner and charts to uncover trade ideas.
Basically, I'm a firm believer that the financial institutions and hedge fund traders and investors are using the dark pools from "hiding" their activity.
To me, that signals they may know something… or don't want the competition to "steal" their ideas.
Well, yesterday, I saw some dark pool activity go off in 3 stocks, and I'm looking for potential entries soon.
Here's what I sent out to subscribers this morning…

I really like NET long but I'm going to wait for a pull back to the 8 or 21 moving average on the daily to get into some at the money calls for July or maybe just buy some stock as the options are really expensive at the moment.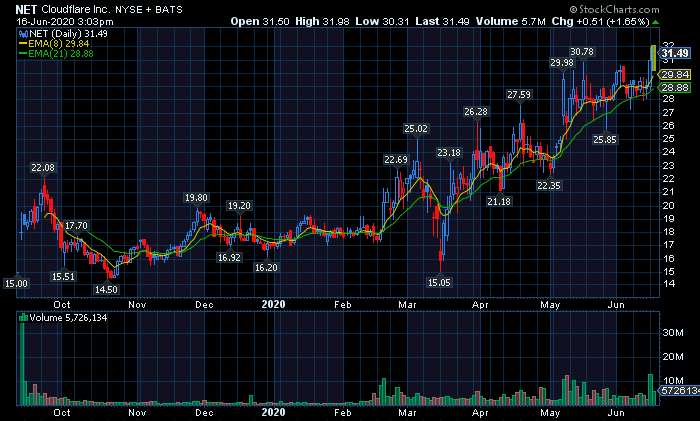 Source: StockCharts
With Clourflare Inc. (NET), I'm actually waiting for a pull back before I look to establish a bullish opinion.
More specifically, the yellow or green lines in the chart above. I believe if they pull back to that area, there can be support and the stock can bounce off those levels and reclaim highs.
Next up is Salesforce.com (CRM)

I haven't seen CRM on the scanner in some time and the chart looks great on multiple time frames. The options on this are very expensive so might be a better common stock buy here.
There was an $89.14M order in CRM yesterday, and this stock is forming a bullish pattern in my opinion.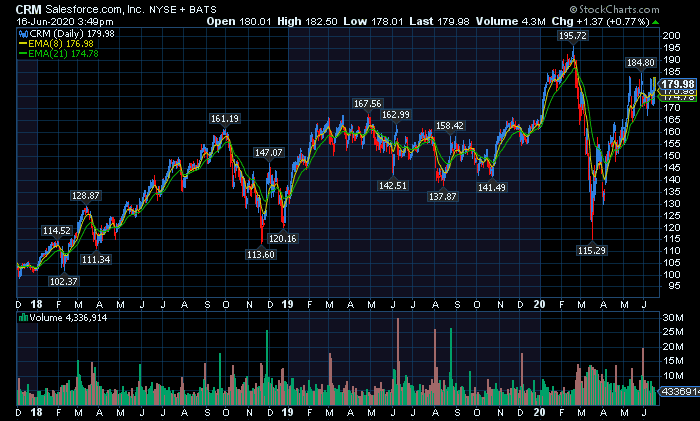 Source: StockCharts
With a bull flag forming, I wouldn't be surprised if the stock breaks out from here and reclaims highs at $195.72.
Last, but not least, VALE came up on the scanner… again.

Came through several times yesterday. It seems stuck below its 200 MA here, but if it can break up and out, then I'd like to get in.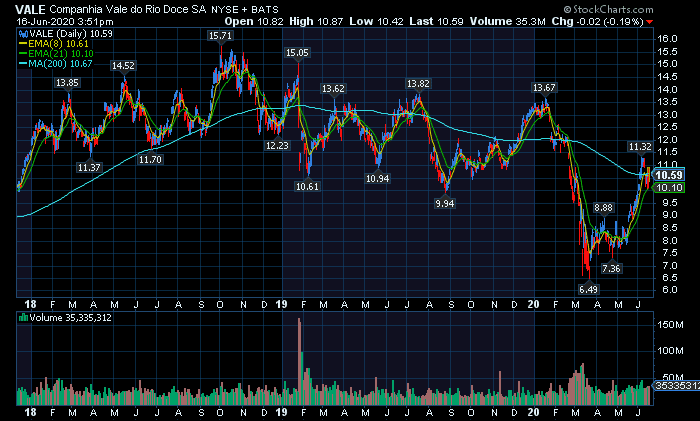 Source: StockCharts
The stock is right under the 200-day simple moving average (SMA), right around $10.59.
If the stock breaks above that area and stays above… I'd look to establish a bullish position because it can break out from $11.32, then potentially get to the next resistance level right around the $13.60 area.
I believe now's the time to keep a close eye on the "smart money" activity… and I'll provide you with updates on other activity I see pop up.
WE MAY HOLD SECURITIES DISCUSSED. RagingBull has not been paid directly or indirectly by the issuer of any security mentioned in the Services. However, Ragingbull.com, LLC, its owners, and its employees may purchase, sell, or hold long or short positions in securities of the companies mentioned in this communication.
DISCLAIMER: To more fully understand any Ragingbull.com, LLC ("RagingBull") subscription, website, application or other service ("Services"), please review our full disclaimer located at https://ragingbull.com/disclaimer.
Related Articles: