I hope your holidays were filled with peace, love, joy, and noiseless kids' toys.
It's hard to believe that 2019 is almost in the rearview mirror.
Not only did this bull market celebrate its 10th birthday — which concerns me greatly heading into 2020 — but we're on the cusp of another decade and yet another presidential election.
Personally, 2019 was good to me — I locked in my best year of trading profits ever, with help from the launch of Weekly Windfalls. (For a limited time only, we're offeringthis SPECIAL HOLIDAY PRICE! Hop in now!)
Not only that, but I was able to donate $220,000 of my profits to the heroes at St. Jude.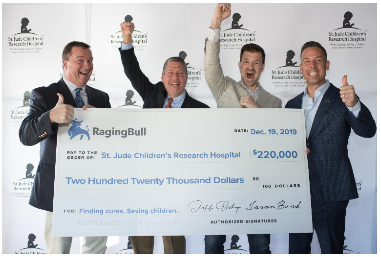 I'm also gearing up for my first $1 million trading year in 2020, after debuting my new Smoke Signals service.
That said, let's take a look at the past year in the stock market and elsewhere… including the biggest IPOs and Trump's growing list of enemies.
This past year, the U.S.-China trade war continued to move markets.
Wall Street also got its first rate cut from the Fed since the financial crisis, and the inverted Treasury yield curve fueled fears of a recession on the horizon.
Nevertheless, the major stock market indexes rallied to record highs, with the Dow and S&P 500 topping 28,000 and 3,000, respectively.
Washington, D.C., was also in focus, as the House of Representatives voted to impeach President Trump — the first time that's ever happened in a president's first term, and just the third time it's happened in U.S. history.
And speaking of President Trump… he was very busy starting and maintaining grudges this year.
Here's a look back at his beefs.
Trump's Big Beefs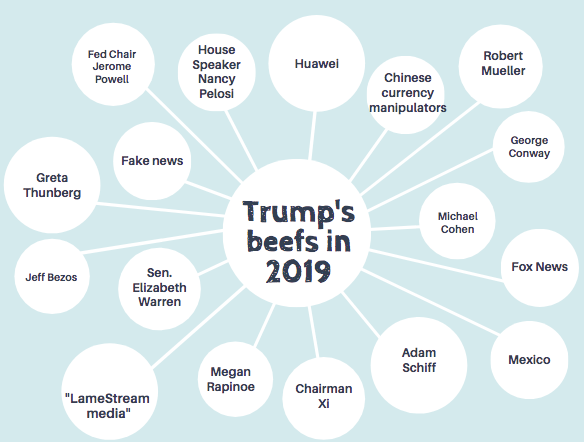 Of course, Trump went tit-for-tat with Chinese Chairman Xi Jinping over U.S.-China trade in 2019.
He also attempted to put tariffs on Mexican beer imports, but eventually walked that back, and fueled trade disputes with the European Union (EU). (Also, remember when he tried to declare a national emergency to build the border wall?)
Trump spent many hours tweeting about his domestic political enemies, too, including Sen. Elizabeth Warren (whom he calls "Pocahontas") and House Speaker Nancy Pelosi, who led the impeachment process.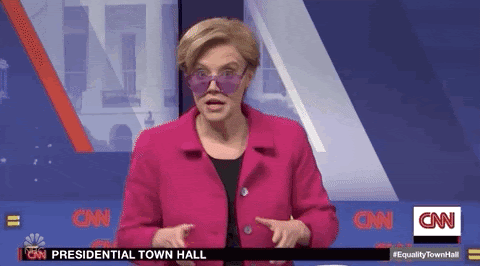 Even U.S. Women's Soccer star Megan Rapinoe, who led the team to a World Cup win, was a target, as was 16-year-old activist Greta Thunberg.
Even people he was once friendly with moved to his enemy list this year… his own Fed Chair nominee, Jerome Powell, for one… his former attorney, Michael Cohen… George Conway, husband to his advisor, Kellyanne Conway…
Here are a few of the year's biggest Trump tweets: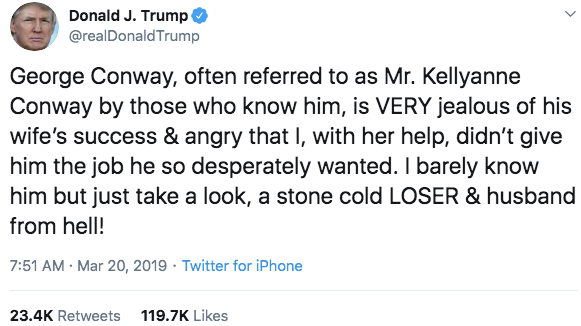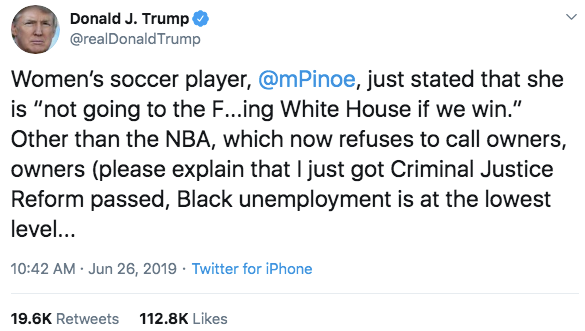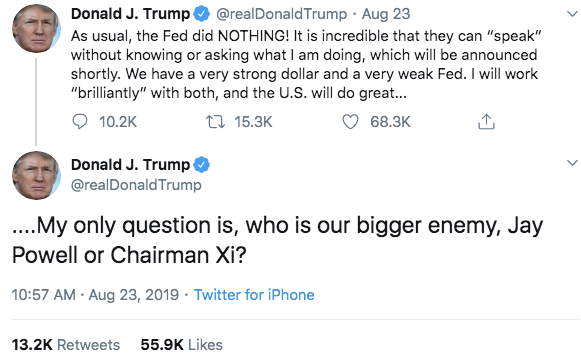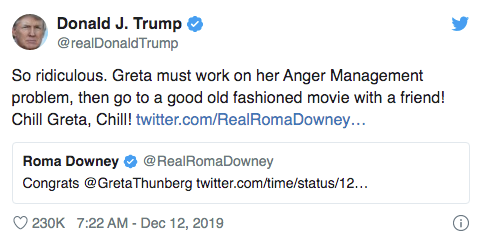 Biggest Stock Stories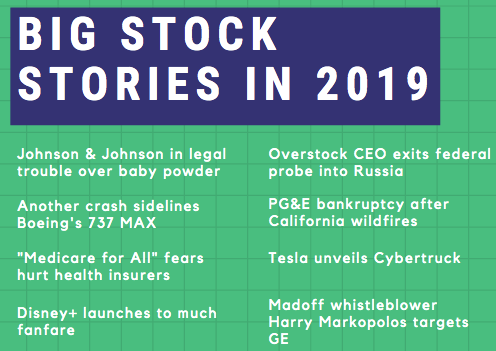 It was a monster year for Walt Disney (DIS).
Not only did the company launch its Disney+ streaming service to much fanfare in November, it saw several box-office smashes, including "Avengers: End Game," "The Lion King," and "Frozen II."
Among some of the other big stock headlines this year…
Johnson & Johnson (JNJ) was slapped with subpoenas over its baby powder back in February, and in September, the Food and Drug Administration (FDA) found traces of asbestos in the powder.

In March, another fatal crash of Boeing's (BA) 737 MAX 8 aircraft sent the shares plummeting, grounding the faulty planes.

In April, presidential candidate Bernie Sanders outlined a "Medicare for All" plan, rocking health insurers like UnitedHealth Group (UNH).

General Electric (GE) stock was in focus in August, after the Bernie Madoff whistleblower leveled fraud accusations against the company.

Overstock.com (OSTK) CEO Patrick Byrne resigned, after revealing he was involved in a government investigation into Russia and 2016 presidential candidate Hillary Clinton.

Tesla (TSLA) famously unveiled its Cybertruck, accidentally shattering the vehicle's "armor glass" windows.
Biggest FAANG News
Per usual, "FAANG" stocks — Facebook (FB), Apple (AAPL), Amazon (AMZN), Netflix (NFLX), and Google parent Alphabet (GOOGL) — also made plenty of waves in 2019.
Facebook unveiled its cryptocurrency, Libra … Apple debuted an outrageously expensive computer… Amazon scrapped plans for a second headquarters in New York, and enjoyed an investment from billionaire Warren Buffett … Netflix did battle with Disney+ … Google announced plans to buy Fitbit…
Heading into 2020, though, this group of stocks is under severe regulatory scrutiny… and tech could lead the inevitable turn lower.
Big Wall Street Freshmen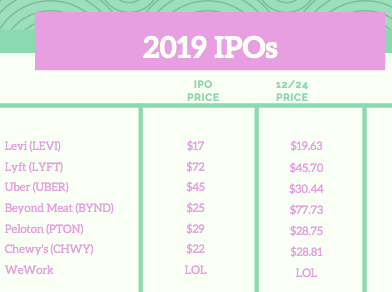 Several companies went public in 2019, though the one that may have made the most noise was WeWork, which was forced to 86 its debut and fire its CEO.
Otherwise, ride-hailing services Lyft (LYFT) and Uber (UBER) made headlines after their initial public offerings (IPOs), and vegetarian food maker Beyond Meat (BYND) is still trading around three times its IPO price.
Exercise bike maker Peloton (PTON) was also in the spotlight… especially in light of a holiday commercial that sparked backlash on Twitter.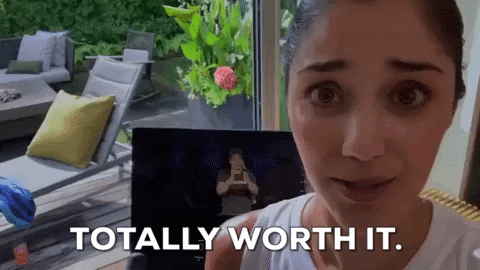 For hot IPO investments, snag Ben Sturgill's IPO Payday service at a limited-time holiday discount!
Looking Ahead
As I said earlier, I'm looking to have my biggest trading year ever in 2020, with the goal of making $20,000 between my three primary services — which you can have now by calling RagingBull at (844) 961-1585.
And while no one can say for certain what the future will bring, considering we've been in a bull market since March 2009, the clock is definitely ticking on this rally…
The only question is — are you prepared to MAKE MONEY when stocks fall?
I am.