Whether you want to leave your job, retire early, build your savings, or simply afford a better lifestyle—the opportunities are endless in the stock market. 
However, the style of trading you decide to embark on may determine whether or not you'll be successful. 
You see, when most people think about trading—day trading is what comes to mind.  
It sounds alluring… the thought of rolling out of bed and walking over to your computer… firing off trades in your PJs. 
However, if you want to be a day trader… good luck. 
Nearly all of them fail. 
So why would anyone want to subject themselves to such torture?
Especially, when you don't have to. 
You see, there are far more lucrative ways to profit in the stock market, and they don't include day trading. 
I'm not talking about buy and hold either. 
It's an active approach to trading that doesn't require you to be glued to the screens all day. 
In fact, I'm going to show you what swing trading is all about, and why its my preferred style of trading, how it has helped me rake in over $2M in career trading profits, and what it can do for you.
Swing Trading vs Day Trading?
Day trading, as the name suggests, consists of opening and closing trades in the same day…
Day traders are in and out of trades within minutes or hours. Rarely holding a position overnight… 
Swing traders, on the other hand, will be in trades for 3-5 days and sometimes up to a week or two…
Proper day trading requires constant focus and attention on numerous symbols and trades… all day long… so day trading is not a side job… it is your job.
The goal of swing trading, on the other hand, is to identify the overall trend and then capture small swings within that trend. 
Generally, you want to trade with the main trend on the chart (the trend is your friend)… therefore you will be buying pullbacks in uptrends and selling in downtrends. 
This is where technical analysis comes in so handy, as it provides the tools needed to spot trends and when to take trades… as well as calculate profit targets and stops.
Trending stocks rarely move in a straight line, instead, they move in a stair-step pattern. For example, a stock might go up for several days, followed by a pullback during the next few days, before heading back up. 
An uptrend is formed when you see this stair-step pattern with the stock moving higher on each step… watch for higher highs and higher lows (as seen in the chart).
As a bullish swing trader, you are watching for the stock to take a "step down" and then looking to enter when the stock resumes its upward movement.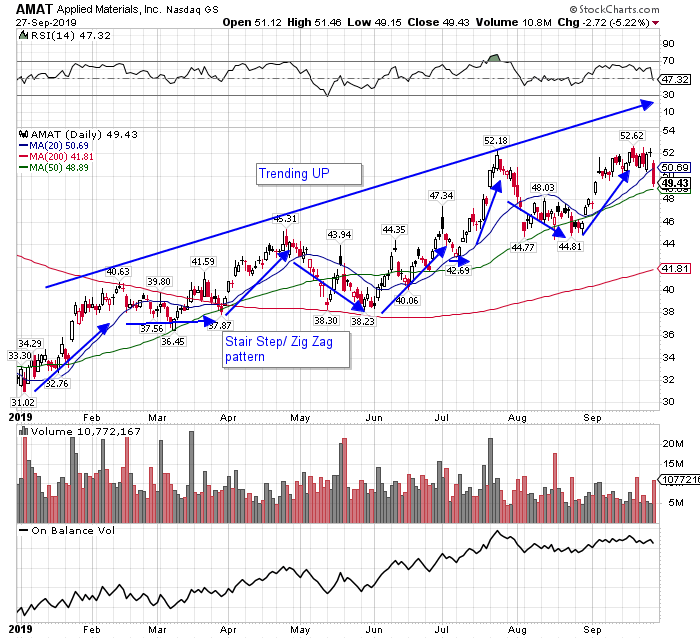 Sometimes there is no trend… then what?
Well, another swing trading strategy is to find a stock trading in a channel between parallel support and resistance levels… and buying near the support level and selling near the resistance level.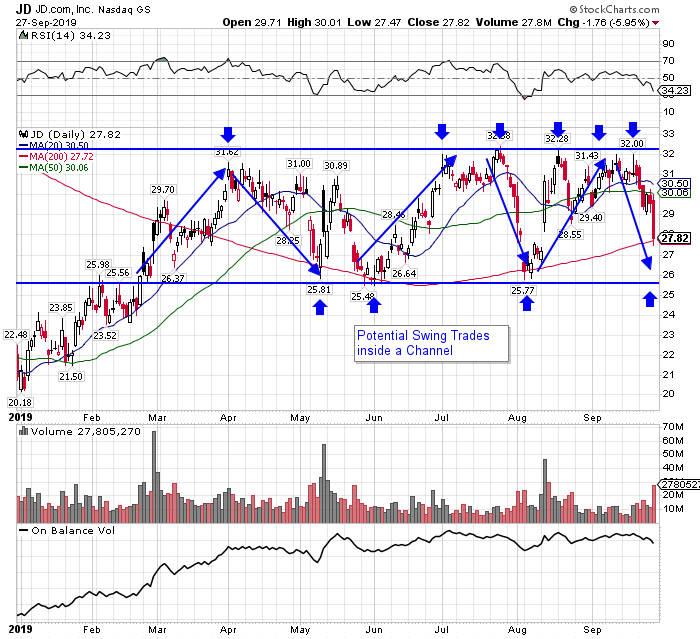 Moving Averages
Besides the chart patterns shown above… another great technical analysis tool for swing traders is the moving average…
Moving averages can provide support and resistance levels, as well as bullish and bearish crossover patterns.
Major moving averages to watch for support and resistance around are the 50 simple moving average (SMA) and the 200 SMA… as well as a 20 SMA on a shorter time frame…
Besides looking at support and resistance around these major averages… you can also use what's called a moving average crossover.
This is when a faster moving average such as the 20 SMA crosses over a slower average such as the 50 SMA… it is bullish when crossing above and bearish when crossing below…
Another often used cross is the 8 exponential moving average (EMA) crossing above the 20 SMA as seen in the chart below… the blue ovals show each cross up… and you can see the stair-step continues…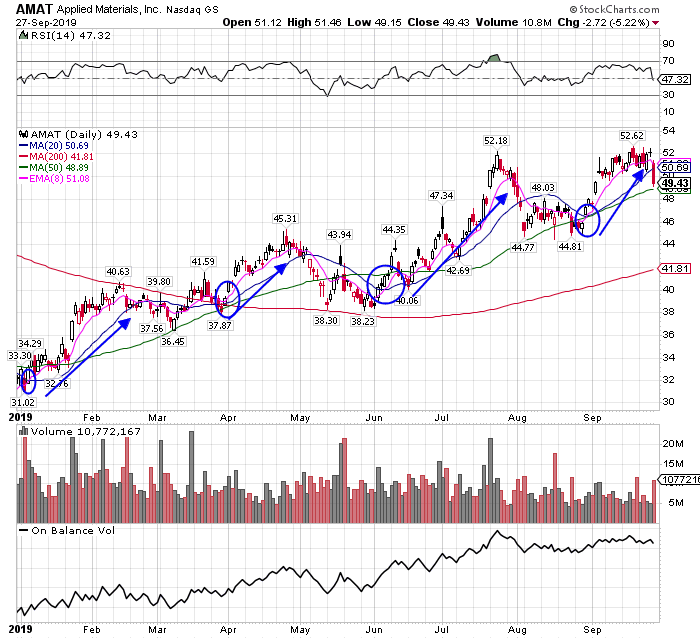 While you can use any number of MA crosses, some work better than others… and they should be used in conjunction with other tools… 
I have a specific set of moving averages that I developed over the years that I use with my chart patterns to up my odds of making profitable trades… you can learn them here.
Entries and Profit Taking
Since it is unknown how many days or weeks a pullback or counter-trend may last, you want to enter a swing trade when the stock has resumed the original trend.
You aren't picking a bottom… you are trading with the trend… until it resumes, there is no trade…
In the chart below, you can see how a swing trade entry (blue line), stop (red line), and target (green box) may be set to grab the continuation swings of the uptrend…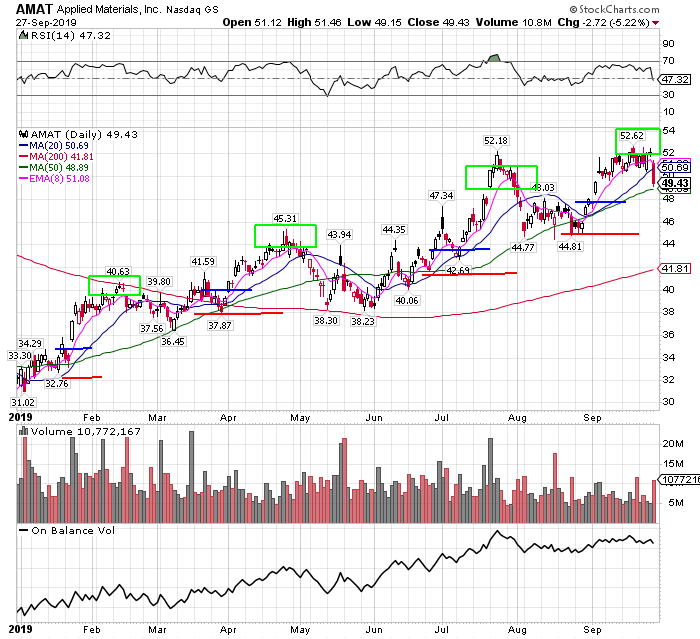 Finding a stop is as easy as looking at the previous low… whereas a profit target on a swing trade could be calculated as a percentage above the previous high… based on how far each swing has been moving above the previous…
We aren't swinging for the fences… we are just hitting base runs… so keeping the target in line is how we take home profits and let them stack up over time…
Final Thoughts
Another great thing with swing trading is that it works great with large-cap stocks… they have a tendency to trade within well-defined highs and lows, and to top it off, they provide a lot of liquidity making it easier to get in and out…
When I started trading I didn't know what to do… I tried it all. And after hitting many speed bumps… I found that swing trading made sense and provided the best odds.
So I focused in on that and developed a system using chart patterns and some basic moving average crosses… and since then, I have pulled $2.4 million in profits from the market…
I don't want you to pull your hair out trying to learn to day trade on your own… that's why I have set out to teach my system and mentor you along the way… so you can slide right over the speed bumps I hit along the way, and roll right into profits…
To see how I use my system… click here to watch this video…
Join our community: