Moderna (MRNA) said preliminary phase three trial data shows its coronavirus vaccine is more than 94% effective in preventing Covid-19…
Giving us another good vaccine candidate after Pfizer and BioNtech announced their vaccine as being 90% effective last week.
Moderna (MRNA) is shooting higher on the news while Pfizer (PFE) and BioNtech (BNTX) are fading…whoever said a little competition never hurt anybody?
But it's all good news for the market…at least for cyclicals and the energy sector.
If the global economy gets up and running again…there will be an increase in energy consumption. And that's why investors are pouring in today.
Granted there's likely to be short term volatility here as we are still potentially facing more lockdowns in the near future.
But regardless, the news was enough to get investors excited about the "reopening" potential in the energy sector.
So I'll share some of the stocks I'm excited about in this sector…
And no, I'm not talking about oil and gas… I'm looking even further at the potential in sustainable energy… with stocks like PLUG, BE, FCEL, WPRT and more…
FuelCell Energy (FCEL)
I'm starting out here with FCEL since I was talking about this in my Stock Profit Pro trading room this morning, looking for a move to $3.50's this afternoon.
And it did not disappoint, shooting to new 52-week highs today.
And with a short float percentage of 20%, at these levels, we could see some pressure on the shorts putting on a potential squeeze.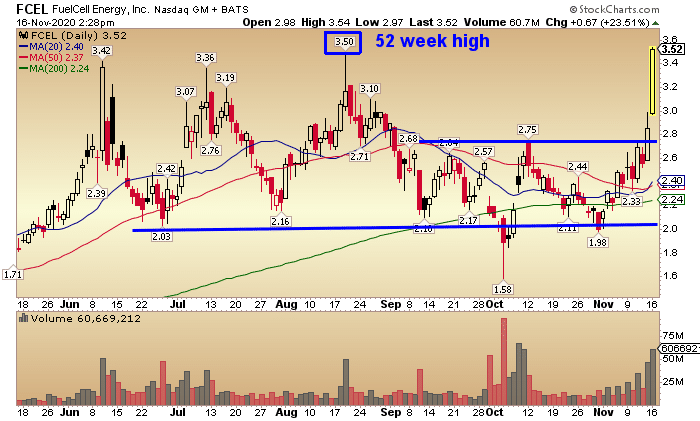 Westport Fuel Systems (WPRT)
Here's a little company that's been in an uptrend since hitting lows back in March.
WPRT is still about 20% from making up to the 52-week high, and looks a little over extended today…as it is hitting some resistance in the upper 2's.
I'll just be keeping an eye on it at these levels and potentially watch for a pullback as well.
Join me in my Stock Profit Pro, Live Trading Room as I walk my members through my trades and what I am watching every day.
Blink Charging Co. (BLNK)
Next up Blink Charging (BLNK) with a decent sized short float at 18.5%.
BLNK is breaking above the previous swing high to form one of my favorite patterns, the stair step higher. (learn about it here)
The next high from here is at $14.58 which happens to be the 52-week high.
If the stock gets enough demand to make a run at that level, it could get a squeeze higher by pushing the high number shorts out.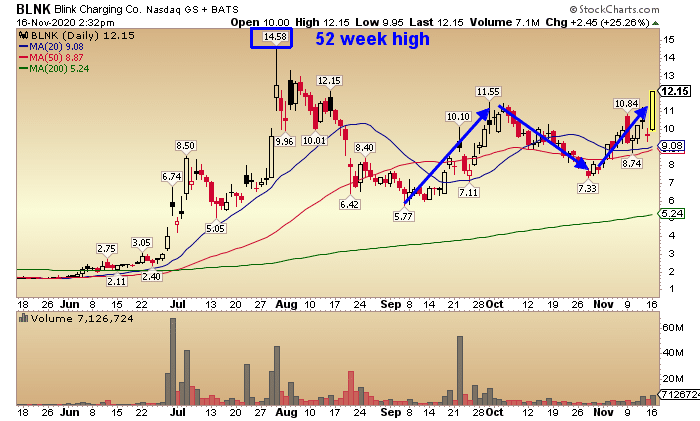 Pioneer Power Solutions (PPSI)
PPSI is jumping out of a nice consolidation, another one of my favorite patterns to trade. (learn more here)
It tested the previous high of $4.29 already today…now it's a waiting game to see how it closes the day.
I would want to see a strong close on increased volume…or have it pick back up in the morning over the previous high.
There is a lot of room on the chart from there.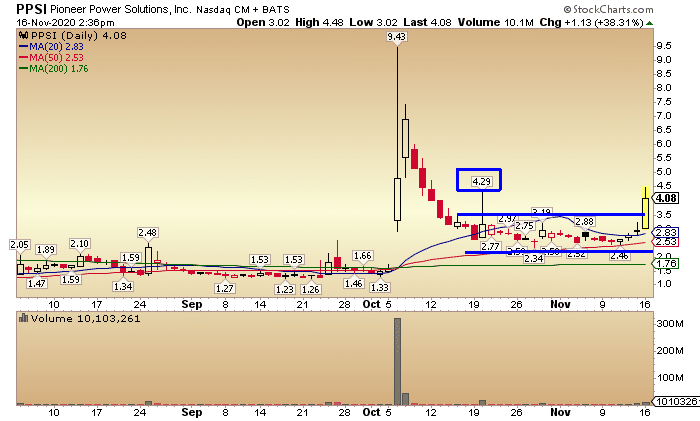 Plug Power (PLUG)
Now this stock may be a little higher priced, but I have been talking about it since it was in the single digits so it warrants a look-in.
Like Bloom, PLUG also has a decent short float at 19%…and the stock is breaking to new all-time highs today.
This is a time for shorts to head for the door.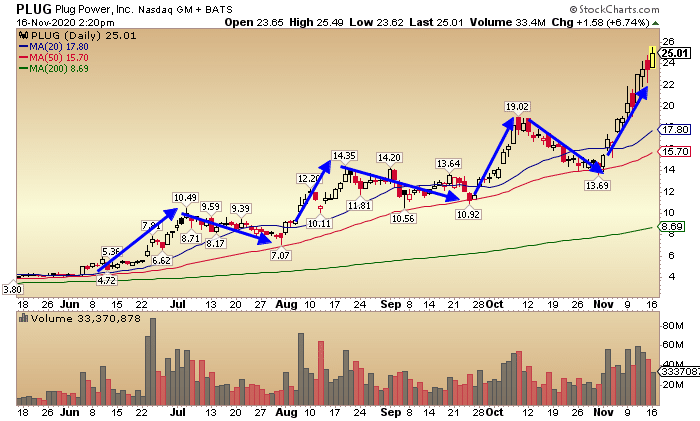 Bloom Energy (BE)
And another favorite in my trading over the past year has been Bloom Entergy (BE).
BE has been trading in congestion for months now…not quite sure what to do.
On this recent move up, the stock is now trading at the high end just under the gap down around $19.
If it can get into the gap the next high is $23.38…and could see some resistance before that top of the gap closure around $21.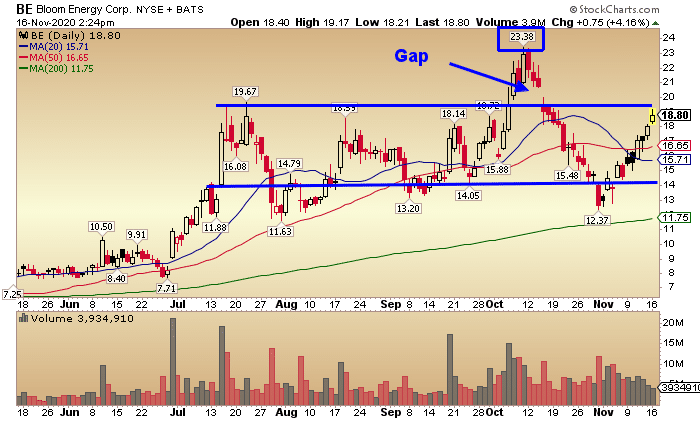 When it comes to the specifics of what gets me into a trade…
You can learn it all with Stock Profit Pro…click here to Join!
---
Stocks On The Move Today
HPR +60%
CBAT +54%
WWR +46%
GP +27%
HDS +24%
---
To get the most out of your trading, you need to be in my Live Trading Room.
This is where I spend the majority of my day…trading, teaching, and having fun with over 1,000 members.
Learn the strategy, see it live, trade with friends, and do it every day…