It's time for a quick shout out to all of my members who are crushing it in Penny Stock Land…
We have been on fire with our trading and I feel it would be an injustice to you if I didn't share what we have been doing, and for that matter what we will continue to be doing because… IT WORKS! 
You see, I trade the markets but at the same time I don't trade "the market."
I found a little niche in Penny Stock Land…  and this is where I like to do my dirty work…
And that involves pulling in some pretty darn good returns.
In fact, check the trade we nailed in COWPP: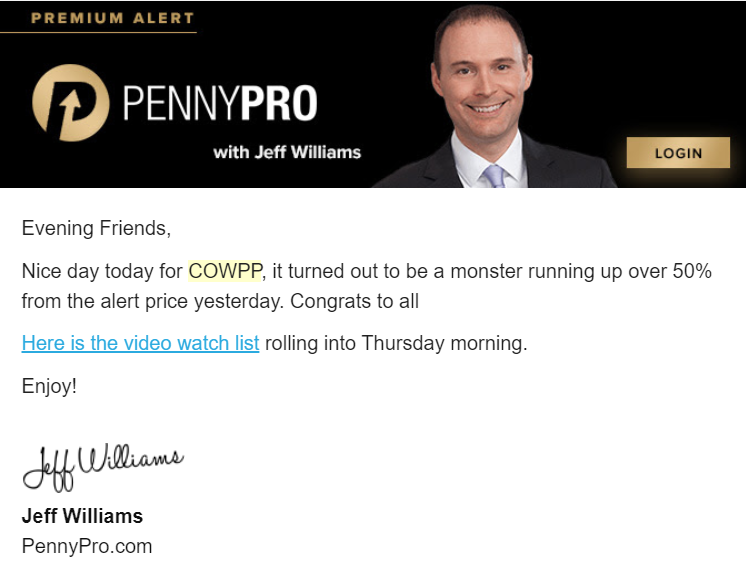 We entered this trade at the end of the day on Tuesday and like clockwork… woke up yesterday and took profits…
Not bad for a stock that was held for less than a day.
But I'm not just here to gloat.. I want to share what I am doing to bank profits like this at a time when most traders don't know up from down.
Below is a chart showing the trade I took in COWPP Tuesday afternoon…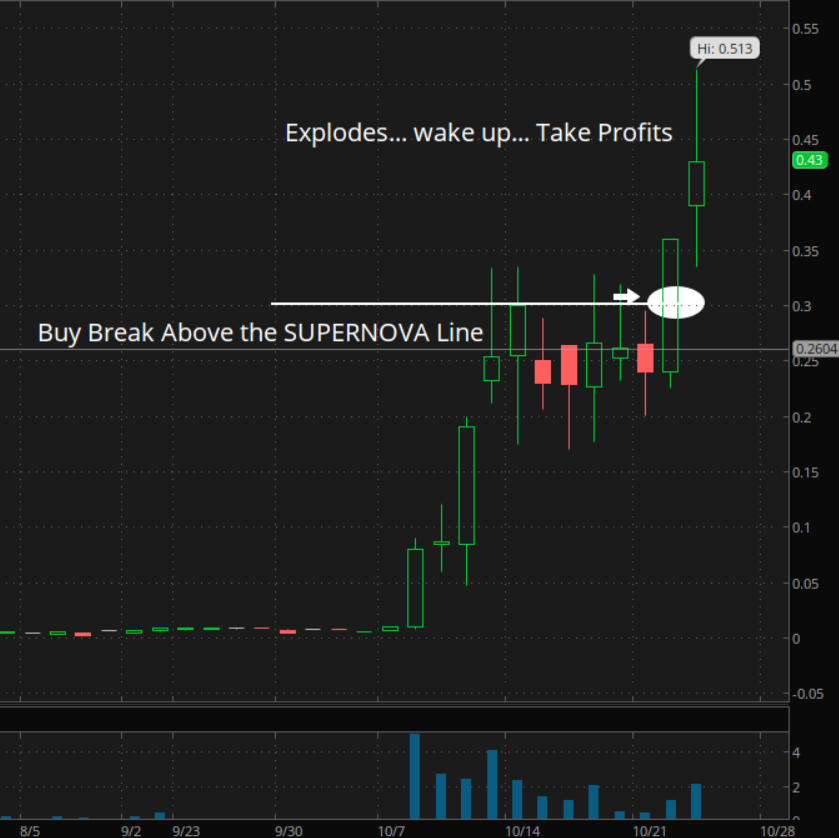 The stock had made an explosive move over the course of 4 days… after which it consolidated for 7 days.
On Tuesday I ran my custom scanner at the end of the day, looking for trade setups just like this.
COWPP caught my eye because of the nice consolidation pattern it had formed coming out of that explosive move…
This interested me because it very easily could have cratered after that move, but instead, it consolidated… letting us know there was still demand for the stock.
At that point, we were simply seeing some profit-taking, and rightfully so… what would you do if you had just made 10x your money in 4 days?
The other thing likely happening is insiders positioning for the next move and shaking out the weak hands.
In the end… we just needed the stock to be trading near the high of the day going into the close as well as watch for it to break above the Supernova Line.
And that's exactly what it did, so we entered the trade…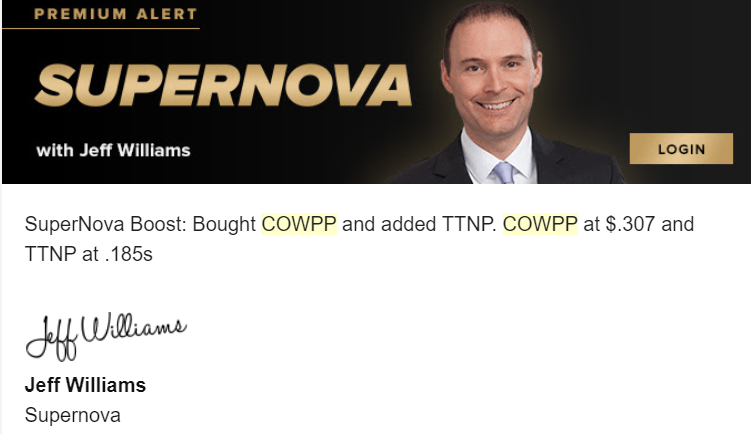 The next day we woke up to a gap and we took our profits…just like clockwork.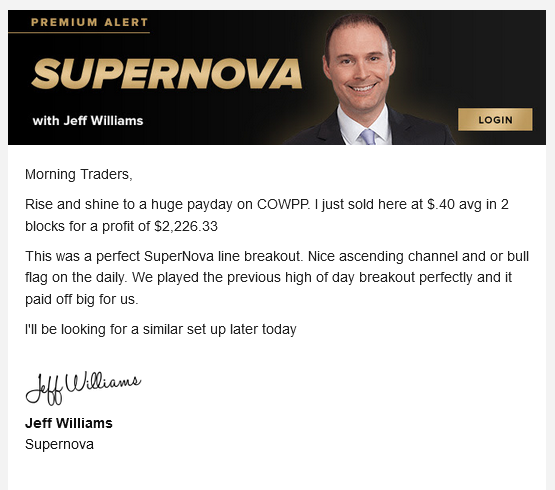 Not satisfied?
Don't worry, the party doesn't end there…
Let's take a look at KPAY.  I entered a position in KPAY yesterday… and here's what my account looked like within hours of entering it…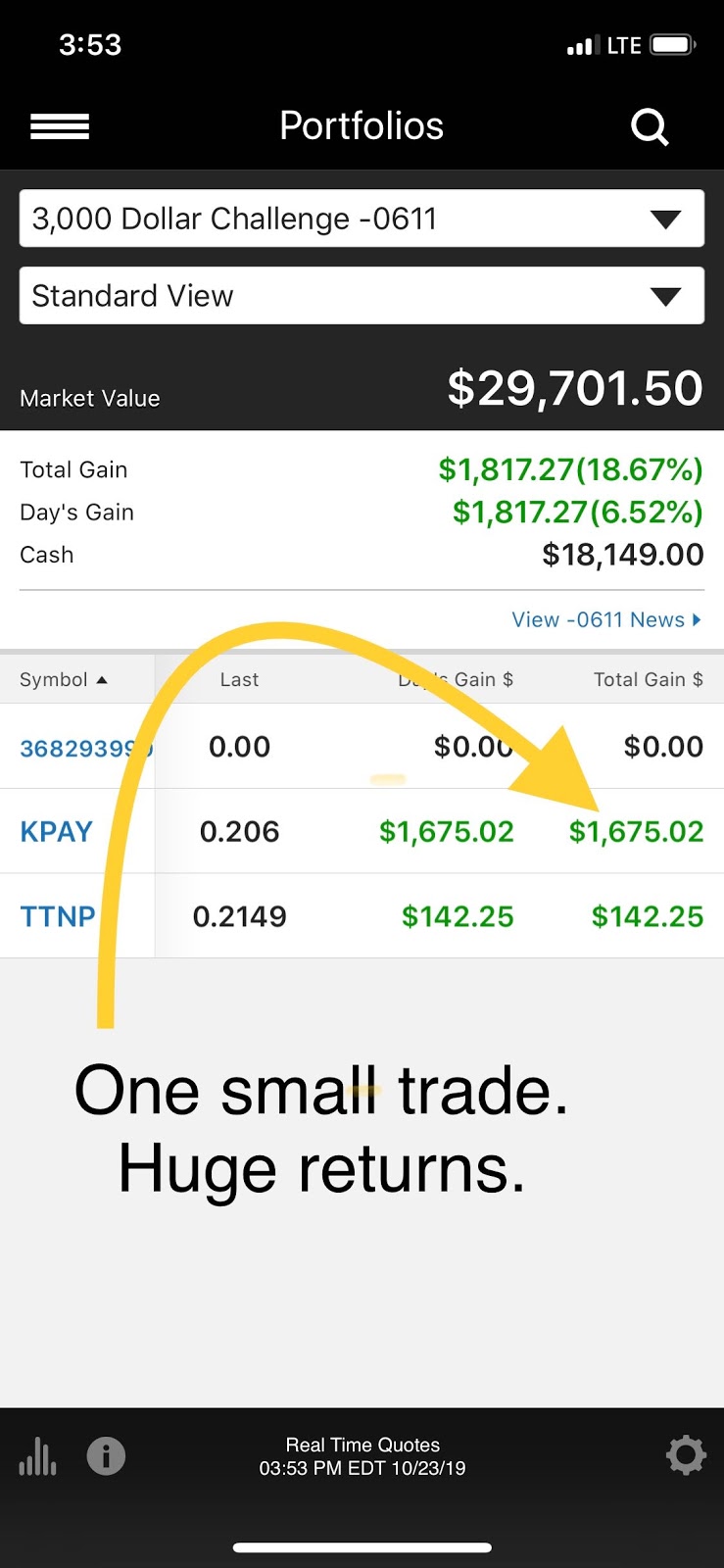 I'll take it…
Now, look at this chart for KPAY… a classic break above my Supernova Line on high volume… it's a setup I use all the time… because it works… but the best part… it's super simple.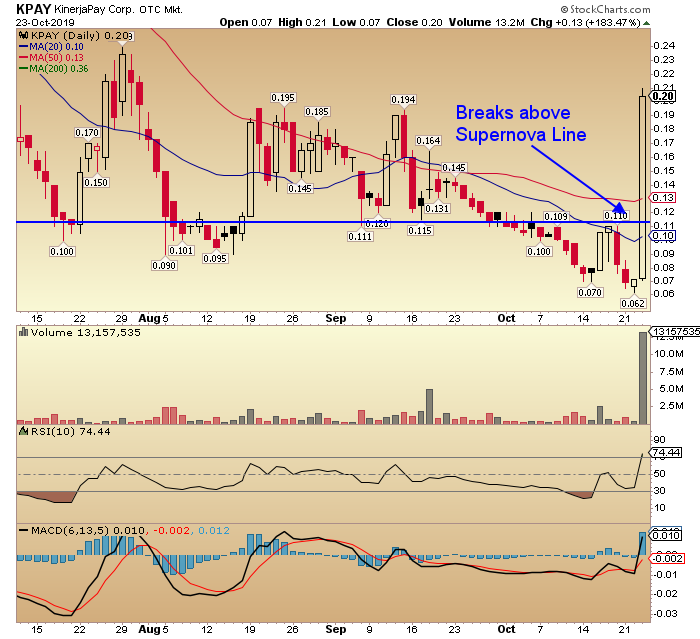 To really show you the price action when we entered the trade… I want you to look at the 15-minute intraday chart below.
In the chart, you can see early in the day how volume takes off and the stock price pops up to test the Supernova Line, after which, it makes a small pullback.
But it didn't stop there… not too long after that, the stock makes another run at the Supernova Line…
This time breaking through. With the confirmation from volume, this is when we entered the trade…
… and it was off to the races…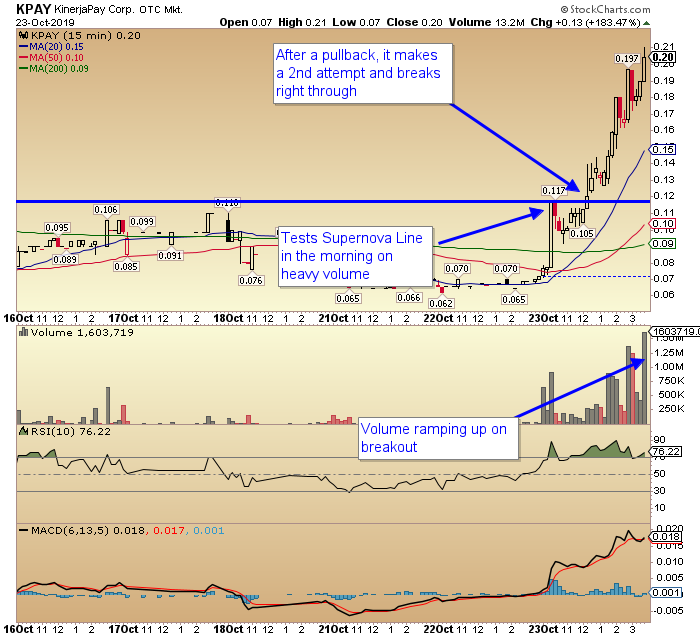 There we go… news… so that's why KPAY got to poppin' today… guess what?  We don't even need to know about it to make money on trades like this…
That's the beautiful thing about it… my custom scanner finds the trades (based on some simple search criteria)… and I enter based on my setups that have been proven to work time and time again.
The stock may be moving because of news… but with my system, we don't need some expensive real-time news service nor do we need to be paying attention to that at all.
Okay Jeff, we see it… clearly you are on fire…
But what can you do for me?
Glad you asked… Like I said the party doesn't end…
These trades were from the past 2 days. I have been making these same trades with the same results throughout all of the market's ups and downs over the past year…
These trades work and they will continue to work for me and my students…
And the part of trading that I love the most is teaching others HOW TO TRADE, not just leaving them to rely on a trade alert.
After all, before I became a trader I was a teacher… I still love teaching, and really it's a huge benefit to my members because I can actually get concepts across in a relatable way.
You can go on struggling to turn a profit on your own… or you can join me and my other members live in my daily trading chat room where I coach, teach, and trade with everyone.
It's really a great community of traders that can give you a Boost to profits you can't find anywhere else.
Don't believe me?
Just check out what Todd has been able to do all on his own because he was able to not only follow my alerts but learn from me…
Screenshots like that make me every bit as happy as the screenshots of my own account.
That's because I love to teach and take pride in my ability to help people learn.
Well, I did my part… I felt like I needed to let share what is working and I did.
This is your chance to join the party and travel this road together…
Related Articles: