We're expecting some fireworks this week as the Federal Reserve is set to meet on Wednesday — all eyes are on Jerome Powell and the gang as we await their next interest rate decision. 
And on any given week, the Fed would be the top story. 
However, that all changed when the world's largest oil facility went under attack on Saturday. The Saudi oil field lost half of its output, according to press reports. 
Whether its the fear of an oil shortage or geopolitical tensions escalating…oil futures last night shot up—like they've never had before. 
A record move to be exact…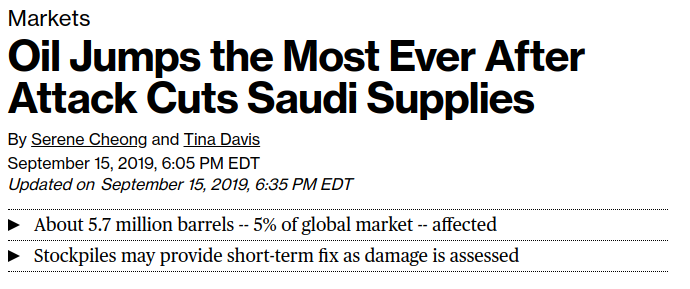 Source: Bloomberg
The 13-hourly SMA crossed above the 30-hourly SMA in the futures last night… as oil prices gapped up massively.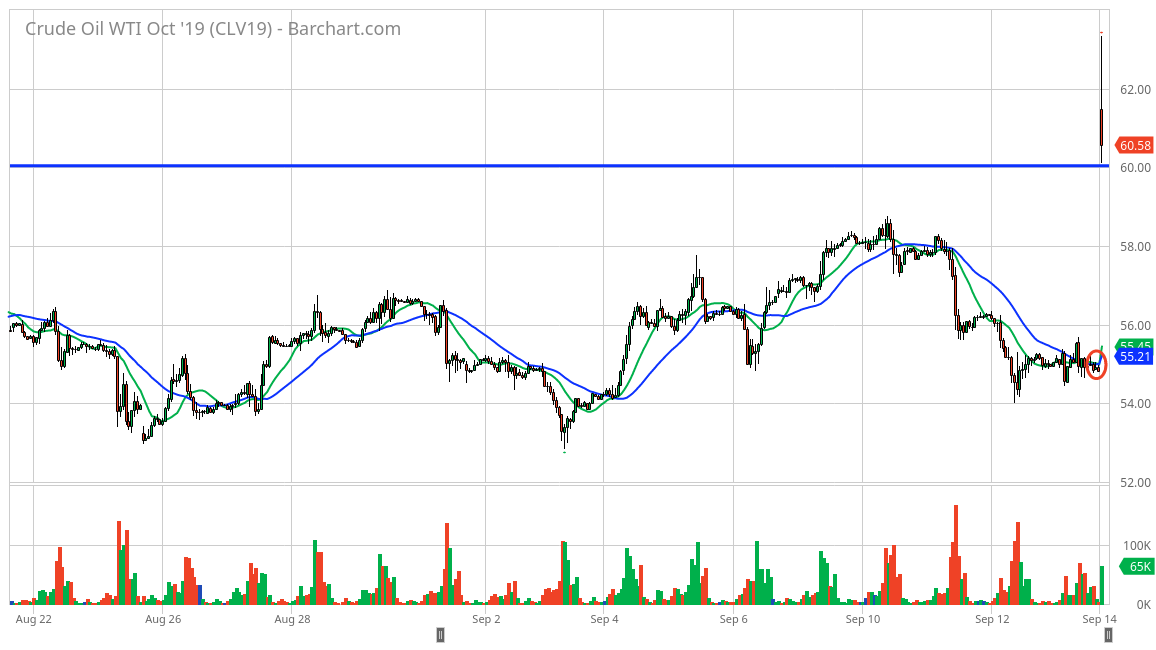 Right now some names to keep an eye on include USO, XOM, XLE, CVX,  and COP.
This story is still developing, and one I'll be watching closely. 
What will the Fed do next?
Many traders are expecting a rate cut (they're pricing in an 81.9% chance the Fed cuts rates by 0.25%)… but the market is near all-time highs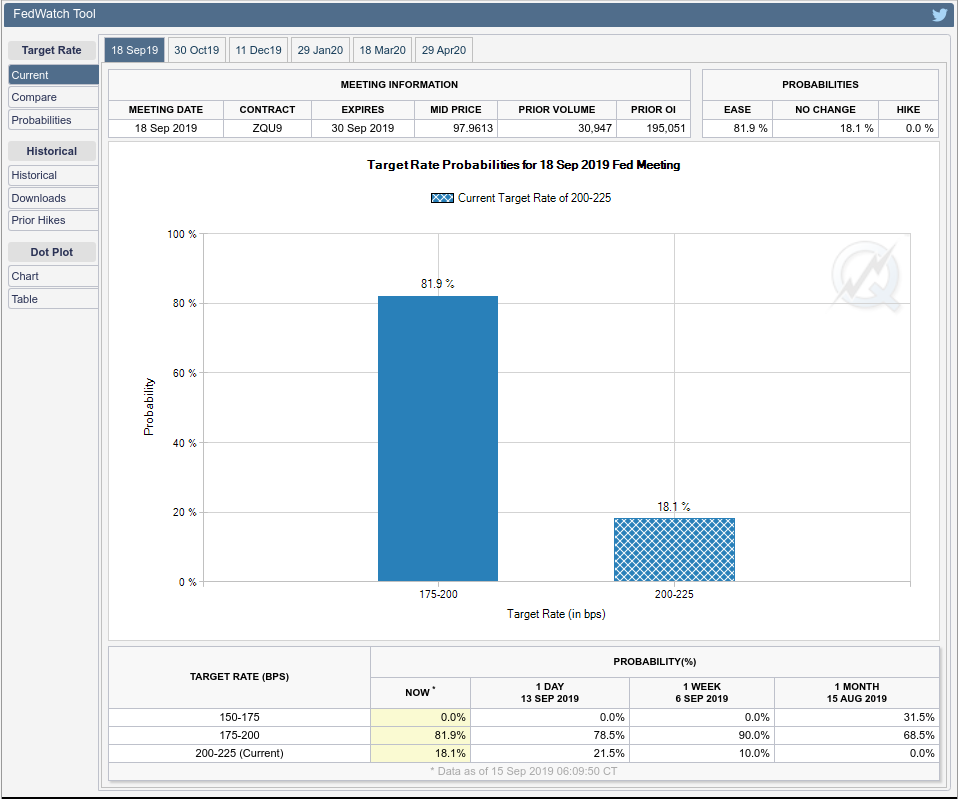 Source: CME Group
That just doesn't happen when the economy is in "a good place".
Powell Has to Watch His Language
In this all-important Fed meeting, traders will be listening very closely to every single word that comes out of Powell's mouth during the press conference…
… and he'll have to play his cards right… otherwise, the market could have a massive pullback from this key resistance level.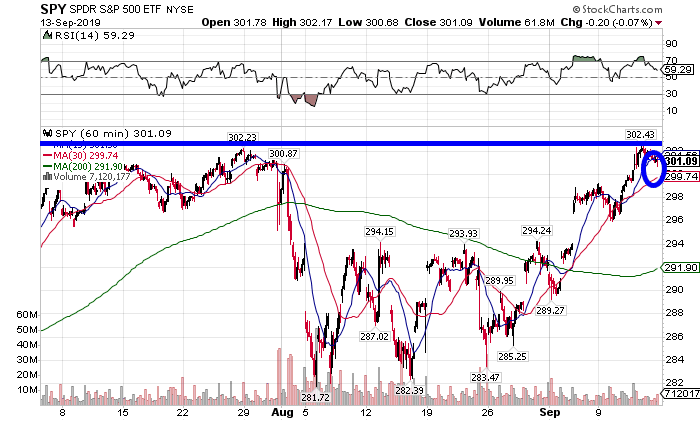 Right now, I'm going to be watching the $302 – $302.50 area fear closely. We saw the SPDR S&P 500 (SPY) try to break above that level… but failed to once… and the Fed could make or break this market with its comments.
I'm going to be watching the 13-hourly and 30-hourly simple moving averages (SMAs) very closely because that's going to give me an idea of where the market is headed.
Another area that I'll be focused on this week is the bond market.
Safe Havens Are Acting Wacky Ahead of an Expected Rate Cut
Generally, when everyone is expecting a rate cut… you'd probably think that bonds would run higher… right?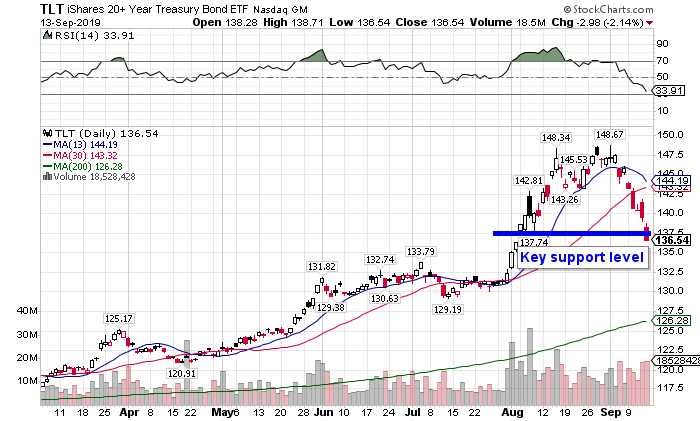 We've actually seen TLT — the long-term bond ETF — pull back from its recent highs and break below a key support level… and my money pattern looks like it's going to flash a sell (the 13-hourly SMA looks like it's going to cross below the 30-hourly SMA).
I'm going to be patient with this one because we never know what the Fed will say or do… but I'll be sure to let my clients know if I make any moves.
Gold will also be in play this week… and I'll be keeping an eye on GLD — the gold-tracking ETF.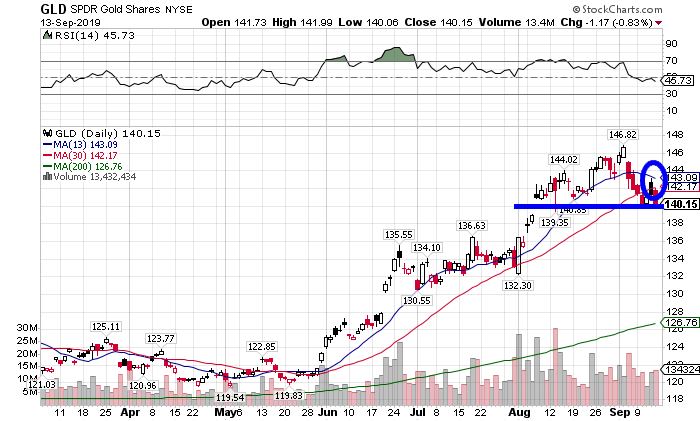 We've seen GLD pull back to a key psychological level at $140… and I'm going to keep an eye on this level very closely. Not only that, but it looks like a bearish pattern is finally setting up in GLD (the 13-hourly SMA is very close to crossing below the 30-hourly).
Again, I'm going to remain patient and wait for the Fed to make its moves… because placing direction bets ahead of such a volatile event is just a gamble trade to me.
Where I see the Most Opportunities
Take a look at the chart in Wayfar Inc. (W).
The stock rallied hard the last few days on declining volume. The longer-term picture for the stock still shows a downtrend. 
However, the stock is sitting right around its 200-hourly SMA… and the charts are telling me W could stall out here
That said, I took advantage of the opportunity and sold a put spread to collect some premium.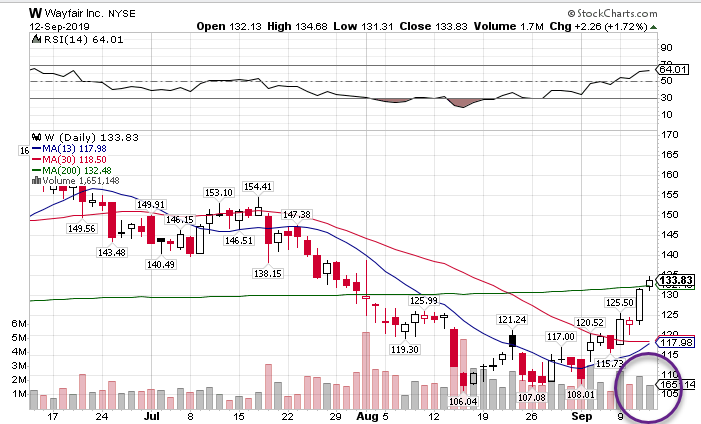 With the Fed in focus this week and the next crisis around the corner (oil)… I'm going to stick to my charts and wait until all the headlines flesh out before I take any massive bets on the market.
I'm going to play it safe and focus on short-term trades and sticking to my Bullseye strategy.
I'm going to continue to focus on the macro view as well, and I'm going to wait for clear signals in my charts.
Join our community:
Related Articles: