The set-up: Silver and the iShares Silver Trust (SLV) broke out of a "symmetrical triangle" on Friday; that's a pattern where resistance and support are on a collision support.
I call that set-up a "coiling pattern," because it looks to me like a spring that is coiled and being compressed, and when the pressure is released from the spring, the coil causes it to explode open.
That's not an accepted term, but whether you go with me and call it a coiling pattern or stick with a symmetrical triangle, that's where we're at.
The chart: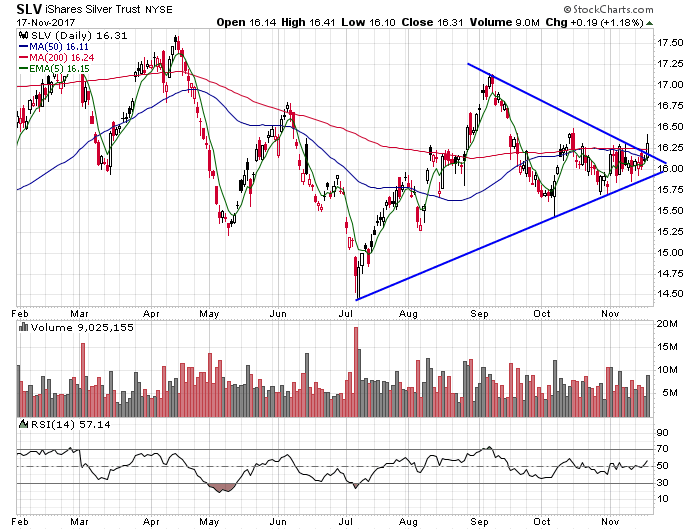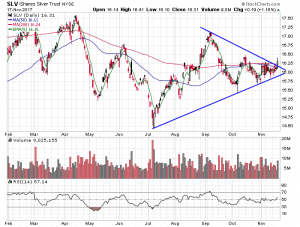 On Friday, the SLV broke to the upside on expanding volume, and broke through the 50- and 200-day moving averages simultaneously. That's a signal that it's time to buy.
Hear why Petra Hess of PetraPicks.com is watching gold and gold miners today
The play:  I use indexes and ETFs to inform my day trades, not as something I trade myself, but this is buyable now in the $16.25 range, with the target being the top of the triangle, so roughly $1 per share higher. The risk on the trade is back to the support trend line, so it's off if SLV breaks below $16.
That's 25 or 30 cents of risk for a chance to make a buck or more on the upside; with the Relative Strength Index ( RSI) neutral and that higher volume in the picture, I think silver will make a nice move here.
#-#-#
Jason Bond runs JasonBondTraining.com and is a swing trader of small-cap stocks.
Related Articles: