The backdrop: This is a play straight off the charts, where the Russell 2000 – as represented by the iShares Russell 2000 ETF ( IWM) has been building a significant support area, trending lower but with higher lows. Meanwhile, the Relative Strength Index (RSI) for the IWM has trended higher in the last few weeks; that's a positive divergence, a good sign.
The chart: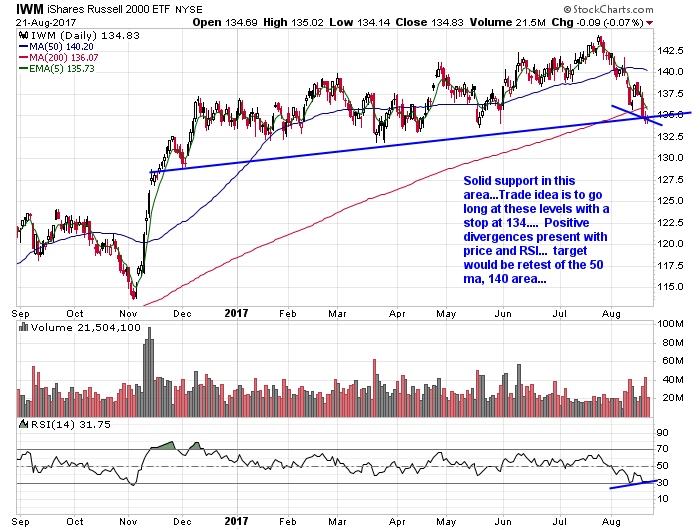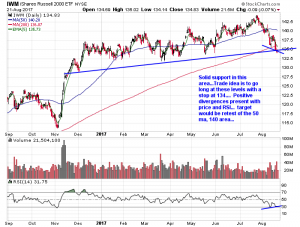 The play: With the IWM sitting on support, use recent lows around $134 as a stop; the chart sets up for a pretty good shot at hitting the 50-day moving average, giving a target of $140. Thus the trade is to get long today, because you are looking at about $5 or $5.50 in potential upside to less than $1 of downside, a very favorable risk-reward.
If you want to leverage the small-cap play and go with the Direxion Daily Small Cap Bull 3X ETF (TNA), I'm comfortable with it because the chart is the same. It's a cheaper play that may move a little faster, but make sure you have the strong conviction needed to play with leverage rather than sticking with the IWM.
#-#-#
Keith Kern has been a full-time day-trader for 17 years; he moderates the Lightning Alerts chatroom at BiotechBreakouts.com. He does not trade in indexes or ETFs at all – focusing his day-trades on individual stocks – but analyzes the market from the top down looking for his daily trading ideas. While he sometimes trades stocks that are members of the Russell 2000, he did not have any shares, options or open orders in any such stocks at the time this commentary was published.