With just 2 days left in 2019, I took the time out this weekend to scour through the best unusual options activity trades that I spotted… and I came across a monster winner — one I think we could all learn from.
Back in October, LVMH — the parent company of Louis Vuitton offered to buy out Tiffany's (TIF) for $14.5B.

Source: NY Times
At the time, if you were up bright and early to catch that headline, you would've been lucky to make a few percentage points.
But the thing is… we all know there are massive hedge funds out there and Wall Street "insiders" who have access to non-public information.
We've all seen character portrayals of Wall Street's greediest traders who place massive bets on insider information… and it's really not that far from the truth.
An options trader(s) grabbed hundreds of contracts in TIF for under $2 a piece… and just a few days later, those call options were up more than 1,500%!
It's quite clear we're at a disadvantage.
However, I've actually figured out a way to level the playing field with my Dollar Ace system… and legally take advantage of these insiders' every move.
Let me set the stage for you and show you how you can spot these plays… all the time.
Did Someone Know?
Prior to the LVMH takeover announcement with Tiffany's (TIF), the stock was trading about $98.
However, there was some unusual options activity (UOA) in TIF.
There were actually 3 trades that looked interesting:
323 TIF Feb 90.0 Calls bought for $6. That's about $194K in premium.

325 TIF Nov 29th $105 calls bought for $1.561.

281 TIF Nov 29th $105 calls bought for $1.472

Those options were all purchased AHEAD of the headline.
So why were they so interesting at the time?
Well, the call options expiring on Nov. 29th were pretty interesting.
Why?
The "insiders" threw down a $41K bet… followed by a $51K bet, just over a minute later in the options expiring on Nov. 29th. That's a pretty sizable bet there.
Here's the kicker — there was no open interest in those call options… and it was a clear signal those options buyers must've known something.
You can probably wonder no one is throwing down mid-five-figure bets on "long shot" trades…
… instead, they have a clear definable edge.
Just a few days after those call buyers swept those options… they were sitting pretty.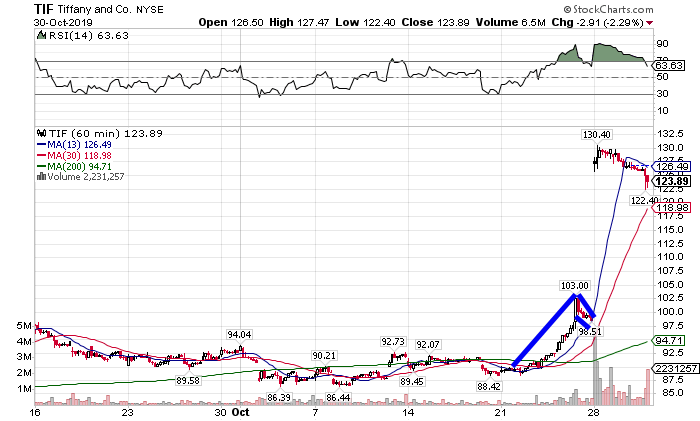 Tiffany's gapped up around 30 points higher after the news hit the wire… and those options were worth more than $22.
That $51K bet turned into more than $770K and the $41K bet turned into over $615K.
The most interesting part was the fact that the offer price came out to be around $120.
The thing is… there are bets like this going off in the options market every single trading day. The best part: we can legally profit from the Wall Street whales' best ideas.
You Can Profit Off The Insiders' Every Move
The other day, I spotted a massive options order in Advanced Micro Devices (AMD). A put buyer swept 1,671 AMD January 20 2020 $42 puts for $1.00 — a whopping $167,100 bet.
Since the trade went off ahead of the holiday week… I decided to remain patient because whacky things could happen. The day after Christmas, I actually purchased those puts for a cheaper price.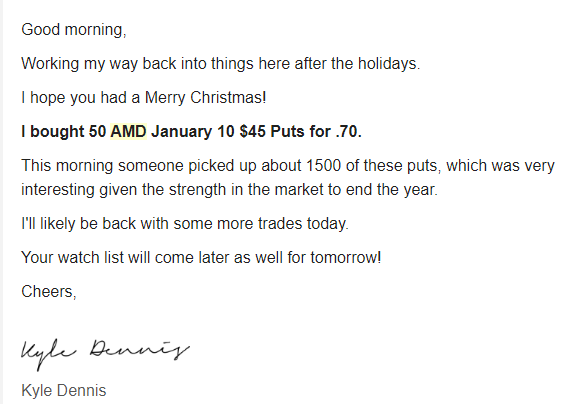 The very same day I purchased those puts… AMD dropped a little…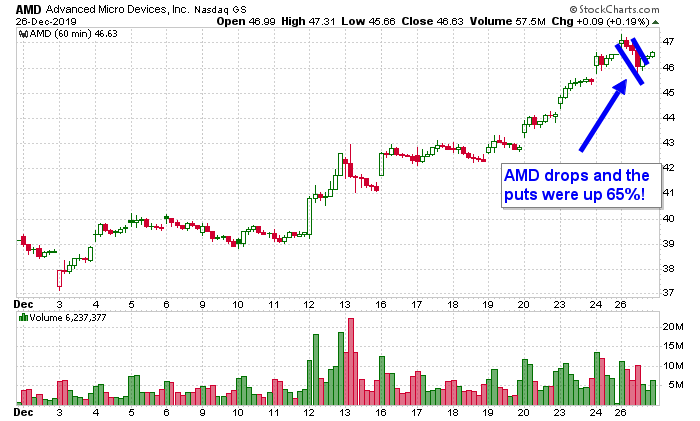 … and guess what those puts did?
They spiked up by a whopping 65%! Not as sexy as the TIF trade, but I'll take 65% returns in just a few hours, any day.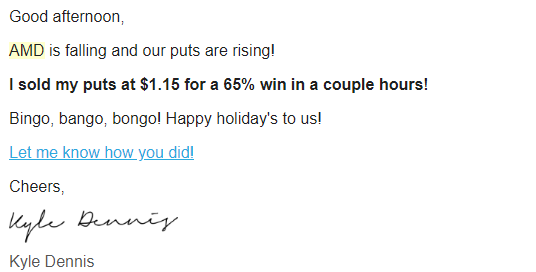 As 2019 comes to a close, I've honed in on my skills at finding these massive winners… andI'm expecting more Dollar Ace winners in 2020, who knows… maybe I'll grab a few "10 bagger" trades.
However, I'm not selfish like these Wall Street insiders, and I want to provide you with my Dollar Ace service at the LOWEST price ever.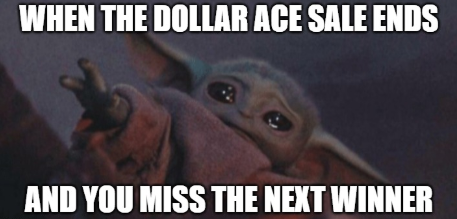 Come 2020, this is one profit bucket that I think could take you to the next level.
Many of my clients have found success with Dollar Ace
AMD $ace now 72% ~ Ben E.

great Trade Kyle AMD 55% in a couple hours thank you! ~ Rudy B.
AMD was best trade of the month for me, didn't expect that at all with that chart. ~ Ben E.
Just sold AMD from my phone during lunch, not perfect exit but still got 53% out of it. Awesome trade! ~ Matt L.