Dear Insider, Jeff Bishop Here.
The market made all-time highs this morning… it's a time for everyone to be euphoric… some will even get reckless.
They might blast through a few charts… piece together a clumsy plan… and smash a few buttons — and hope to magically make money…
… while others will meticulously analyze all the potential opportunities until they're just down to a handful of trades — their bread-and-butter setups, putting them in a position to make money in this market environment.
For me, that's my Bullseye Trade of the week — and I've got that for you shortly, but first I'd like to bring to your attention a $91K options order that turned into nearly $1M!
On Thursday, we saw some call buyers sweep some options in Tiffany and Co. (TIF)… they purchased the $105 strike price calls expiring in November 29, and it was a pretty unusual bet.
Guess what happened?

This morning, TIF actually opened well above $120 — $127.59 to be exact… and that's a signal TIF could fetch a larger offer.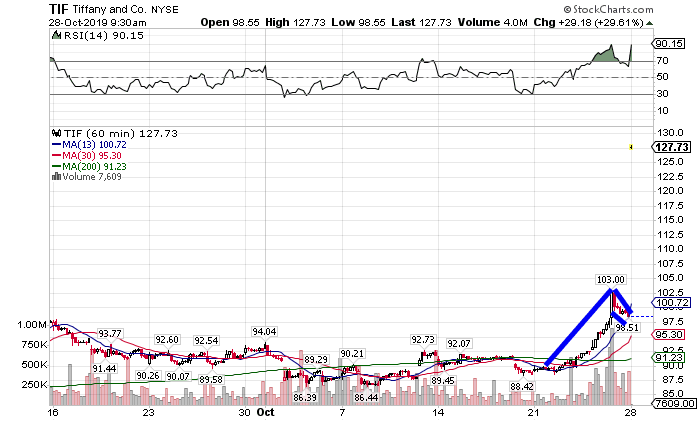 We see American greed happen ALL the time… and Kyle Dennis is able to spot every single move of these "insiders" and legally take advantage of their every move.
Without further ado, here's my plan for LULU.
This morning, I sent out my best idea to Bullseye Trades clients… and I am going with Lululemon (LULU) for a breakout play… and with last week's trade turning out to be a monster, I'm confident I could bank on LULU this week.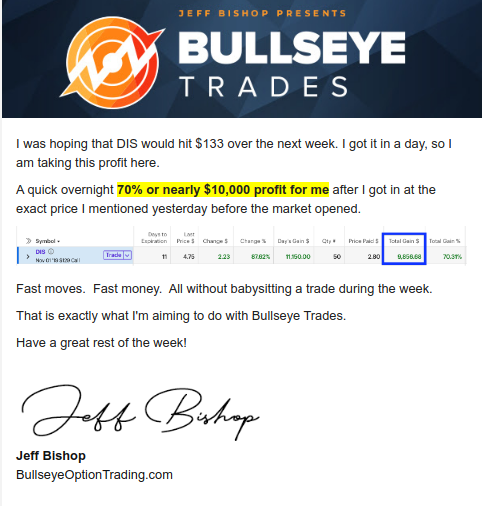 Why do I like LULU right now?
It makes sense to place a directional options bet this week with the market breaking out of its key resistance level.
Here's what I sent out this morning… if you want my highest-conviction setup delivered straight to your inbox BEFORE the market opens on Monday… get ahead of the market and join Bullseye Trades now.
LULU has been in an uptrend all year long supported by strong earnings results, and continues to make new high after new high. LULU's next earnings report is not until December, so that's not a factor to worry about here.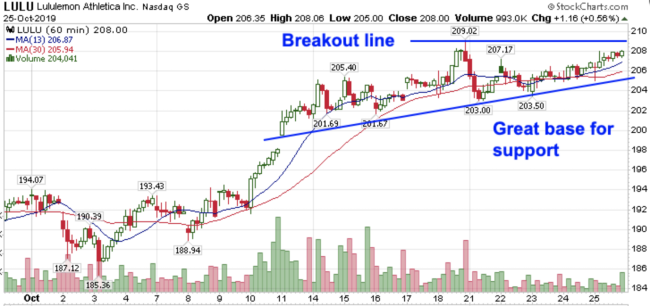 What I'm looking for on LULU this week is a breakout to new highs. We have a great hourly uptrend in place, and the stock is trading above the hourly lines as well. If LULU can close above its previous high of $209, I think it will be off to the races.
I am looking to buy the LULU Nov 15 2019 205 Call @ $3.80 as my target entry. I will add to my position in the low $4's if it gets there, and a close under $203 would stop me out.
A move above $210 is what I'd like to see to lock in a huge win on the trade, but even a little lower than that would be just fine with me.
My plan is to wait for a little bit after the open to let the option price settle down and now go after a purchase right out of the gate when things open today.
I am using the dip today as a good opportunity to buy a good momentum stock at a discount.  Just in case I'm wrong though, I'll be keeping a close eye on the $203 level and make sure that holds up. I think LULU will see a quick bounce back soon, but we'll see.
My Bullseye Trade isn't the only way to simplify your trading this week… in fact, we've got some more ideas for you this week…
Today, I'm going to provide you with some of RagingBull's best ideas… ones that will allow you to simplify your trading.
This Week's Intermarket Analysis

By yours truly
This morning, I got up bright and early and dove deep in the intermarkets — analyzing various ETFs to get a big-picture view of the market.
There are a lot of interesting plays and the Fed event this week… and there could be some fireworks and money-making opportunities there for the taking.
The question that so many traders have on their minds right now is whether we break out from these levels… or if the market will get stuffed near all-time highs.
This week's intermarket analysis provides some clarity — and I have an idea about where we go from here.
Click here to continue reading.
3 Stocks to Watch This Week
By Nathan Bear
Nathan Bear caught fire last week, locking down some massive overnight winners…
… and he's putting himself in a position to replicate that success by developing a detailed watchlist.
This week, he's got his eye on 2 hot stocks, and 1 market ETF — providing you with multiple ways to attack the market and potentially profit.
Click here for Nathan's 3 picks today.
The State of the Small-Cap Market and 3 Hot Momentum Stocks to Keep on Your Radar
By Jason Bond
Sure, Jason Bond is teaming up with Daymond John and bringing his best strategies to the masses…
… Jason's got multiple ways to pummel the market, and he's got some really simple-to-find patterns to spot multiple money-making opportunities week after week.
Jason was kind enough to provide us with the state of the small-cap market and 3 hot momentum stocks to keep an eye on.
Click here for Jason's thoughts on small-cap stocks… and which stocks he's keeping on his radar this week.
Trading doesn't have to be hard… especially when you've got guys like Nathan Bear, Jason Bond, and myself providing you with our best ideas.
Related Articles: