It's a half-day in the stock market, so trading might be light, but I like to always keep my scans running just in case an opportunity comes around.
If you're not trading today that's okay. I've put together a lesson for you that I believe will strengthen your knowledge and make you a better trader.
Now, you've probably heard of support and resistance… but did you know there are many different ways to find support and resistance levels?
I'm talking about Gaps, price levels, Fibonacci levels, and even Moving Averages…
Normally you may think of moving averages as a tool for identifying the trend of a stock.
But savvy traders also use them for support and resistance levels…
In fact, you may have likely witnessed a moving average acting as support or resistance simply by looking at trends—and you didn't even know it at the time.
That's because it is common to see the price of a stock bouncing off a moving average as it trends… thus the moving average is acting as support or resistance.
So next time you are glancing at a stock's moving average to get a view of the trend… take a second to notice how price reacts to it.
And if that's not enough to get you excited about moving averages, they can also provide signs of a change in the momentum of the stock…
For example, you have probably heard of moving average crossover strategies… but let's keep it on ice for right now… we will get to all of this in a second…
With the number of ways that moving averages can be used, it's important to evaluate them based on the specific stock you are trading as there will be no one size fits all strategy here.
Today I am going to walk you through the different ways I personally use moving averages to crush it in my trading…

The first way I use moving averages (MA) in my trading is by looking for support and resistance levels.
Some of the most significant MAs for the long term trend of a stock are the 200 day and 50 day simple moving averages (SMA)s…. these are widely known and used throughout the trading community…
The 20 SMA is also great for the shorter-term movements…
It's never an automatic thing here… I have to watch the stock trade around them to know when and which averages are useful for a particular stock at a particular moment…
For instance… in the SPY chart below: The green line is the 200 SMA, the blue line is the 20 SMA,  and the red line is the 50 SMA…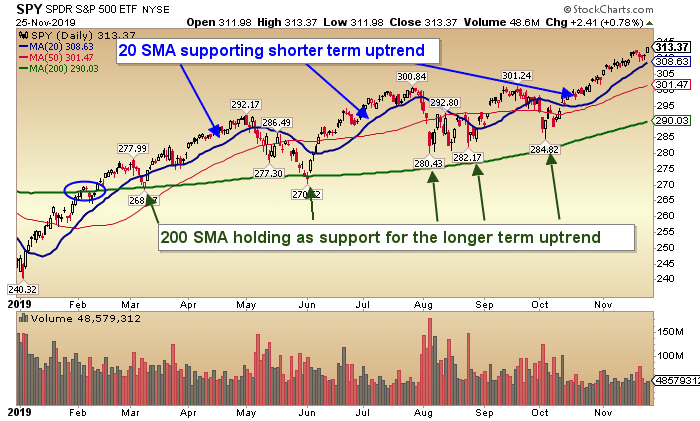 By looking at the chart, you can see the significance or lack thereof for each…
The 200 SMA (green) holds the uptrend support over the longer term… when the price moves down, it bounces off the 200 day to eventually resume the uptrend…
The 20 SMA (blue) is also being used for support in this chart… but on the shorter-term trend.
After price holds support at the 200 SMA, it bounces back and on resuming the trend, price hugs the 20 SMA for a nice move up each time before repeating the process.
But the 50 SMA (red) in this case is less significant as there doesn't appear to be any clear support or resistance at the 50 day… more so it acts an area of congestion with the stock caught in between running on the 20 or pullback to the 200.
In NXPI however… it's the 200 SMA and the 50 SMA that hold as support to the uptrend with the 20 SMA getting sliced up by the stock moves, adding relatively no value…
So in contrast to the SPY chart, for NXPI you would want to focus trade setups on the 50 and 200 SMA and not the 20…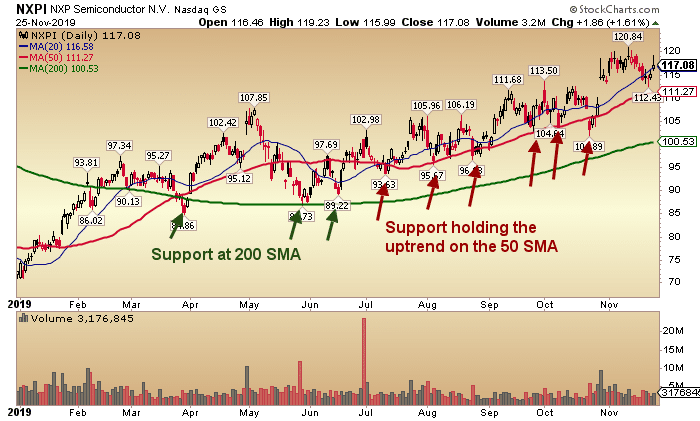 This just shows the importance of analyzing the chart and finding the levels and indicators that are significant to that specific stock before trading.
There is no "one size fits all" here… so when I trade I use moving averages to find support for entering trades and resistance when exiting, I am always aware of which ones are important to my trade.

Moving Average Crossover
There's a popular trading strategy amongst traders called the moving average crossover.
A crossover is when a faster-moving average crosses above or below a slower moving average.
The cross itself is considered bullish if crossing above and bearish if crossing below…
While it can be a powerful setup… it can also be a killer to the newbie when they don't realize it's most meaningful when stacked with other indicators and patterns.
As a seasoned trader, this is why I do not take a trade on a cross alone… I want to see a number of things line up to put the odds in my favor… and I can teach you all of this here.
Now check out the chart for Ring Energy (REI):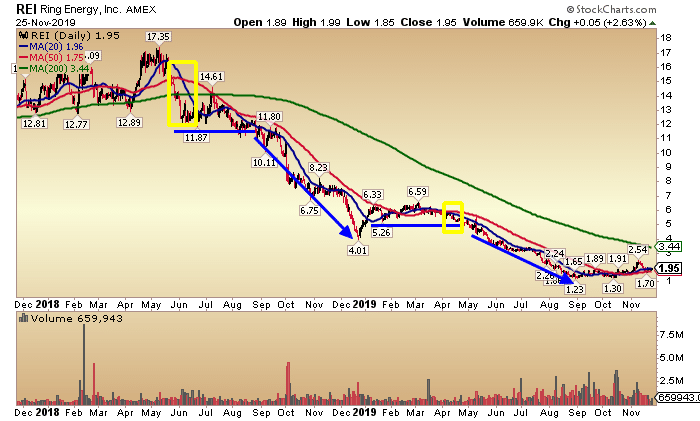 Note: the blue line in the chart is the 20 day simple moving average (SMA), the red line is the 50 day SMA, and the green line is the 200 day SMA.
Here's the quick and dirty:
REI moves below the 200 SMA

The 20 SMA crosses below the 50 SMA (yellow rectangle)

The stock consolidates below the 200 SMA

Then it retests the 200 SMA and fails

There we have 4 things lining up bearishly on this trade… now it's got my interest.
But stocks don't trade in a straight line, so being patient is key… those factors gained my attention but I am still going to be patient for an actual trade entry.
Here my trigger to go short is when REI breaks the low of its consolidation pattern.
From there the 20 SMA begins to act as resistance pushing the price down. This is exactly what we want to see after the break.
In this chart, you actually get another crossover setup later in the chart when REI takes a breather to consolidate and the 20 crosses the 50 again (2nd yellow rectangle).
In this chart alone you can see:
Moving average cross signaling a full trend reversal (first yellow rectangle)

Moving average acting as resistance (retest of the 200 before the break)

Moving average acting as a downtrend resistance level (the 20 pushes the stock down)

Moving average cross as a signal of momentum change (middle of the chart the 20 crosses the 50 up and the stock slows to consolidate)

Moving average cross as a trend continuation signal (second yellow box)

That's a real-world example of the many ways to use moving averages in trading and it really does show how significant they can be… if you pay attention to the chart.
And by using them properly (lining up multiple factors), you can make a lot of money trading… everything I use in my trade setups is right here…
Now let's narrow in on the chart to see what's happening now… here I'll show you how I use moving averages on a shorter time frame for quick gains.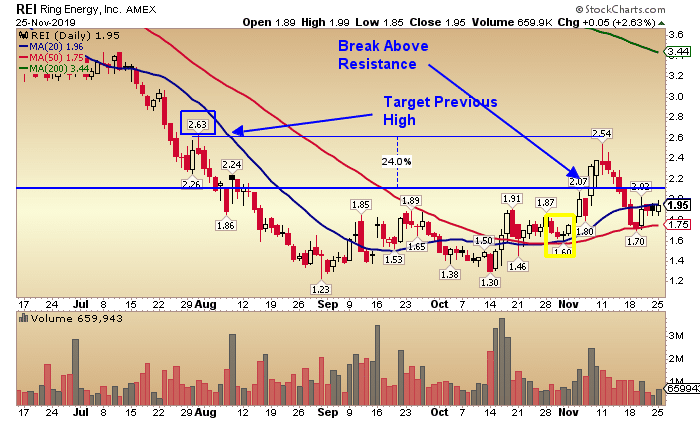 This is a trade I actually took recently…
Looking at the chart above… after consolidating, the 20 SMA crosses above the 50 SMA (the yellow rectangle)…
But as you know, I need multiple things to line up… here's the pudding:
Consolidation

20 crosses 50

REI breaks through resistance

Volume spike on break

When I saw all of this line-up, I jumped on the trade…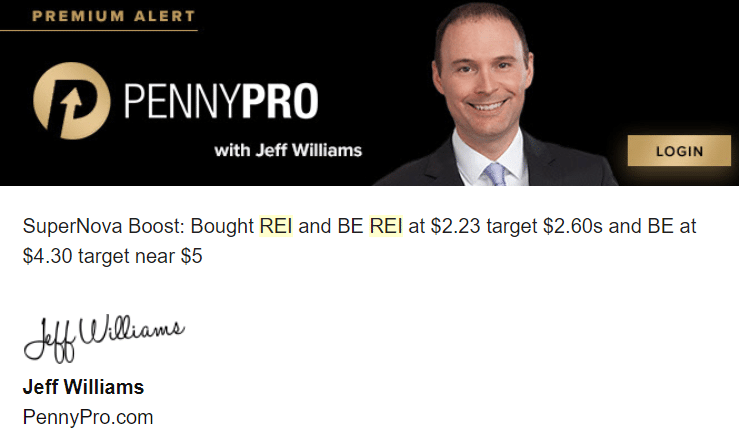 … and without a moving average above to act as resistance (profit target), I set my target just below the previous high, as this was the first area of resistance…

Crosses can lead to some really good long term trend trades…
The difference between those and the trade I took above is how fast my trades work… I created my system around the biggest issues facing people getting into trading…
Limited time and not much money to get started… with penny stocks, you can start trading with as little as $50… I run my small account challenge around a $3k account.
In fact, I just turned that $3k into over $10k over the past 2 weeks… and that's not a surprise to me because I do this over and over in my small account challenges… I start with $3k flip it many times over, cash out, and start over again… and you can too.
And if you don't have the time to pick up trading… my trades can be found and entered in as little as 15 minutes at the end of each day.
And the best part… all you have to do after that is wake up the next morning and take your profits…
I can teach you every little part of this system and how to use moving averages as well as volume, support and resistance, and chart patterns to make quick profits.
And as a former teacher, I have a knack for breaking down complicated matters and delivering them in a way that anybody can understand… and I love doing it…