Are you searching for a way to time your entries better?
Or maybe you're searching for a more efficient way to determine the market's momentum and trend?
Well, if you said yes to either of those – the strategy I use each and every day at Daily Deposits will check both of those boxes.
It's all based around analyzing the pre market trading session. 
And I have two tips that can elevate your trading and take it to the next level. 
Here at Daily Deposits, momentum indicators and pre market analysis are the main components of the trading strategy I deploy each day.
In my mind, this is one of the only ways to take advantage of the markets!
The first steps to finding trades to make these types of profits all start around momentum indicators on the intraday charts.
The 3 key momentum indicators are:
Price action and volume

Moving averages confirm trend

TTM Squeeze
Let's take a look at how to correctly use these three pre-market momentum indicators to determine the direction of the markets before each trading day.
3 Key Indicators
Momentum is all about catching the right stock, at the right time, and in the correct direction.
But if you fail to identify any one of those three components, you are left stuck holding a losing trade.
Let's take a look at how each of these work to determine exactly what direction you should trade the markets in.  
How it works:
Understand the major trend based on the highest timeframe first

Use lower time frames for immediate trend analysis

Confirm momentum using moving averages, TTM and volume analysis
Here's an example of the SPY's on the 3 main timeframes to analyze momentum using the 15 minute charts.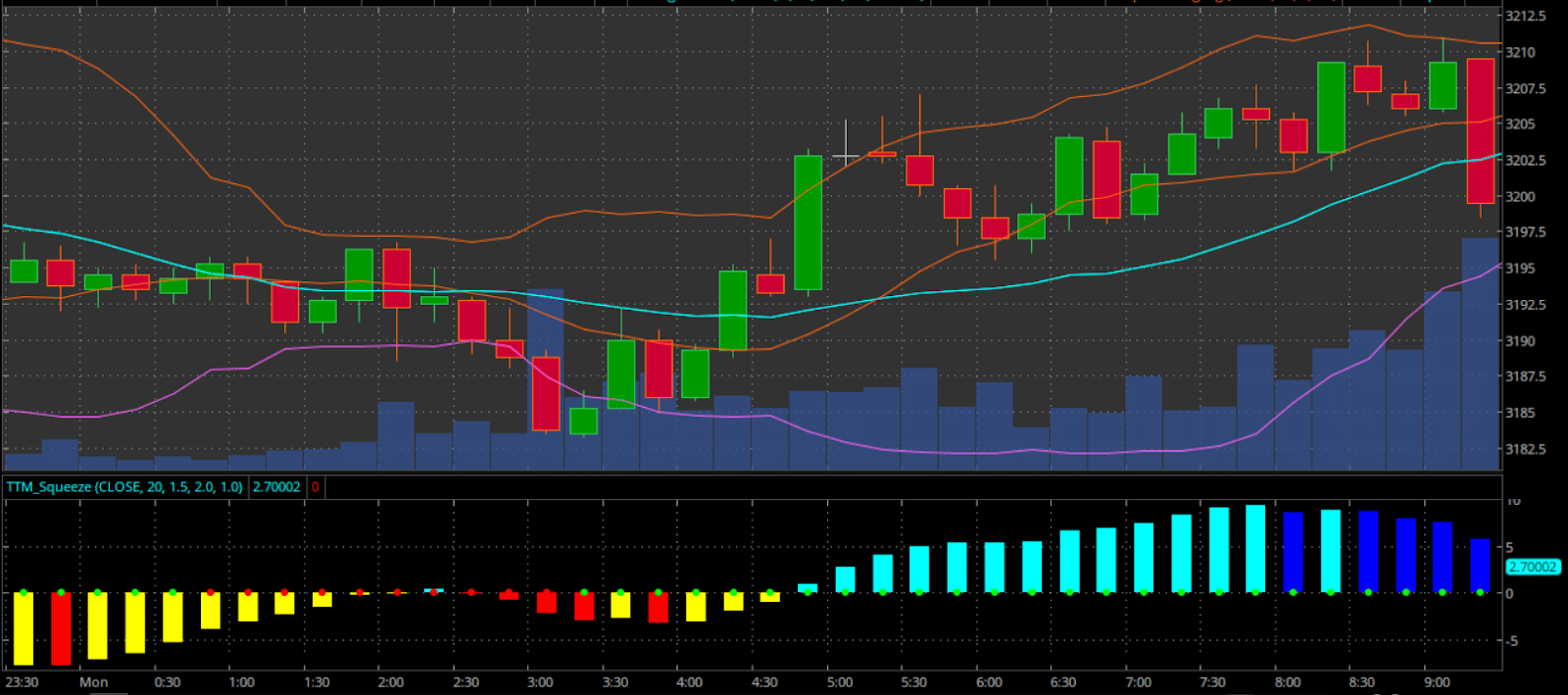 Source: Thinkorswim
In the premarket session, you can see there are 2 key momentum indicators  at play.
The markets are in an uptrend

There was a squeeze and the market showed positive momentum after it.
Here are some key points you want to keep an eye out for before placing any trades.  It's best to use the pre-market session to get an overall view of the day ahead and which direction the markets may want to take at the open.
Key factors on the SPY Futures in the pre-market session:
Short and longer term trend is point to a higher open

The 10 MA > 20 MA to show continued strength

TTM indicator pointing positive after squeeze
But before you place any trades….
Fundamentals Help Determine The Direction
It might seem odd that a day trader would care about the macro market signals around him…
But in fact, fundamental information could be one of the best analytic tools any trader can leverage when it comes to understanding the core of the markets.
Remember this is about finding information that the algorithms can't see!  
Let's take a look at what I use to get ahead of the markets every day.
2 Key Fundamentals Factors To Watch:
Macro Indicators 

Currencies – Equities have an inverse relationship to the Japanese Yen

Bonds – Equities have an inverse relationship to bonds

Market Sentiment 

US futures markets

Overseas futures markets

Commodities – Oil, gold, copper, etc
Wrapping Up
So are you searching for a way to time your entries better?
Or maybe you are in need of a better way to determine the momentum of the markets?
And by utilizing the tools I outlined above, you can fix both of these two problems before you place your next trade!
Related Articles: