There's nothing quite like a passionate IPO love affair gone wrong.
You've been tracking a promising up-and-comer all the way from the initial day of trading, and yet there you find yourself HEARTBROKEN at the end of the first 6 months.
It's all because — WHAM! — a company insider decides to DUMP all their shares in the company right after the lockup period.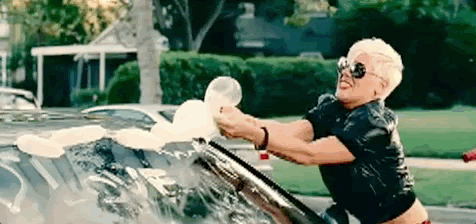 Since company insiders always hold a disproportionately large number of shares in the company at the beginning, this could really hurt you if you're long in a position.
That's why in this post today, I want to tell you all about one co-founder who has nearly liquidated all his shares in a hot IPO and why that should concern us.
I'll also walk you through a potential trade-in this IPO to reveal how we can avoid getting caught on the wrong side of this insider move.
Uber Cofounder Travis Kalanick Is on Track to Liquidate All His Company Shares
Kalanick has been systematically divesting himself of the Uber stock for more than two months.
Last month, he sold over $2.5 billion worth of shares in the IPO after the lockup expiration.
This means that he now holds only 10% of the stock — about $250 million — and his pace indicates that he will likely sell this remainder soon.
So what can we make of this flurry of big insider selling, especially after a rather bumpy trading year of trading in a hyped IPO that utterly failed to meet expectations?
Well, if I were a buy and hold investor, I sure as hell wouldn't be holding this company.
Fortunately, as an IPO trader, it doesn't matter to me whether a new company tanks or skyrockets because I'm prepared to go short and long depending on what I'm seeing.
So let me tell you why I'm not holding uber right now, and then allow me to walk you through how I might trade Uber given its current circumstances.
Uber Lacks Skin in the Game
When I say skin in the game, I'm using the phrase popularized by Warren Buffett to indicate the level of stake that insiders have in a company.
When insiders have a lot of skin in the game, they own a large percentage of shares.
Having lots of skin in the game is generally seen as a positive sign for a company.
It means that for insiders to make make money, the company has to make money.
So you better believe that if company founders, owners, managers, and employees have a high stake in the company they are going to work their tails off to make sure that the company reaches its goals, reports smash-up earnings, etc.
With the Uber co-founder dumping all his shares in the company, it has me wondering whether this is a company whose long-term growth I can trust.
Another Uber co-founder, Garrett Camp, has sold a good portion of his Uber shares as well, though not as much.
How Do We Trade Uber Now?
The news of Kalanick's liquidation of the stock is bearish.
Investors and the media will certainly look at this as a sign of weakness, something that could loosen confidence in the company moving forward.
Now that the news is out of the bag, traders may wait for Uber to find support to start buying.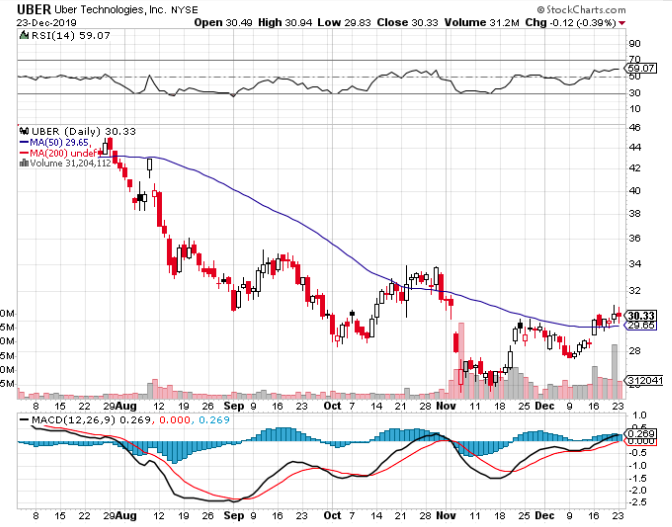 While the overall market may show positive momentum right now, especially in the middle of this Santa Clause rally, I warn traders against entering long positions until we see how this shakes out.
Looking at the technicals right now, even the moving average indicates that the stock is slightly overbought.
Wrapping It Up
Don't allow yourself to get your butt kicked when insiders sell off all their shares at the end of a lockup period.
Uber has been on a steady downward trend since the very first day it hit the market, and the recent news of co-founder liquidation doesn't inspire great confidence in me.
Of course, my subscribers will be the first to find out if I decide to short Uber over the next few days or go long on the stock when it reaches key support levels.
Sign up here for my critical alerts if you aren't a member already.