The Nasdaq-100 continues to bleed lower, and right now.
Futures are testing another key support level at 11200, and if it breaks below that…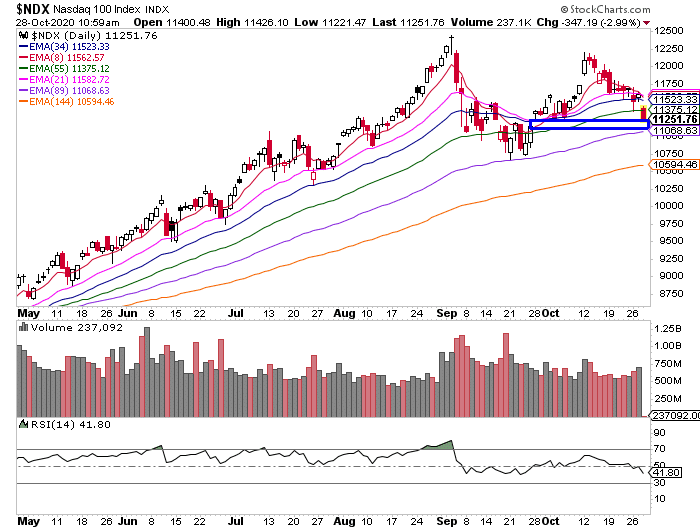 Then we could be headed much lower, as stops may be triggered and people start to dump their positions.
The S&P 500 and Russell 2000 tell a similar story. We're around key levels in major indices, and it's a major inflection point.
 Amidst this choppy price action, I've sat on my hands for the most part.
You see…
Patience Is A Virtue
Of course, that doesn't mean I'm just sitting back and relaxing right now.
I'm continuing to monitor for a potential reversal here, and of course, I want to remain on the hunt for potential money-making opportunities.
That said, I want to show you how to identify potential opportunities by identifying relative strength in the market. You see, there are plenty of names bucking the trend…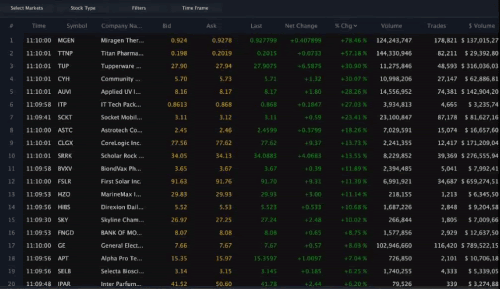 And I want to keep those on my radar and see whether my favorite patterns show up in them.
Stocks Are Dipping, But I'm Not Too Worried
Sure, I want to wait and see how things shake out with some of the catalysts and what the market does today. However, that doesn't mean I'm not out looking for opportunities.
One of my favorite tools to use not only in choppy environments but also in trending markets is the momentum hunter scanner. You see, it helps me identify which stocks are relatively strong against the market.
In other words, I want to try to find stocks that are running higher, while the market is tanking.
For example, First Solar Inc. (FSLR) reported earnings today and the stock was stronger than the overall market.
So that helps me put the pieces of the puzzle together. Since solar stocks have been hot, there may be a sympathy play here. In other words, FSLR may pull those stocks higher.
Other solar names that look interesting are Beam Global (BEEM), SPI Energy (SPI), Sunworks Inc. (SUNW) and VivoPower International (VVPR) to name a few.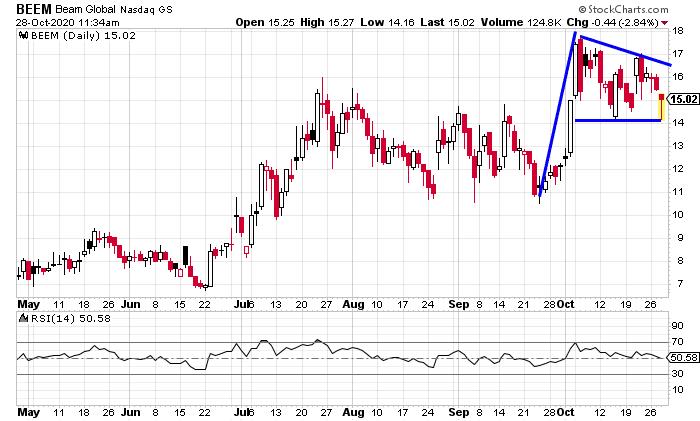 BEEM has a bull flag / pennant and the stock didn't break below that support level around $14, so I think it makes sense to keep this name on watch.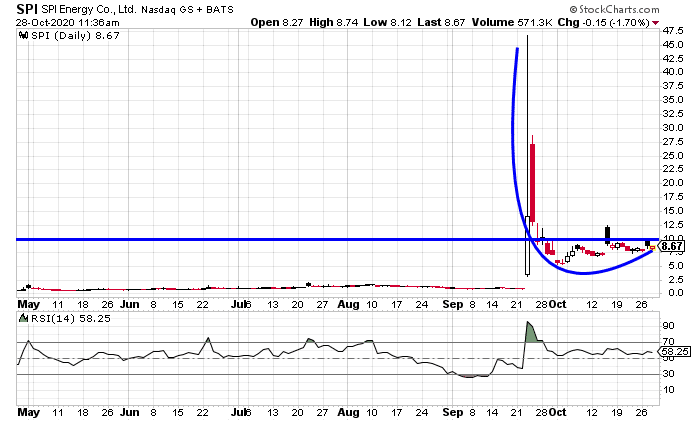 SPI has a fish hook pattern forming, and if it holds above this support level, I suspect buyers may step in and that could cause the stock to build momentum.
SUNW doesn't have one of my favorite setups, but I think it makes sense to keep it on the radar.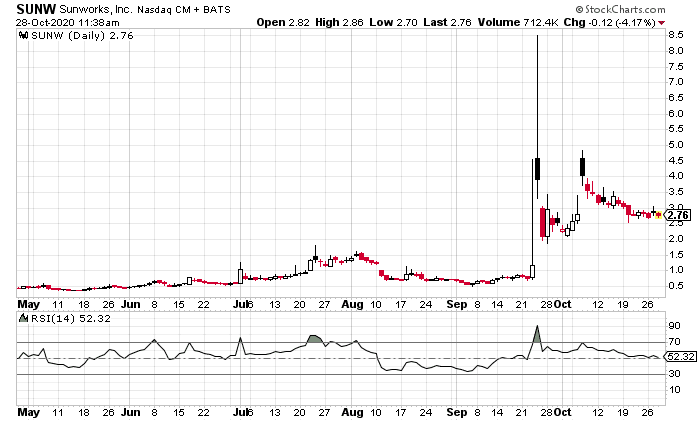 Listen, in this market environment — I believe it's key to remain patient to live to trade another day. The last thing you want to happen is to let your emotions get the best of you… and just buy random stocks thinking they'll rebound.
Instead, it's important to remain highly selective, and I believe my chart patterns can help you do that.
Allow me to show you how I utilize some of my favorite chart patterns to attack the market, and uncover momentum trading opportunities AHEAD of time.