Over the last 24 hours…
Moderna (MRNA) was the most-added stock on Robinhood…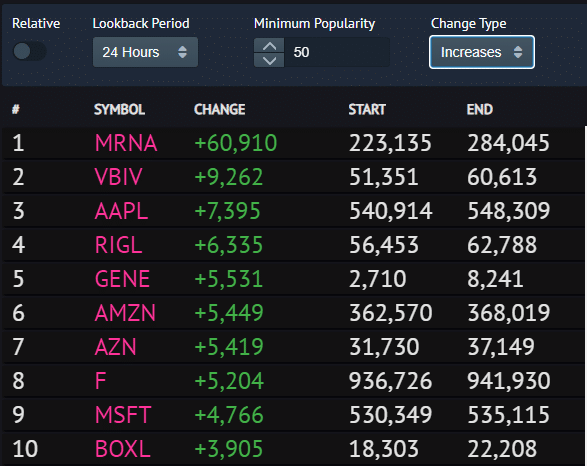 More than 60K Robinhood traders added MRNA to their accounts.
It comes to no surprise to me…
Because they came down with a serious case of FOMO after the company announced positive results for its coronavirus vaccine trial.
You see, these traders are reactive, rather than proactive…
And they're what Wall Street would call the herd.
While they make money on the trade…
I believe they could've made more if they were focused on the one key factor that moves stock.
You see, MRNA has been on my radar for a while now, before everyone was talking about it.
My subscribers knew to keep it on the radar…

Today, I want to show you how traders could've spotted and potentially participated in the large move in MRNA.
What Robinhood Traders Aren't Looking For, And Why It Can Hurt Them
When it comes to trading, I'm a firm believer that there's one key factor that moves stock prices…
Catalyst Events
Catalysts are what dictate supply and demand, and therefore, prices of stocks.
The key for me is to be able to identify these catalysts ahead of time, get in… and sell when everyone on the street is talking about it.
Let me show you what I mean by that.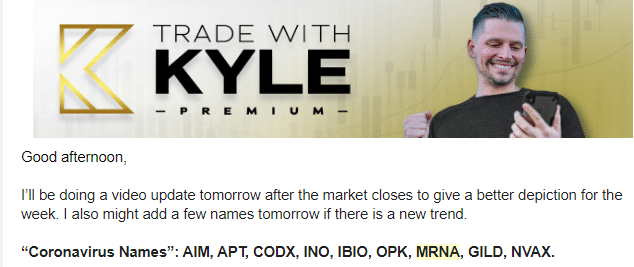 I constantly have coronavirus names on my radar because there are catalyst events in them. I sent out an email to subscribers on Sunday, mentioning a few stocks to watch.
MRNA was one of those stocks because the company mentioned it would begin a pivotal Phase 3 study sometime in July. Not only that, but it completed enrollment of its Phase 2 study of its coronavirus vaccine.
Those were upcoming catalysts that could send the stock higher at the time.
Typically, when this happens, there's an indication that news for its current trial is going to be released… and major outlets will be talking about it.
The idea here would've been to develop a trade plan and get in ahead of the potential catalyst.
Here's how one could've structured a trade plan:
Catalyst Dates: Upcoming data release in July, Phase 2 & 3 trial set to start
Buy Zone: $64 – $66
Stop Zone: $61.50 – $62
Target: Over $73 for half, hold onto the rest for a move above to recent highs.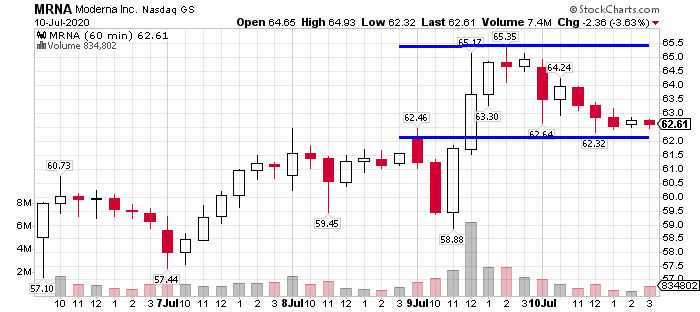 Now, after the plan is developed… I believe execution and sticking to the plan at that point is key.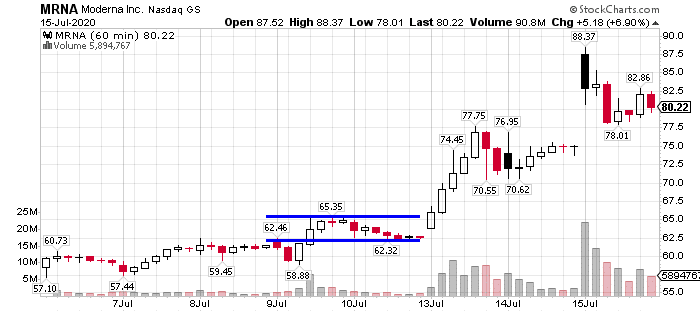 Check out what happened with MRNA in the chart above.
Robinhood traders were chasing that move…
But a catalyst trader could've got in anywhere within the buy zone on July 13… and took part in the large move in MRNA, before the news was released.
The catalyst actually hit the wire after the close on July 14, and on July 13 it was announced MRNA would be added to the NASDAQ-100 Index (a surprising catalyst) on July 20.
Just by following the catalysts and getting in before the demand floods into a stock, I believe traders can put themselves in a position to gain.
If you want to learn more about catalyst trading and why I believe it's so powerful, watch this exclusive training workshop.
But you'll have to hurry, because this page will be taken down soon.