Stocks closed at all-time highs… yet again. However, the market hit a wall at these levels and looks like it could stall here for a bit.
You'd guess the market had a massive move right? Wrong. As of yesterday's close, the market was up a whopping 1.75%.
As for me, it's been business as usual, this week… and I'm still using Dollar Ace to find some monster trades…
"Sold my GE calls for over 200%!!!!" ~ Robert M.
"BINGO – Dollar Ace on GE Calls – Thank you Kyle!!! Cashed out at 172%+" ~ Sue L.
"I doubled my money, plus $2200" ~ Allen K.
"Out GE +257%" ~ Kyle B.
"GE in at 0.15 out at 0.49 cool" ~Craig M.
"Out GE at .53.5 av. 200%" ~ Chris J.
Last night, as I sat at my desk, I reviewed my trades and looked for new "smart money" ideas… I came across a very interesting options trade…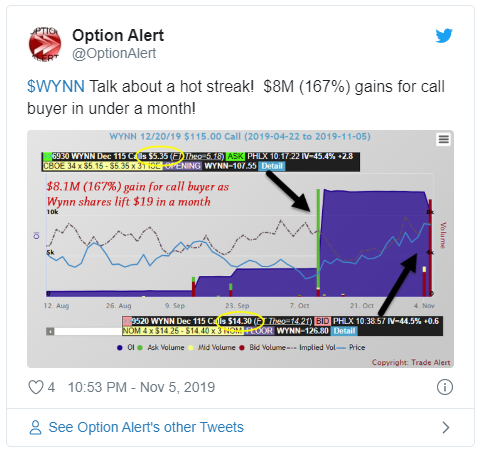 That's right, an options trader rolled the dice on Wynn Resorts (WYNN)… and boy did their hot hand run the table—locking down a whopping $8M in trading profits!
Once I saw that trade, I knew I had to dive into it a little more… I found some pretty interesting facts about the setup — and there's a thing or two we can learn about it.
How did this options trader lockdown 167% winner and could we replicate that success?
How the Smart Money Trades
If you don't know how the options market works… every single trade must be reported to the OPRA. Don't get it twisted with Oprah. The Options Price Reporting Authority (OPRA) is responsible for providing last-sale options quotes and info from multiple options exchanges.
That means they've made it extremely for us to figure out what the smart money is doing.
With some special filters, I detect large option block trades…
Now, just because we can see these massive options orders go off… it doesn't mean we know who is placing the trades, nor do we know who is on the other side.
All we know is that someone is throwing down a massive bet on some pretty wild "smart money" options trades.
Wynner, Wynner, Chicken Dinner

For example, with the $8M profit in the WYNN trade, I looked back to see exactly what they were doing.
On October 10, we saw some pretty unusual activity in the Dec 115 calls… all while the stock was trading around $106.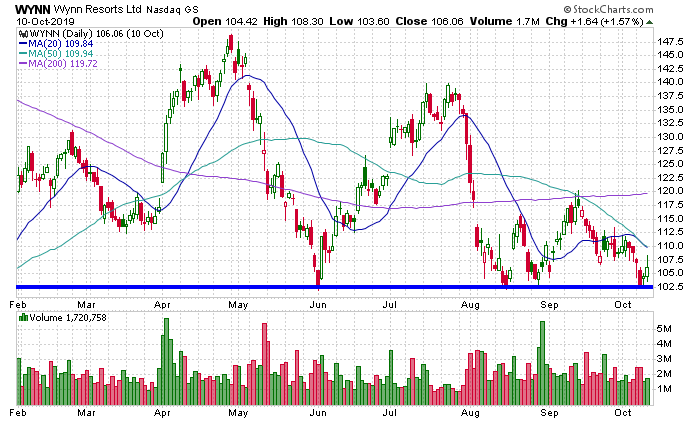 Over 10,000 options went off… and the average daily volume on those options contracts at the time was around 200.

Source: thinkorswim
Pretty unusual, right?
But what's even more unusual about this specific trade is the fact that a whopping 91% of those options were bought at the ask price!
That meant these traders were ultra-aggressive and wanted in. They were hammering that line… and if you look at the $125 strike price… more than 14K exchanged hands that very same day!
Get this… those options closed at $4.45 that day and they also included WYNN's earnings release in November, as those options are set to expire in December.
That's a boatload of premium to throw down for WYNN to get above $115 plus what they paid for the options.
Now $102 – $103 served as a key support area for the stock, and the smart money was looking for a massive Santa Claus rally in the name.
Did the smart money know about the news?

The day after those options were purchased, the company announced the famed Wynn Gold Club in Vegas was brought back to life…
The very next day, the stock exploded off that catalyst, and went up 6.34%.

Source: Finviz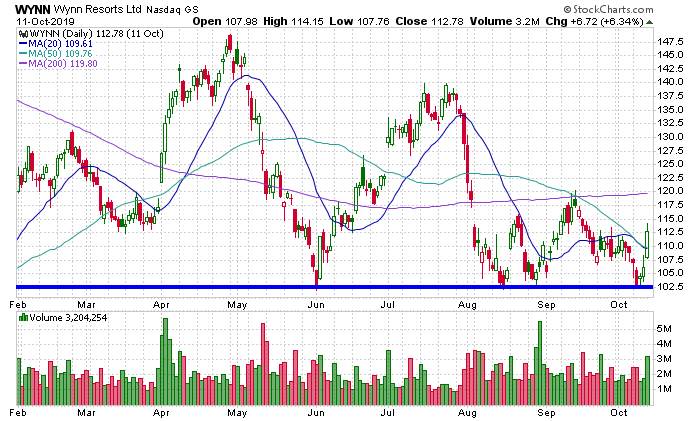 Guess what those options did?

They went above $7… you would think they would take profits, right?
Wrong.
The smart money knows how to hold onto their trades, and we know they stuck in because on 299 contracts exchanged hands on that line.
They knew there was a bigger move coming… and WYNN could run higher.
The stock trended higher all of October, and the beginning of November… and got way above $120!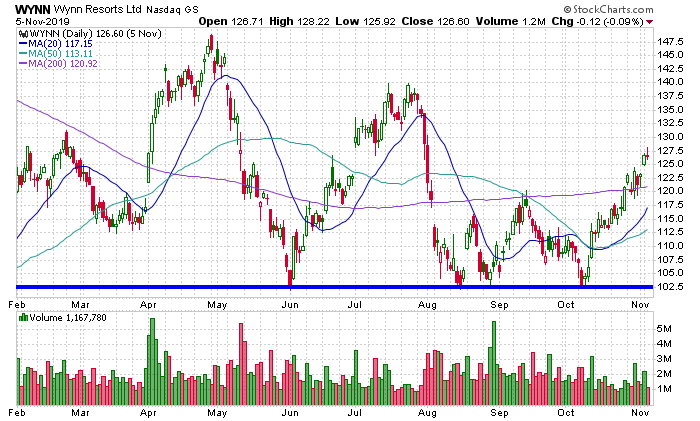 That's when they started to sell…
We saw a whopping 9,520 WYNN contracts go off on November 5, and ALL of the action was on the bid-side. That let us know this was the "smart money" saying, "Okay… it's time to take profits, we've made enough stacks."


They sold those options for a whopping $14.30… and that was $13.6M in premium — an $8M profit, or 167% return!
I don't claim to be an expert. However, I have found some pretty sizable winners since running my options scans…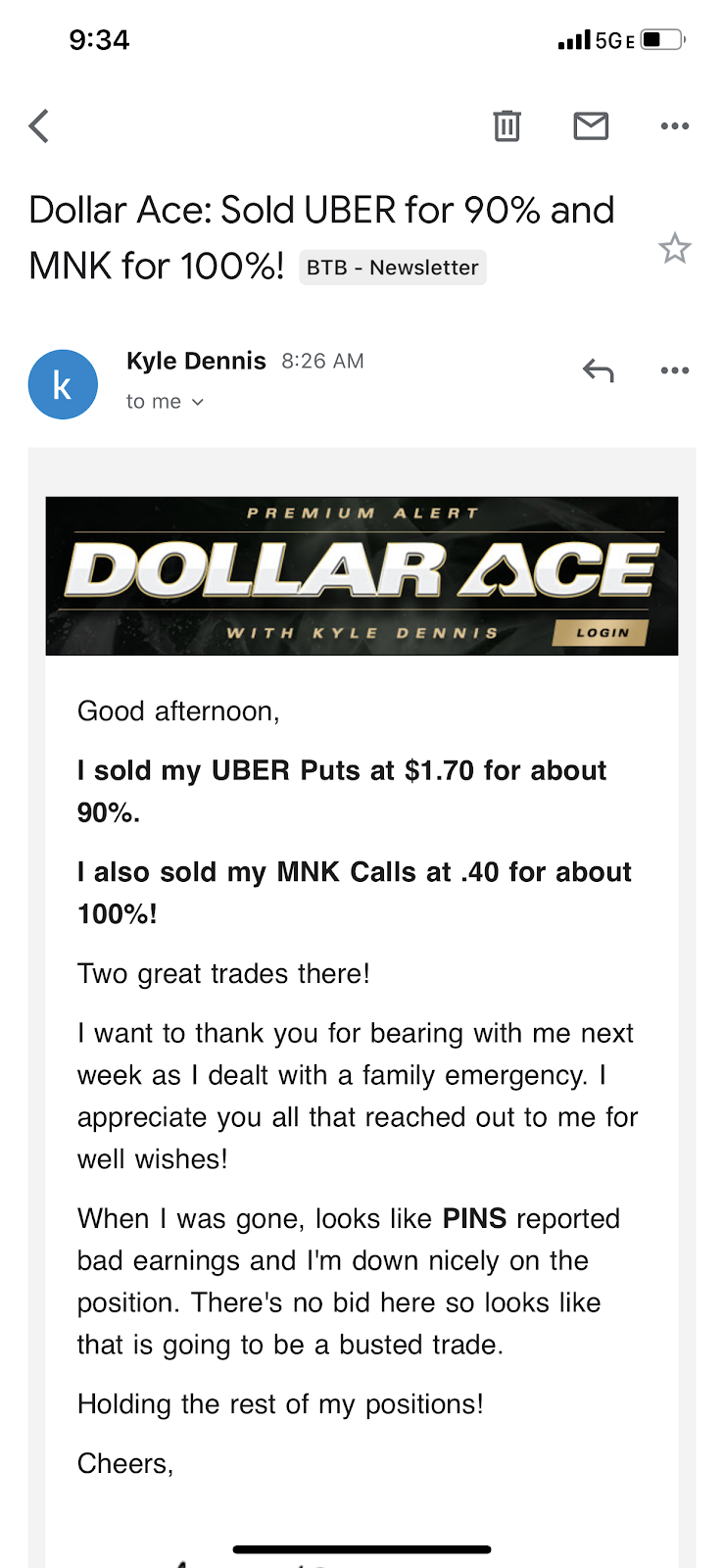 The thing is, the "smart money" is very complex… and there's so much to learn about them, and every chance I get — I download their strategies right to my brain.
By following these Wall Street mammoths, I've uncovered a way to legally spy on their every move… and piggyback off their best ideas… and so far, it's one of my most lucrative strategies to date.
Related Articles: